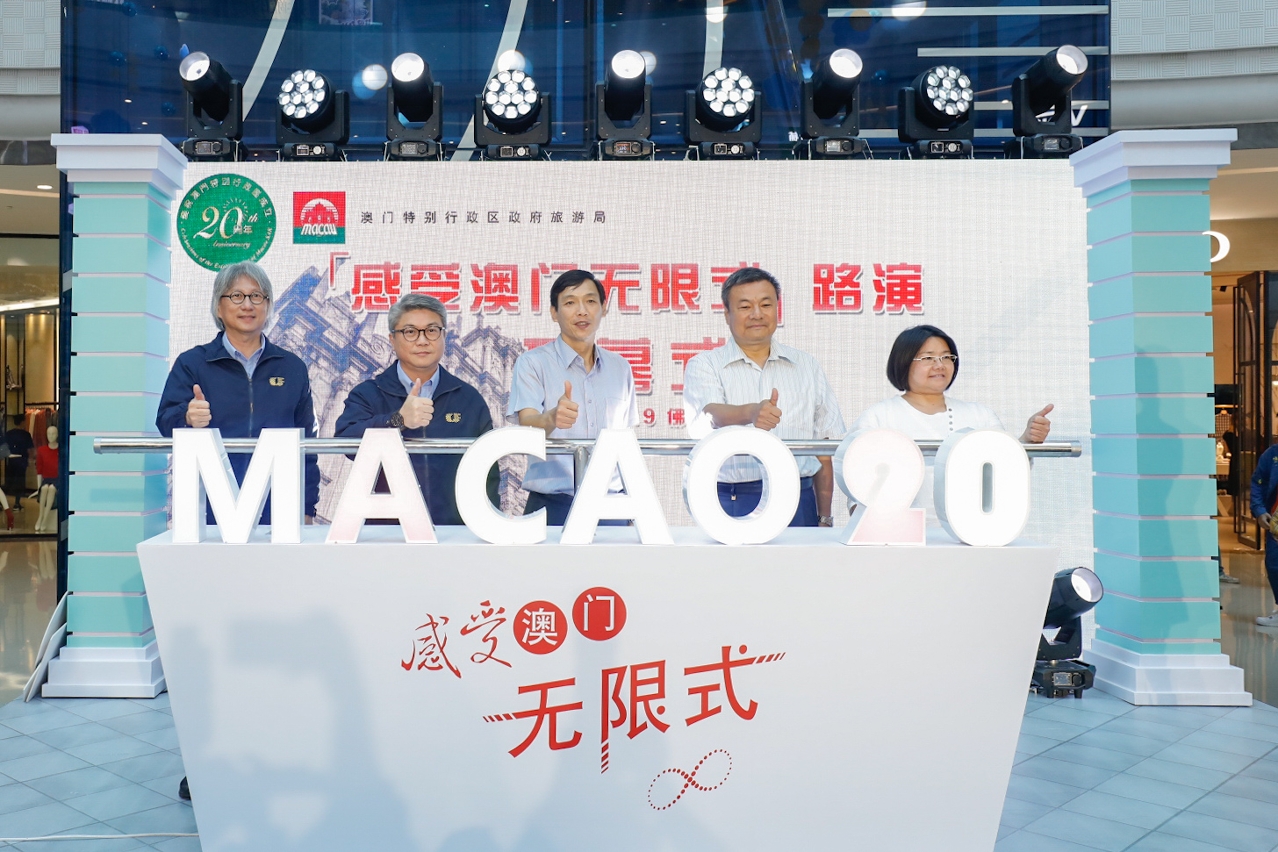 Guests officiate the Roadshow opening
Macao Government Tourism office (MGTO) is staging the"Experience Macao Your Own Style" Roadshow in Foshan, Guangdong Province from 19 to 20 October, to showcase the upcoming string of mega events in Macao in the latter half of 2019, includingthe Suncity Group 66thMacau Grand Prix,4thInternational Film Festival & Awards‧Macao, Macao Light Festival 2019, 2019 Galaxy Entertainment Macao International Marathon and more.The Roadshow features multiple interactive themed zones for local and visiting spectators to explore the palette of travel experiences Macao has to offer.
President of Sports Bureau, Pun Weng Kun, MGTO Deputy Director Ricky Hoi,Associate Consultant of Foshan Municipal Culture, Radio, Television, Tourism and Sports Bureau, Hu Yongjian, Head of Destination Marketing Department of MGTO, Betty Fok,as well as President of the Board of Directors of the Automobile General Association of Macao-Chinaand Coordinator of the Sporting Subcommittee of Macau Grand Prix Organizing Committee, Chong Coc Veng attended the opening ceremony of the "Experience Macao Your Own Style" Roadshow together with other guestsat Wanda Plazain Foshan today (19 October).
The Roadshow was livened up with a range of interactive games. Macao's music group MFM and singer Rico Long shared with the audience the diversity of events and culinary delights in Macao, followed by their performance of singing "United as one Family in the City of Lotus", a song composed by a local music association in celebration of the 20thAnniversary of the Establishment of the Macao Special Administrative Region, bringing the jubilant atmosphere to a climax.
The Roadshow was designed to highlight Macao's tourism resources and events. Macao Tourism Mascot MAK MAK leads Foshan residents to explore a series of interactive themed zones about Macao's World Heritage Site, Macau Grand Prix,Macao Light Festival, International Film Festival & Awards‧Macao (IFFAM) andMacao International Marathon. Grand Prix simulators are available in the Roadshow alongside a display of motorsport car, while "Macao Lighting Bicycle" and a mini Red Carpet for IFFAM allow locals to experience the thrill of car racing and unique photo opportunities on the red carpet. The Roadshow also features a gastronomic zone where Macao's signature snacks are distributed to the public during interactive activities, to radiate Macao's glamour as a Creative City of Gastronomy. A range of singing and dancing performances are staged during the Roadshow besides fun games and lucky draws, drawing local residents and travelers to step into the Roadshow and soak in the lively ambience.
Local travel agencies join the Roadshow to promote sales of their travel packages to Macao. Residents of Foshan can enjoy a first-hand experience of Macao's exciting vibes during festivals and events.
View gallery