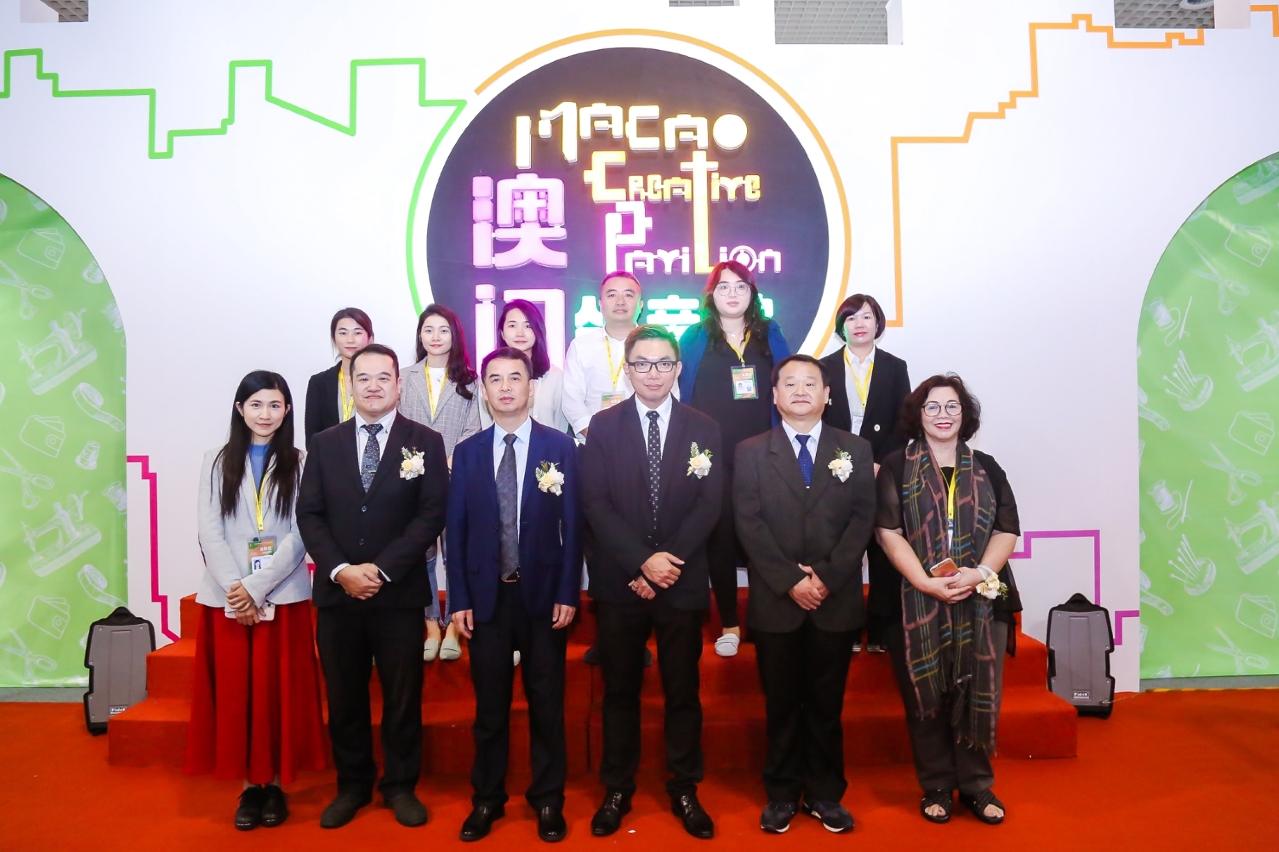 Group photos of the officiating guests and representatives of the participating entities
The Cultural Affairs Bureau (IC) of the Macao SAR Government recently organized a delegation of ten local cultural and creative entities to participate in the 12th Cross-strait (Xiamen) Cultural Industries Fair (hereinafter referred to as "CCCIF") in Xiamen. The Macao Creative Pavilion has been set up to showcase Macao's cultural and creative products and services in a bid to expand the market and foster regional cooperation between Fujian and Macao in the cultural and creative fields.
The 12th CCCIF took place at the Xiamen International Conference & Exhibition Centre (XICEC) for four consecutive days from 1 to 4 November. The opening ceremony of the Macao Creative Pavilion was held on 1st November, at 2pm, and was officiated by the Head of the Department for Promoting Cultural and Creative Industries of IC, Ho Hong Pan; the Researcher of the Division of International Cooperation and Exchange of the Fujian Provincial Department of Culture and Tourism, Xiong Jun; the Vice President of the Xiamen Municipal Administration of Culture and Tourism, Chen Gui Lin; and representatives of the participating entities.
Ho Hong Pan referred in his speech that Macao and Fujian has a long history of cultural exchange. In particular, the regional co-operation of the Pan-Pearl River Delta has facilitated increasingly frequent exchanges among different fields, which lays a favorable foundation for future co-operation and development. To start a new chapter in the development of the cultural and creative fields in the two regions, IC hopes to promote local products and services in the Xiamen region of Fujian Province through the exhibits shown in the Macao Creative Pavilion, thereby popularizing the cultural image of Macao as a creative city and facilitating integration and co-operation in the fields.
This year's Macao Creative Pavilion was organized by IC and co-organized by the China-Macao Resources Advertising & Exhibition Co., Ltd. Located in C3 Hall of the XICEC, the Pavilion is modeled on the Macao Light Festival and reflects the glamor of the city and the distinctive appeal of the various cultural and creative entities, suggesting that the industries in Macao will shine brilliantly on the international stage.
The ten participating local entities include Mosherman Trading Co., Ltd., China Imperative International Ltd., Macao National Cultural and Creation Shop, Macau Comickers Association, Macau Soap and Detergent Production Company Ltd., Aeternus F Dried Flowers Boutique, Nam Fan Lou Chinese Fans Speciality Shop, Choochoo Culture Creative Ltd., REPÚBLICA LOVELINA, and Macau Metropolis Pictures International Co., Ltd. During the event, the entities also visited some of the cultural and creative organizations in Xiamen, boosting the exchange and co-operation between the two regions.
View gallery