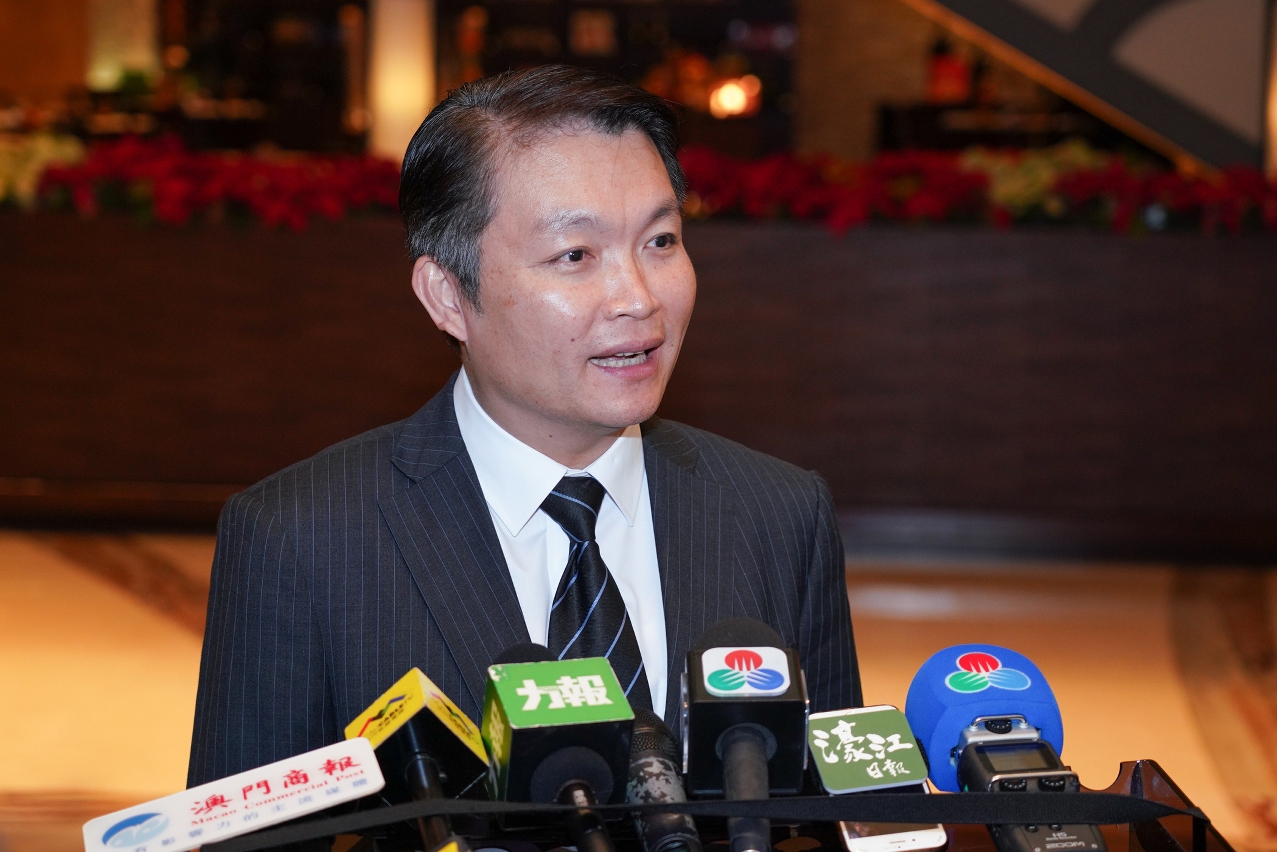 The Secretary for Economy and Finance, Mr Lei Wai Nong, speaks to reporters.
The Secretary for Economy and Finance, Mr Lei Wai Nong, today said the Government was cautiously optimistic about Macao's economic prospects, noting a number of new casinos and resorts was expected to open in the near future.
Speaking to reporters, Mr Lei said 2019 had generated the fifth-highest annual revenue from the casino gaming sector in the nearly-20 years since liberalisation of the city's gaming industry.
Gross gaming revenue from the casino sector in 2019 had totalled nearly 292.5 billion patacas, representing a year-on-year decline of 3.4 percent.
The Secretary gave further information about the 2019 performance of the gaming sector. Mass-market revenue outnumbered that from VIP rooms: mass-market revenue represented 53.7 percent of the aggregate number and VIP-lounge revenue was about 46.3 percent. Revenue from VIP rooms had seen a year-on-year decrease of 18.5 percent, however, mass-market revenue saw a year-on-year rise of 16.7 percent and revenue from slot machines also saw growth when compared to 2018.
Mr Lei stressed stronger mass-market performance was crucial to a healthy development of the entire gaming sector. He added the Government and the sector were prepared for potential challenges, thanks to experience gained in 2008 and 2009 – during that period of global economic uncertainty – and from 2014 to 2016 during an adjustment period in the local gaming sector.
The Government would closely monitor developments in the global economy and would take any precautionary steps for Macao's economy that might be deemed necessary. Meanwhile, the Government would make appropriate investment in local infrastructure, in order to expand domestic economic consumption and to ensure Macao's economy maintained a steady course.
Macao enjoyed a stable social environment, high levels of employment in its labour market, and a steady growth in the number of visitors to the city. All these things showed Macao continued to maintain a steady course in its development, Mr Lei added.
In addition, the Secretary said the Government was devoting much attention to supervising the development of the local gaming sector. He added that use of Macao's system of law would be the basis for initiating such work.
The Government would stipulate – being mindful that the city's current gaming concessions and sub-concessions would expire in 2022 – relevant policies in order to ensure Macao's sustainable development, Mr Lei said. Such policies would take into account the city's inheritance of past traditions, while introducing new approaches for the future, the Secretary added.
View gallery