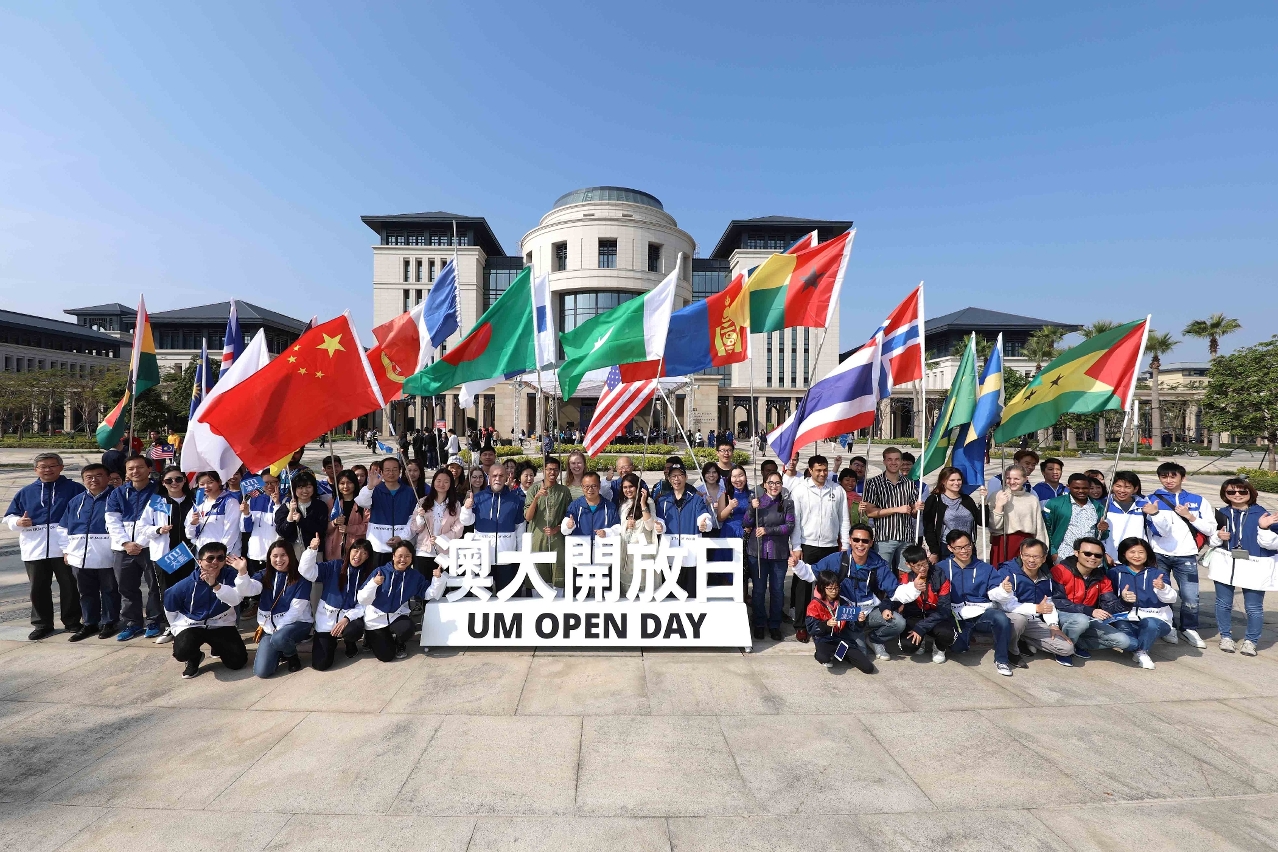 The opening ceremony for the UM Open Day
The University of Macau (UM) held the Open Day today (12 January). The event attracted over 10,000 people, including students and their parents, Macao residents, and residents of the Guangdong-Hong Kong-Macao Greater Bay Area. Through the event, participants learned more about UM's education model, research achievements, and vibrant campus life. Some parents say that UM has a beautiful campus and excellent teaching and learning facilities. They hope to see their children study at UM, because they believe it will broaden their children's horizons, enhance their competitiveness, and help them transition to the next stage of their lives more easily, whether they choose to pursue further studies or find a job after graduation.
During the opening ceremony, Rector Yonghua Song said that the university attained outstanding achievements thanks to the support of the central government, the Macao SAR government, and people from different sectors of society. According to Song, UM has developed from a community university with only a limited number of academic programmes to an international comprehensive university with distinctive characteristics and a rich variety of programmes, and it is committed to nurturing innovative and globally competitive graduates for society. In recent years, UM has been vigorously promoting interdisciplinary research, and encourages interdisciplinary collaboration, especially between humanities and social sciences on the one hand, and modern technology on the other. Song is confident that UM will develop into a university that is the pride of Macao residents, favoured by mainland students, and liked by international students.
Many parents brought their children to the Open Day. Mr Leong and his son, who is a fifth-form student at Pui Ching Middle School, visited the Faculty of Science and Technology to obtain admission information about its programmes. According to Leong, his son is very interested in the Department of Computer and Information Science, whose graduates he feels will have good career prospects. Leong says that he will encourage his son to work hard to gain admission into UM, and preferably the Honours College too, in order to have more opportunities for international exchange. Another interviewee, Ms Wong, also visited UM with her daughter, a third-form student at Sacred Heart Canossian College, Macau. According to Wong, her eldest daughter is now studying at UM. Wong likes UM's philosophy of education and hopes that her younger daughter will be able to study at UM too.
Ms Kang from Shenzhen came with her daughter. Originally, she wanted to send her daughter to Australia for college, but her daughter expressed hesitation about studying too far away from home, so they are hoping to find a world-renowned university that is closer to home. They have learned that in recent years, UM has been ranked among the top in the world in both teaching and research. She is very impressed with UM's vibrant campus culture. The visit has changed her views about higher education in Macao and has decided that UM will be a good choice for her daughter.
During the open day, UM's faculties, research institutes, laboratories, and residential colleges organised various activities for visitors, including Interaction with Robot (game booth), Modified Nano-foam Cement (game booth), fun engineering experiments, Decode Gene (game booth), VR Simulation System for City Planning (game booth), DIY Origami Fun (game booth), Criminological Monopoly (game booth), Portuguese Language Booth (game booth), and Puzzle & Law (game booth). The activities offer visitors a glimpse of the various programmes and students' research achievements. Activities such as Moot Court, creative media experiments, and faculty lectures allowed the visitors to experience attending lectures at UM. Sun Guoxing, an assistant professor of the Institute of Applied Physics and Materials Engineering, gave a talk titled 'Build a House with Magic Nanofoam', in which he discussed nanofoam as a new type of building material that performs far better than traditional cement in thermal insulation, energy conservation, and fire prevention.
In addition, the Open Day also include a dragon dance performance and music performances by students, an international food festival, booth games, guided campus tours, and many other family-friendly activities.
Guests officiating at the opening ceremony include Yonghua Song, rector of UM; Zheng Jiezhao, vice president of the Chinese Educators Association of Macau; Wong Piu, president of the Macao Catholic Schools Association; Wong Kin Mou from the Education and Youth Affairs Bureau; Ao Peng Kong, president of the General Assembly of the UM Alumni Association ; Chio Ngou In, president of the General Assembly of the UM Alumni Association ; and Zai Shengnan, vice director-general of the Board of Directors of the UM Postgraduate Association.
View gallery