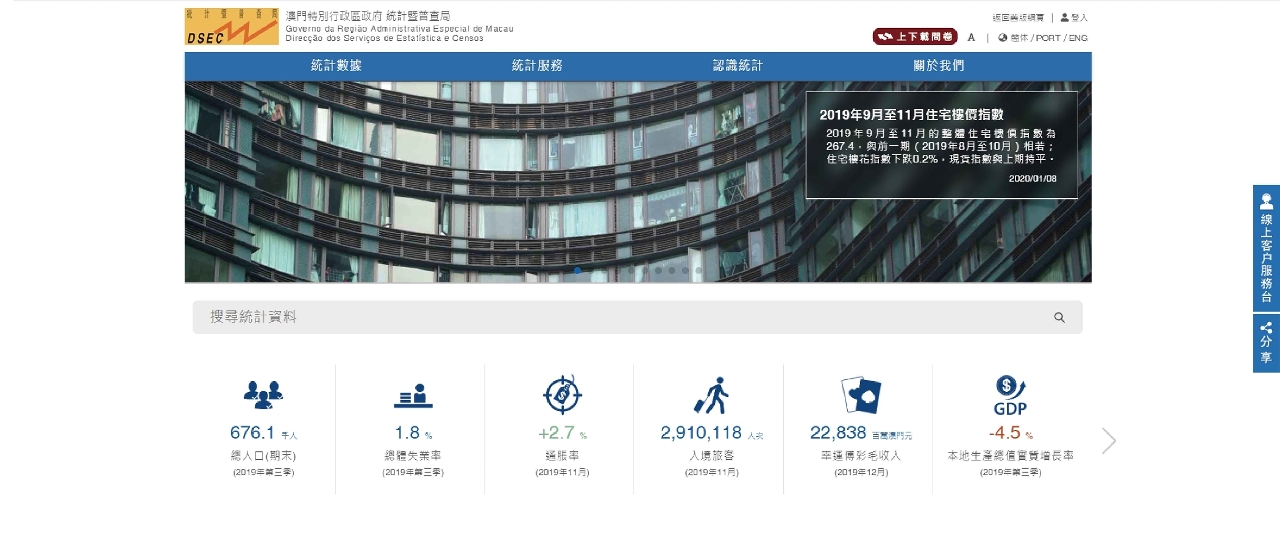 DSEC Unveils New Official Website
In a continuous effort to provide quality statistical services, the Statistics and Census Service (DSEC) launched its revamped website today (13 January), which boasts a brand new look and new features to enhance user experience.
The new DSEC website contains the following features: (1) refined classification of statistical data to facilitate searching for information; (2) increased use of information visualisation as well as statistical charts and tables to illustrate trends in data over time; (3) introduction of sharing function which allows users to easily share the website content with their friends through email or social media, thus promoting interaction and exchange; and (4) adoption of responsive web design that automatically adjusts webpage contents according to the device to ensure smooth navigation and optimal viewing experience on mobile phones, tablets, etc.
The website address remains the same (www.dsec.gov.mo) and the previous version of the website stays active in the first two months after the launch so as to collect user comments on the new site. Users may provide their comments and suggestions through Online Customer Service on the DSEC website, by email at info@dsec.gov.mo or by telephone on 8399 5311.
DSEC will continue to enhance their statistical works and provide better statistical services to meet the needs of data users.
View gallery