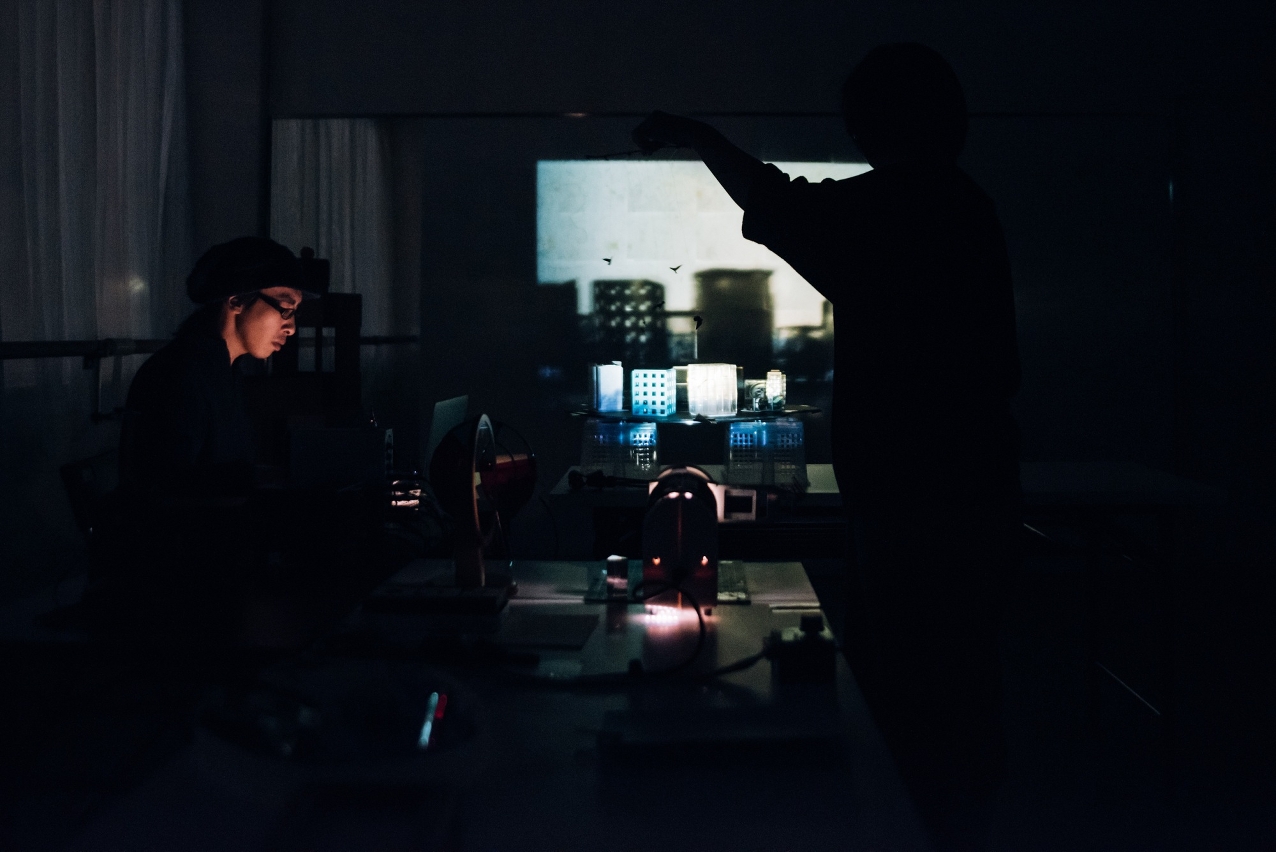 Nightwalk: Pourquoi?
The 19th Macao City Fringe Festival, organized by the Cultural Affairs Bureau (IC, from its Portuguese acronym), continues to present more exciting programmes this week under the theme "Boundless creation will show you around!", guiding the audience on a journey full of fantasy through the streets and alleys of Macao. More intriguing performances will be presented in the "Puppet and Object Theatre Festival in Coloane", featuring a rich variety of programmes for the audience in the weekend. Limited tickets are available for some of the programmes and interested parties are advised to purchase tickets as soon as possible.
A series of shows under the subtheme "Puppet and Object Theatre Festival in Coloane" of the special series "Crème de la Fringe" will be presented this week. The theatre performance Nightwalk: Pourquoi? by Uncertain Studio from Taiwan will guide audiences into a circulating consciousness of sound, light and shadow, allowing them to experience the multiple dimensions of art. Story Market by the Rolling Puppet Alternative Theatre will continue to present a number of ingeniously designed story boxes with holes that allow the audience to peek into a dazzling world created by the puppeteers. Morning and afternoon sessions are available on 18 and 19 January. The audience can enjoy eight different shows and enjoy some alternative relaxing moments in Coloane during the weekend. The programmes are suitable for families. Limited tickets are still available for each session.
In addition, Kaleidoscope in Motion by Stella & Artists is a cross-disciplinary work blending dance, projection, and digital elements where bodies, time and space, memory, light and shadow are interwoven into a dazzling kaleidoscope, creating subtle visual effects and igniting the audience's unbridled imagination. This performance will be staged in the area next to the Handover Gifts Museum of Macao on 15 and 16 January.
The Festival's programme this week also includes the highlight Break & Break!, a body video exhibition and live dance performance by Chou Shu-Yi, Max Lee, Wang Yu-Jun and Chuang Chih-Heng from Taiwan; Doppelgänger of Pluto by local artist Kawo, which will lead the audience into a magical parallel world - a vast, respectful and harmonious place where languages, races and discriminations are no longer barriers; Wearing My Untold Stories, a joint production by the Soda-City Experimental Workshop Arts Association and the Artistry of Wind Box Community Development Association; Property Guide at Lou Kau Mansion by local artist Jay Lei; The Cinematic Duo by Macao artist Chan Si Kei and Co-coism from Taiwan; and LOOK@YOU by Macau Talent Academy Association, among others.
The Macao City Fringe Festival is devoted to bring extraordinary programmes and diverse artistic experiences to the audiences. Several outreach activities will be held this week. Registered participants are advised to arrive punctually. Tickets for the programmes are available at the Macau Ticketing Network. Online registration for the outreach activities can be made at www.icm.gov.mo/eform/event. For phone registration and enquiries, please contact IC through tel. no. 8399 6872 during office hours. For more information about the programmes, please visit the Fringe Festival's website at www.macaucityfringe.gov.mo or the "Macao City Fringe Festival" page on Facebook. 24-hour ticketing hotline: 2855 5555; ticketing website: www.macauticket.com.
View gallery