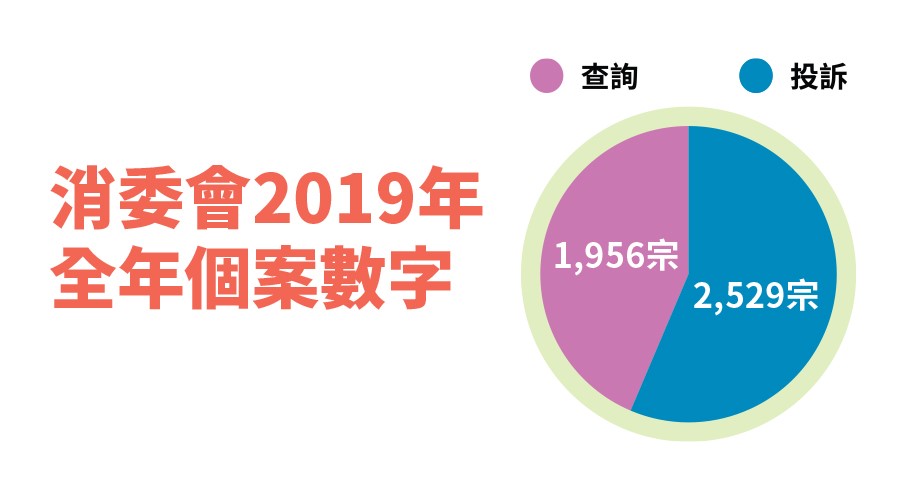 Consumer Council received 4,485 cases in 2019
The Consumer Council received 2,529 complaint cases and 1,956 inquires in 2019. Among the total 4,485 cases received, 1,035 cases were lodged by tourists.
Cases on personal care products and services ranked top 1
In 2019, the most number of complaint cases were on personal care products and services, the number of cases have increased by almost 60 percent to 236 cases, 100 of which involved beauty treatments and half of the cases were lodged on the business practice of those shops, including cold calls made by beauty centres, cases on their aggressive selling practice amounted to 27 cases, which was almost double the number year-on-year.
Due to the increasing number of complaints cases on business practice received in recent years, the Council continues to strengthen the relevant promotion and reminds consumers to make inquiry or lodge their complaints at the Council when facing this kind of selling practices of beauty centres. The Council will publish consumer alert when necessary to safeguard consumer rights.
"Consumer Alert" by the Consumer Council: consumers should make consumption sensibly, never accept discounts offered by shops easily or accept invitation to beauty treatment trials, never agree to accept treatments orally and contract terms should be reviewed carefully before signing any beauty treatment contracts. Unknown calls should be rejected, consumers may also jot down the phone numbers and details of the shops and lodge their complaints at the Council or other enforcing department to protect their personal data.
Cases on clothing and apparel increased by 75 percent
Top 2 on the list was clothing and apparel, with a total number of 204 complaint cases which half of them involved product quality; about 70 percent of the complaints were lodged by tourists. Food services came next with 180 cases mainly on the price and service quality of food outlets. The two mentioned category recorded year-on-year increase of 75 percent and 25 percent respectively.
Jewellery and food and beverage both ranked top 4 on the list with 151 complaint cases each.
Complaint cases on jewellery in the past two years amounted to a significant number, the Council heightened its consumer alerts in the Mainland to remind consumers about the standard of fineness of gold in Macao and other issues that needs to pay attention to. The number of complaint cases received in 2019 has dropped by 25 percent compared with the number in the previous year; food and beverage also recorded a drop of 7.3 percent.
Obvious drop in cases on taxi services
Public transportation recorded a total number of 148 cases, which has decreased by over 10 percent than the previous year, 79 of which involved overcharging by taxi driver and service attitude. Air transportation recorded year-on-year increase of over 70 percent with a total number of 53 cases, mainly on refund procedures and flight cancellations, etc..
Consumer disputes related to electronic payments
As electronic payment becomes more common, complaint cases on the policy of issuing company and the operation of payment system are issues concerned by the Council, the Council calls on the issuing company to enhance the transparency of the services provided. Electronic payment recorded 21 complaint cases in 2019.
Only 11 complaint cases on overseas property
The Council received 11 cases on Macao citizens purchasing overseas property in 2019, the Council strengthened cooperation with consumer organizations in Guangdong Province and sent out several reminders to remind local citizens to pay attention to the relevant laws when purchasing overseas property to avoid their rights being infringed.
Tourists' complaints mainly on clothing and accessories
322 complaints from tourists mainly involved the quality and prices of clothing and apparel, jewellery and watches.
The Council will release the full details of the figures received in 2019 and the relevant "Consumer Alert" later.
For inquiry, please call 8988 9315.
View gallery