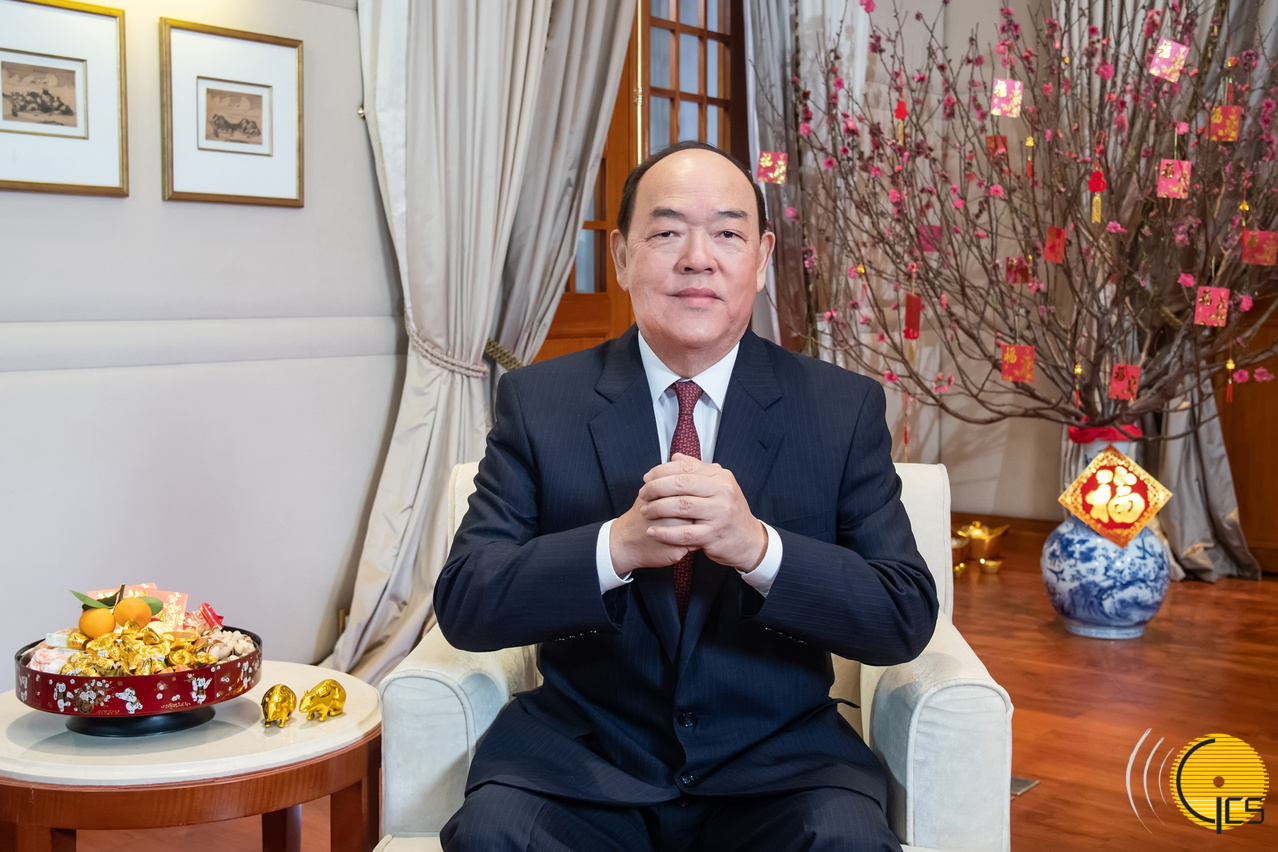 The Chief Executive, Mr Ho Iat Seng, delivers his New Year Message for the Year of the Rat.
The Chief Executive, Mr Ho Iat Seng, today said the lunar calendar's new year was a moment of hope and optimism, thanks to the unity and effort of Macao people in their pursuit of a better livelihood for the community.
In his Lunar New Year message delivered on the eve of the event, Mr Ho stated that the unity and effort of the Macao community as a whole would propel the city to improve its situation, including an enrichment of its economic diversification; enhancement of people's living conditions and a greater degree of social civility.
"A year's plan starts with spring", Mr Ho noted, quoting a famous Chinese proverb. He added the new year offered a window to a better future for Macao, thanks to: the country's support and care; the solid foundation created by the two decades of hard work by Macao since its return to the motherland; and the significant strategic opportunities produced via the country's "Belt and Road" initiative and the Guangdong-Hong Kong-Macao Greater Bay Area.
The Chief Executive added he had gained a profound understanding of the common wish of the people of Macao: economic growth; improvement in livelihoods; social harmony and stability; and maintenance of cultural diversity. Mr Ho said that to realise the Macao public's aspirations, it was necessary constantly to improve public administration and public services and their operational capacity, and to enhance the level of governance.
The Lunar New Year was the most important traditional festival for Chinese people. It was the most heart-warming and happy time of the year, when relatives and friends were reunited in love and friendship, said Mr Ho.
On behalf of the Government, the Chief Executive wished the whole community a joyful, healthy and prosperous Year of the Rat.
The Chief Executive also extended his sincere gratitude to all those workers – in the private and public sectors – involved in keeping essential services operating during the holidays.
View gallery