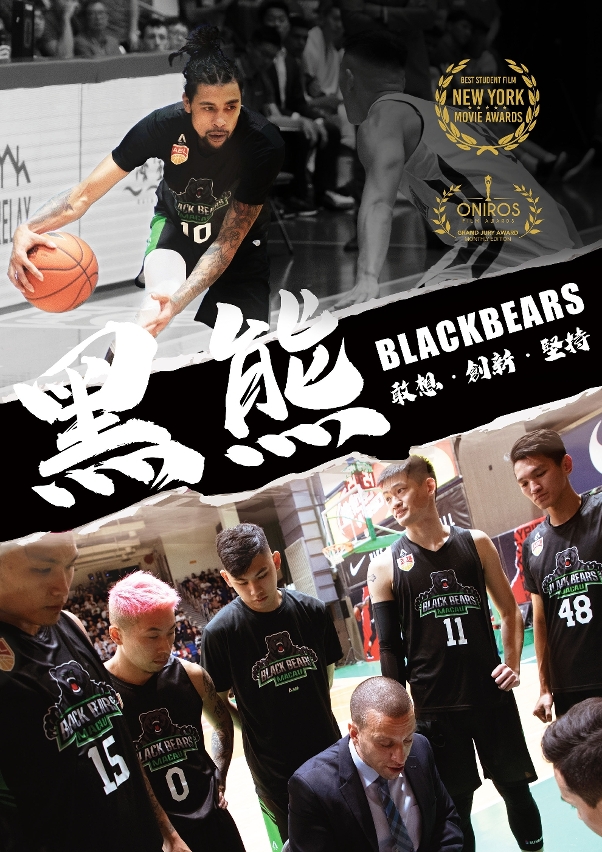 Poster of BLACKBEARS
MPI students of its Design Programme have received 5 recognitions from 3 international film awards, namely the American Golden Picture International Film Festival, Oniros Films Awards and New York Movie Awards, for their documentary short films BLACKBEARS and TAKE A RISK.
Produced by HO Ka Wai, LONG Weng Si, SIO Seng Tak and LI Wei, and named after Macao's first professional basketball team, BLACKBEARS won the Grand Jury Award of Best Sport Film of Oniros Film Awards and the Best Student Film of New York Movie Awards. The documentary features "boldness, innovation and perseverance" through the day-to-day assiduous training of the full-time athletes despite inadequate resources. Feeling lucky and grateful for their debut at international film awards, Director HO thanks his teachers and says the team has learned a great deal from the falls and stumbles throughout the production process. In future, they will put in more effort to create more films. He also encourages Macao students to take part in international competitions and to make Macao productions known to the world.
Winner of the Honorable Mention of Best Documentary Short Film of American Golden Picture International Film Festival, Honorable Mention of Best Student Film of Oniros Film Awards, Honorable Mention of Student Film of New York Movie Awards, TAKE A RISK, is created by NG Weng Ian, LEI Seng Hou and LAI Weng Ian, telling about the pursuit of a local teenager Justin to become an apprentice barber at Joker's Barbershop after having graduated from high school. The team has never produced a documentary before. They have learned much knowledge and technique through this wonderful experience, and are very thankful to the support and the encouragement given by their teachers and MPI.
MPI's Design Programme focuses on theory and practice; the School of Arts actively organizes different exhibitions regularly. Students are encouraged to learn, to create and to experience via practice. "To start producing a film from scratch, it takes a lot of time and effort. Students learn to work as a team because everyone is equally important. It takes all to tango." says TSAI Ming-Yi, the coach of the two winning documentaries. He is also looking forward to seeing more work of students and image productions of Macao to showcase on the world stage.
View gallery