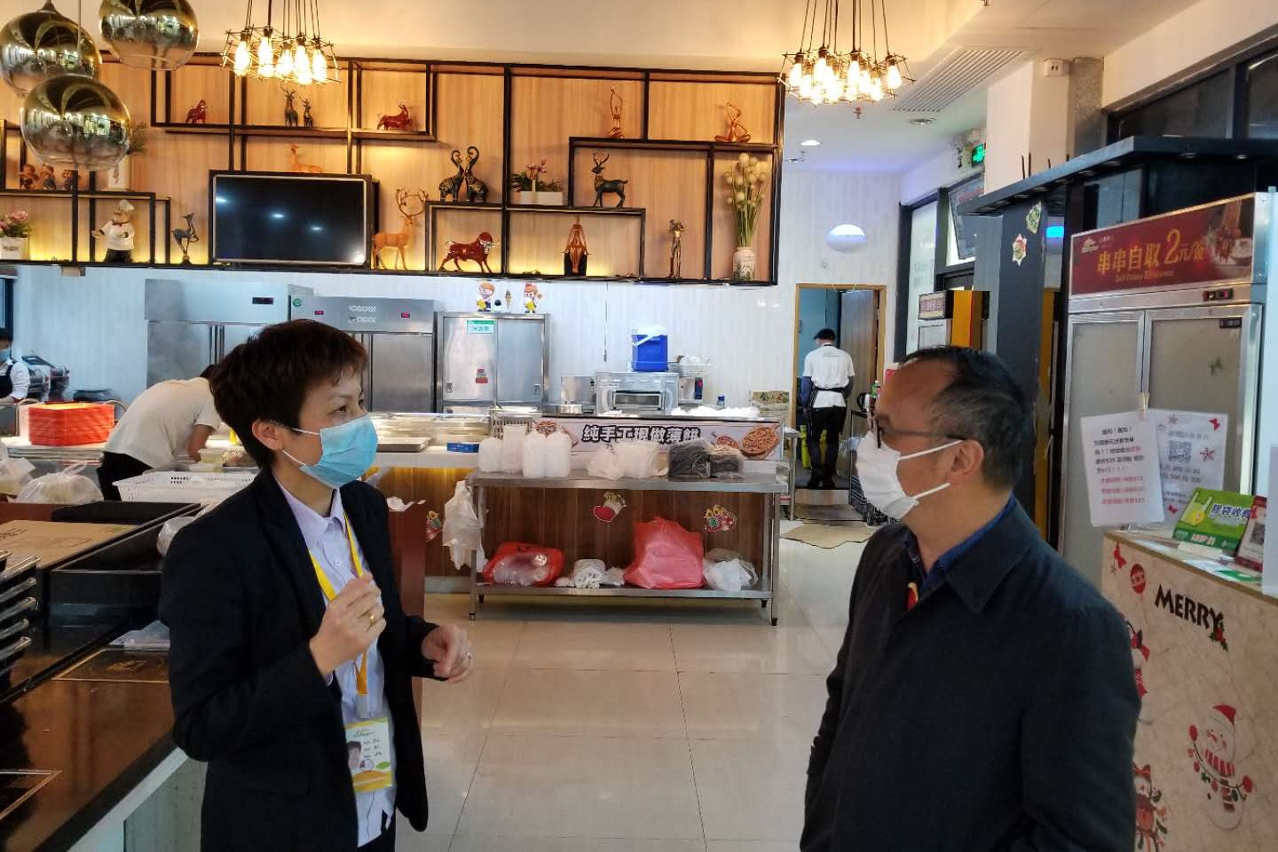 Rector Yonghua Song visits a restaurant on campus to learn more about their work
Since the novel coronavirus outbreak, the University of Macau (UM) has been working closely with 17 external service providers to ensure strict implementation of anti-epidemic measures on campus. Today (2 March),as the university resumes normal operation, Rector Yonghua Song expresses his thanks to more than 300 workers from these third-party companies for their hard work in safeguarding the health of all UM students, faculty, and staff, and for their efforts in ensuring a steady supply of daily necessities on campus.
Over the past few weeks, UM has spared no effort to prevent an outbreak on campus. Rector Song expresses thanks to the workers, including security guards, cleaning workers, and employees of the restaurants and supermarket on campus, for remaining in their positions to discharge their duties in rotation. Earlier, Rector Song visited some of the service providers to learn if they had encountered any difficulties in their daily operation. According to Liang Qiao, the manager of a restaurant on campus responsible for supplying food to several residential colleges and the Postgraduate House, the restaurant did not encounter major difficulties as they had prepared sufficient food boxes and face masks when the outbreak first started. The restaurant also arranged for employees to stay in dormitory rooms. 'Rector Song particularly reminded us to implement anti-epidemic measures and to ensure compliance with hygiene standards,' he says.
Zhou Changhua works for a company that is responsible for the security, cleaning, and management of UM's Postgraduate House and Staff Quarter. Before the Chinese New Year, Zhou, a native of Hubei province, and his subordinates, decided to cancel their holidays. Together, they visited the students living on campus and managed to record the necessary information about the residents in over 1,000 rooms in the Postgraduate House within five hours. When given instructions to create a dedicated quarantine area in the dormitory building, they swung into action: thoroughly disinfecting the entire building, examining existing furniture, and buying additional pieces of furniture. In late January, after a residential UM employee's two family members from Hubei were sent to the hospital for feeling unwell, the property management team immediately put on protective clothes, safety glasses, and face masks and entered the building for disinfection. They remained on their guard until the next day, when the test results of the patients came back negative for coronavirus infection.
Since early February, Zhang Yinghong, the person who is in charge of the supermarket on campus, has been working every day from morning until midnight to ensure a steady supply of daily necessities for UM members. In the early stages of the epidemic, many suppliers were closed, so Zhang and his colleagues arranged vehicles to deliver goods to the university. The supermarket also increased the supply of fresh meat products in early February to provide convenience for faculty members and students living on campus.
Security guards have been stationed at the entrances and exits of more than 60 buildings on campus to measure visitors' body temperature and check their health declaration forms. Alcohol-based hand sanitiser and lidded rubbish bins for used face masks have been set up in public places. Dedicated rooms have been reserved for those who need to conduct self-quarantine. All personnel on campus are required to wear masks and group activities are prohibited in public areas on campus. Cleaning workers have been arranged to disinfect public areas and equipment on a regular basis. Security guards have also stepped up patrol to ensure the implementation of these measures. On 23 January, UM's Medical Centre also set up a special area for clinical diagnosis and has been strictly following the instructions of the Health Bureau, with the joint effort of all outsourced medical workers. The centre ensures the health and safety of medical workers by examining protective equipment on a daily basis and following up with all patients who have visited the clinic.
The 17 third-party service providers are Companhia de Seguranca China, (Macau) Limitada; Companhia de Servicos NK, Limitada; Tong Nam – Yuean Consortium; Companhia de Jardinagem Iau Heng Limitada; Companhia de Servicos de Propriedades Golde Court (Macau) Limitada; Companhia de Engenharia Jardine (Macau) Limitada; Sociedade Comercial de Servicos de Aluguer de Automoveis Vang Iec, Limitada; Luen Fung Food Supermarket; Bright Gain Restaurante Companhia, Limitada; Guangdong Yinyuan Catering Service Company Limited Macau Branch Office; Pacific Coffee; Red Forest; Vinyuan Siu Gwan Gon; Kou Fu Food Court; Chopsticks; Subway; and Padaria da Guia.
View gallery