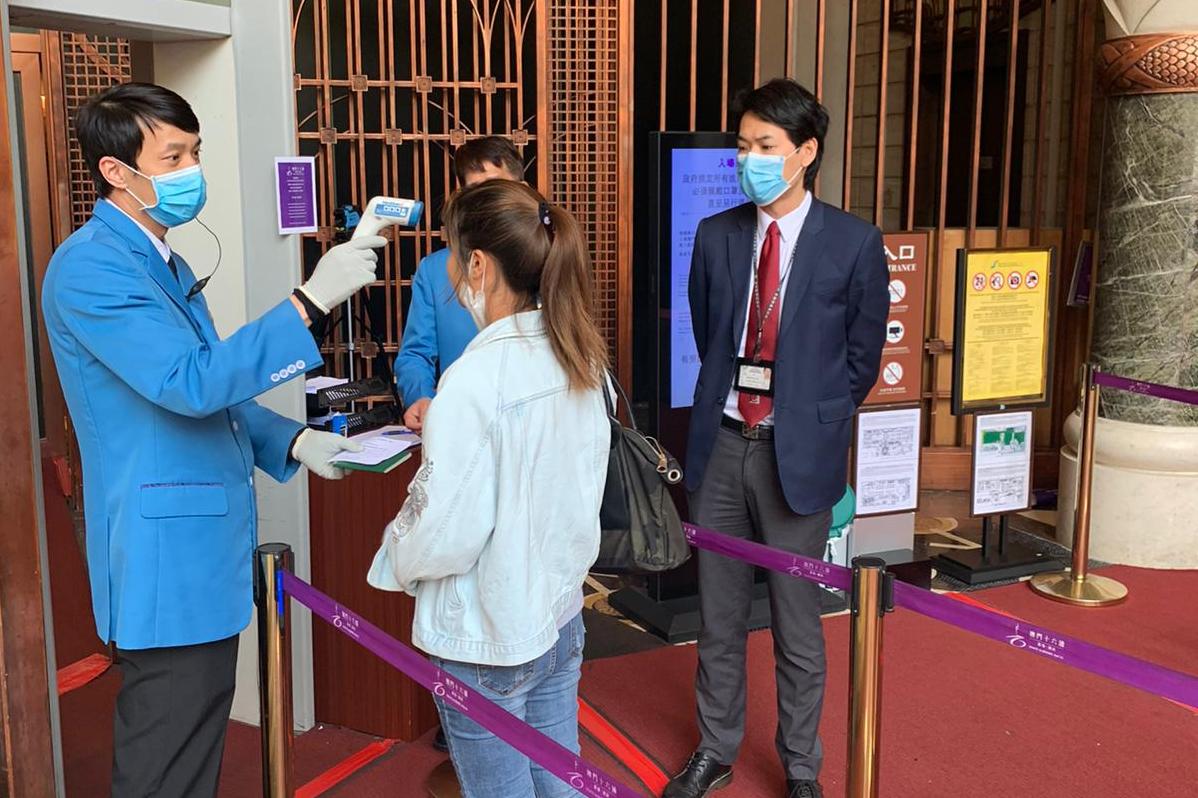 Casino staff check the temperature of a would-be patron and check her Personal Health Declaration before allowing her to enter the casino's premises.
A 30-day grace period ends tomorrow (Friday) regarding the deadline for Macao casinos to reopen following a 15-day mandatory suspension – from 4 February to 19 February inclusive – to limit the spread in Macao of a novel coronavirus and its associated COVID-19 infection.
Coinciding with the end of the grace period for reopenings, the Government is continuing a set of disease-control measures for gaming floors that had already been in place since casinos began reopening on 20 February. The measures are being monitored compliance-wise by the Health Bureau.
The Government has given permission for two casinos to be closed beyond the 20 February deadline. This means that – as of tomorrow – an aggregate of 37 casinos will be running in Macao.
The two casinos that are closed are: Casino Taipa, at the Regency Art Hotel in Taipa; and Casino Macau Jockey Club, also in Taipa.
Casino Taipa – which had already returned to operations subsequent to the market reopening from 20 February onward – has now closed again, with effect from 3pm today. This is because the Regency Art Hotel has been designated as a quarantine venue to limit the spread of the novel coronavirus. Casino Macau Jockey Club is staying closed because its management wishes to do renovations.
Macao's casinos currently have an aggregate of approximately 5,400 gaming tables in operation, representing about 80 percent of the city's table tally.
Casino operators should follow closely the Health Bureau's guidance on disease control. Measures to follow include: screening the body temperature of employees and patrons entering casino premises; requiring each employee and patron to wear a face mask; and ensuring employees and patrons complete the Government's Personal Health Declaration. Casino operators should also: prohibit entry to their premises to any person who has been to Hubei Province in the previous 14 days; clean and disinfect – more frequently than usually – the facilities within the premises; adjust the distance between gaming tables and other gaming equipment; and prohibit eating and drinking at gaming tables.
The Gaming Inspection and Coordination Bureau will continue its round-the-clock monitoring of gaming operations and assist the Health Bureau in ensuring disease-control measures have been implemented properly at casinos.
View gallery