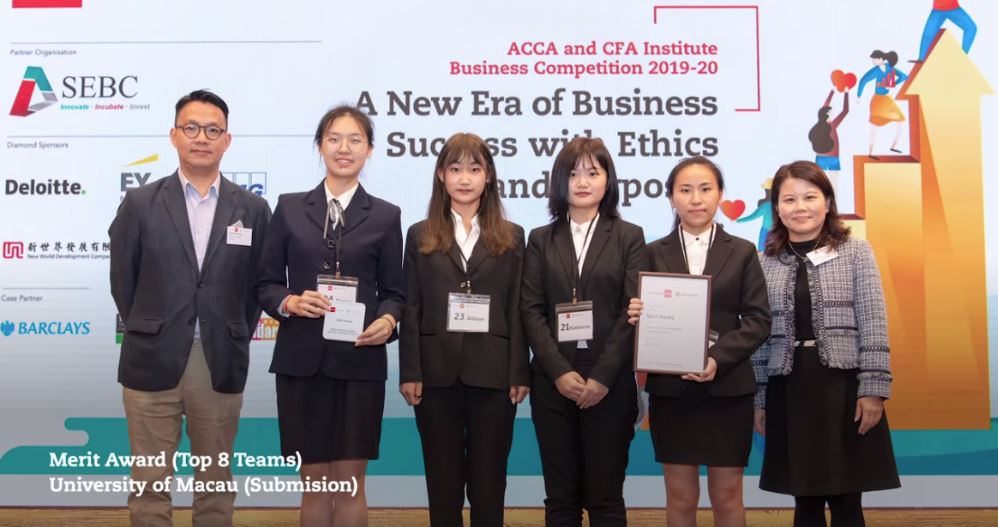 UM students win a Merit Award at the ACCA - CFA Institute Business Competition
A team of students from the University of Macau (UM) recently won a Merit Award at the ACCA - CFA Institute Business Competition 2019-20. Co-organised by the Association of Chartered Certified Accountants (ACCA) and the Chartered Financial Analyst Institute (CFA Institute), the competition attracted more than 1,100 students from higher education institutions in Hong Kong and Macao.
The theme of the competition was 'A New Era of Business Success with Ethics and Purposes'. All contesting teams were required to choose one social issue in Hong Kong and/or Macao, such as diversity and inclusion, affordable housing, and environment and sustainability, and then design a campaign, a project, or a product to address the issue for a selected industry. During the process, each team had to develop a visionary proposal within the suggested framework and a budget plan to optimise the economic return from their ideas. Participants were also expected to give due consideration to the potential ethical dilemmas and to provide practical solutions to alleviate and/or mitigate those dilemmas.
Formed by four students in the Faculty of Business Administration, namely Zhang Yue, Huang Biying, Yang Jingyuan, and Liu Jiayu, the team was ranked among the top 20 teams based on their tentative proposal. The UM team later submitted a detailed final proposal and advanced to the final eight. During the final, each finalist team presented their final business proposal to a panel of judges. Seven Professional Quotients (7Qs) were used to evaluate the proposals and the students' performance. The 7Qs are 'Technical and Ethical' (TEQ), 'Intelligence' (IQ), 'Creative' (CQ), 'Digital' (DQ), 'Emotional Intelligence' (EQ), 'Vision' (VQ), and 'Experience' (XQ).
Wilson Cheng, a fellow member of the ACCA and a partner of the Hong Kong Business Tax/Services/Tax Controversy Services, EY, was assigned as a coach to the UM team. He drew on his own experience and provided practical guidance as well as career advice to the team.
View gallery