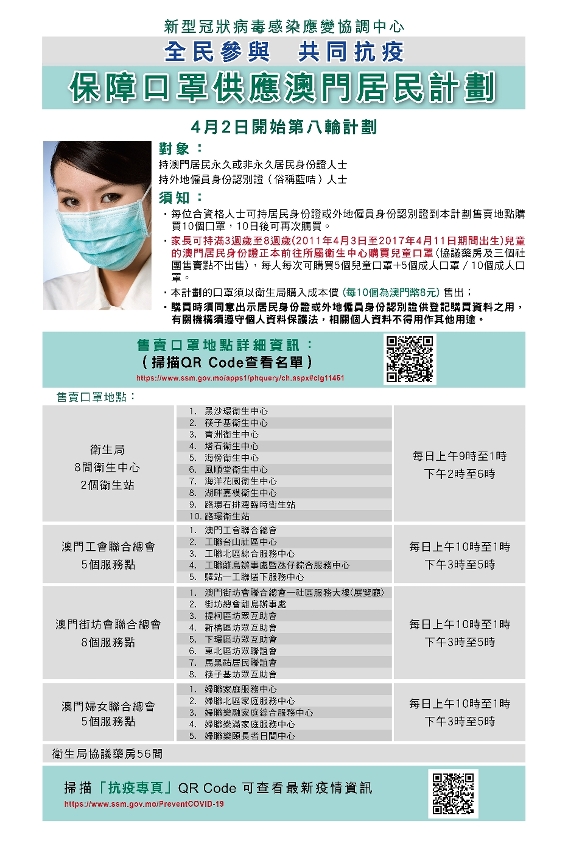 Guaranteed Mask Supply for Macao Residents Scheme
The eighth round of the face mask supply scheme started today, allowing members of the public to purchase a total of 10 face masks at designated locations by presenting either a Macao ID card or a non-resident worker ID card.
Similar to the previous seven rounds of face mask distribution during the novel coronavirus alert, a holder of either a Macao ID card or a non-resident worker ID card may purchase – on one occasion during the 10-day period – 10 face masks at an aggregate cost of eight patacas, from any one of 84 authorised locations. These include designated pharmacies, public health centres, and designated service centres of community associations.
The Government has sufficient face masks for purchase by Macao residents and non-resident workers during the eighth round of the supply scheme. The public are advised not to hurry to buy such items in the first few days of the new round of sales.
The latest round of the scheme also provides for purchase of face masks on behalf of children. The entitlement per child for those in the age range three years to eight years is as follows: their parent or carer is entitled to purchase for them either five child-size masks and five adult-size masks; or 10 adult-size face masks. The relevant adult must present an appropriate ID document for each child in order to prove eligibility for that child's allocation.
View gallery