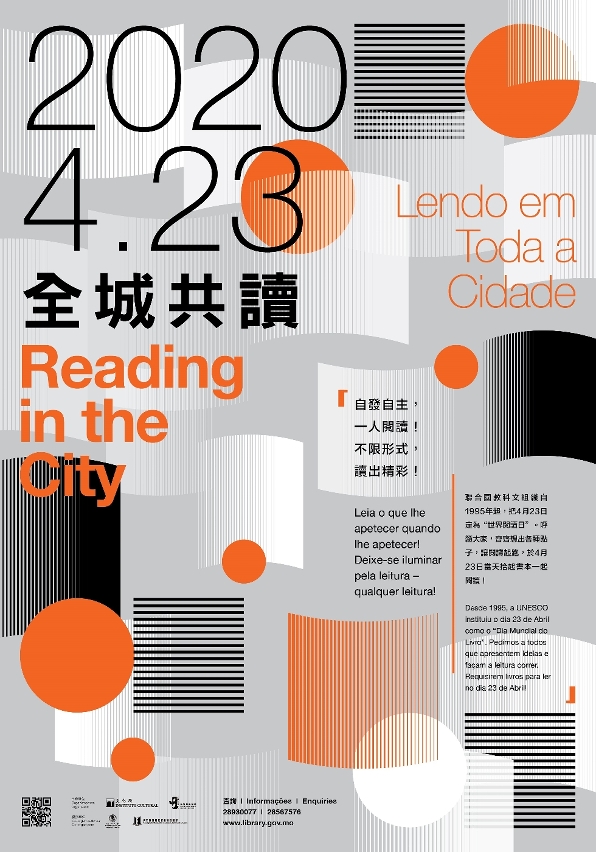 Online reading promoted on "World Book Day" on 23 April
Jointly organized by the Cultural Affairs Bureau (IC, from the Portuguese acronym) and the Education and Youth Affairs Bureau (DSEJ), and co-organized by the University of Macau and Macao Library and Information Management Association, the activity "4.23 Reading in the City" will be launched online in April, offering reading recommendations for the public. The activity, with the slogan "Read actively and independently to gain valuable insights!", aims at inciting the residents to open a book on 23 April the "World Book Day", in order to enjoy the pleasure of reading.
The activity "4.23 Reading in the City" will be carried out mainly online this year, and is aimed at sharing the joy of reading with the public. The President of IC, Mok Ian Ian; the Director of DSEJ, Lou Pak Sang; a retiree, Marisa Chu; a participant of the Cultural Ambassadors Programme, Jessie Ng; and a primary school student, Quinton Choi, will serve as reading leaders and introduce their favourite books to the public through videos. To encourage reading among the public, especially on the "World Book Day", the organizers will also recommend a variety of books online, including printed books and e-books from the library's collection, allowing the public to find their favourite books and enjoy the pleasure of reading.
For details and book recommendations, please visit the Macao Public Library's website at www.library.gov.mo or the "Macao Public Library" page on Facebook. For enquiries, please contact the Library through tel. no. 2893 0077 or 2856 7576 during office hours.
View gallery