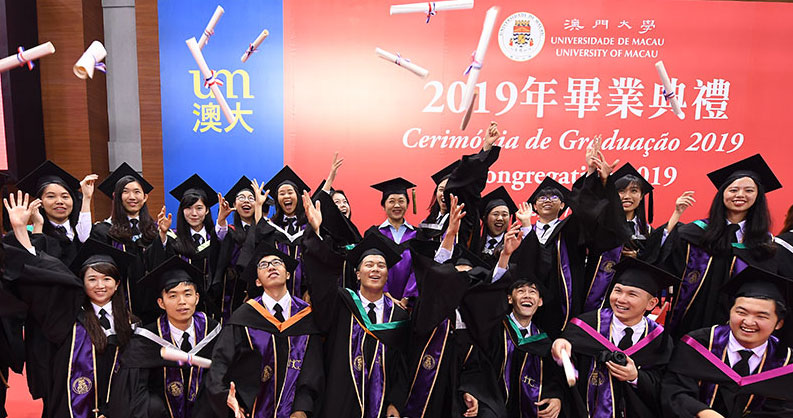 UM has formulated a series of strategies to nurture professionals in different fields
Talented people are the primary resource that drives the development of the Macao Special Administrative Region (SAR) and they are at the core of the city's competitiveness. The University of Macau (UM) shoulders the important task of producing talented graduates with a love for their country, a global mindset, and international competitiveness. To achieve this, UM has formulated a series of strategies.
In terms of training Portuguese language professionals, UM has launched a five-year bachelor's degree programme in law (conducted in Chinese and Portuguese). The first cohort of students of this programme is expected to graduate this year. UM has also launched a Chinese and Portuguese Bilingual Talent Nurturing Scheme to encourage outstanding students to study the bachelor's degree programme in Portuguese studies at UM. In addition, UM organises various kinds of courses in Portuguese language and culture as well as workshops on legal translation between Chinese and Portuguese. In future, the university will continue to promote the establishment of a training centre for Chinese-Portuguese bilingual language professionals and a Sino-Portuguese cultural exchange centre. In terms of training professionals for the tourism industry, UM has established the Department of Integrated Resort and Tourism Management, offering bachelor's and master's programmes.
UM has stepped up efforts in education in innovation and science and technology in order to nurture professionals in these fields. The Centre for Innovation and Entrepreneurship under the Institute of Collaborative Innovation promotes industrial development while also forming a new type of talent training mechanism. In early 2020, the centre received approval from the Ministry of Science and Technology to serve as a national co-working space. It is now working with other universities such as Tsinghua University and Zhejiang University to establish a platform for collaboration in order to jointly train young entrepreneurs. In order to meet the needs of economic and social development, UM launched five new bachelor's degree programmes in the 2019/2020 academic year. They are: Bachelor of Science in Business Intelligence and Data Analytics Programme, Bachelor of Education in Integrated Science Programme, Bachelor of Science in Bioinformatics Programme, Bachelor of Science in Applied Physics and Chemistry Programme, and Bachelor of Science in Mathematics (Statistics and Data Science) Programme. The Master of Science in Data Science Programme, which was also launched in the same year, was the first interdisciplinary programme in big data ever launched in Macao.
To support the SAR government 's strategy of recruiting high-calibre researchers, the three state key laboratories and the various faculties and departments at UM will play a leadership role in scientific research based on their unique strengths. Through the UM Macao Talent Programme, the university has successfully attracted a group of high-calibre researchers, including doctoral students and postdoctoral fellows from world-class universities. UM also continues to promote joint postdoctoral training programmes established with outstanding academic institutions such as Tsinghua University.
UM continues to create opportunities for students to expand their horizons. It will also continue to provide various kinds of scholarships to attract outstanding students from overseas. Apart from existing scholarships, the university plans to establish a new scholarship for incoming exchange students in the 2020/2021 academic year, to allow outstanding students or those from institutions that are UM's strategic partners to study at UM for one semester. At present, UM students can choose from 168 institutions of higher learning in 33 countries and regions for exchange programmes or overseas studies. They can also serve internships around the world with the support of the university. On campus, UM has established Asia 's largest residential college system to provide holistic education through experiential curriculum planning. Students in each college come from different countries and belong to different departments. Living and dining together creates more opportunities for students to communicate with and learn from one another, thereby expanding their network and fostering a global mindset.
Patriotic education is an integral part of education at UM. UM will make full use of its teaching and research resources to strengthen patriotic education and education in Chinese history in order to enhance the students' sense of identity and pride as Chinese citizens and foster in the younger generation a love for their country. UM's Centre for Constitutional Law and Basic Law Studies promotes patriotic education. Concrete measures to this end include organising training courses in the state of the nation for primary and secondary school teachers, and organising joint training courses in the Constitution and the Basic Law of the Macao SAR with the Education and Youth Affairs Bureau of the SAR government. UM also compiles textbooks on the Constitution through the centre. The Constitution and the Basic Law of the Macao SAR are now mandatory general education courses at UM. The Macao Base for Primary & Secondary Education in Humanities & Social Sciences, established by the university, will strengthen the training of local talent to ensure that patriotic education is passed down from generation to generation.
In addition, UM provides continuing training and professional knowledge for primary and secondary school teachers through its Macao Base for Primary & Secondary STEM Education as well as its Macao Base for Primary & Secondary Education in Humanities & Social Sciences, which is comprised of the Centre for Chinese History and Culture, the Confucius Institute, the Chinese-Portuguese Bilingual Teaching and Training Centre, and the Centre for Macau Studies. These two education bases aim to train professionals in science, technology, humanities, and social sciences by mobilising the support of science and technology institutions, providers of basic education in social sciences, higher education institutions, community organisations, and government.
To learn more about UM 's strategies for nurturing professionals in different fields, please visit UM's website at https://go.um.edu.mo/gov98838
View gallery