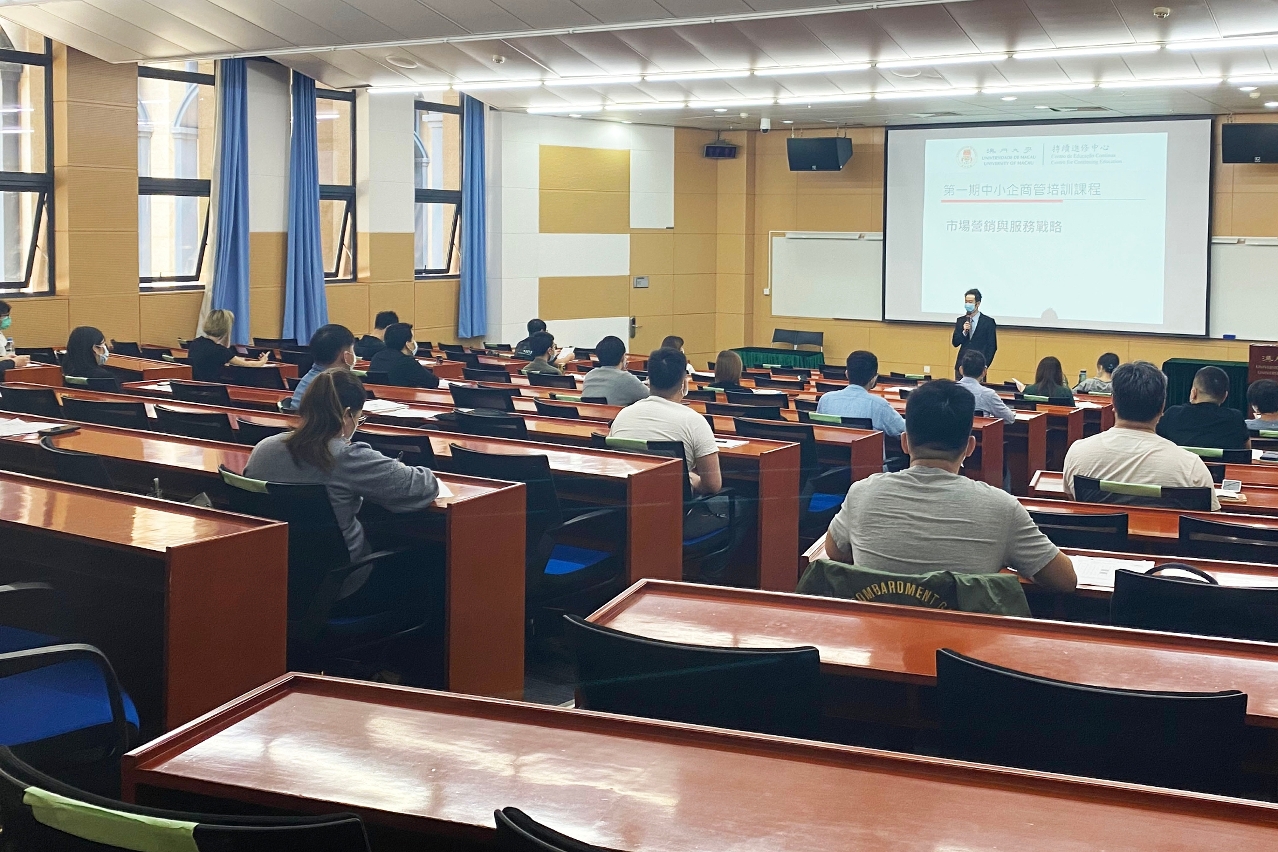 UM offers free training courses for local SMEs
During the epidemic, the University of Macau (UM) launched a series of training courses for owners and employees of small- and medium-sized enterprises (SMEs) in Macao. The courses have been very well received and the quotas were quickly filled. The four courses in the first and second batch have already started. Due to popular demand, UM has decided to launch a new batch of SME training courses, namely Tourism Hospitality Management and Gaming Industry Development, and Food and Beverage Management in Tourism Industry, which will be open for registration from 5 May to 10 May. Both courses were originally priced at MOP 3, 900, and are now offered for free. Quotas are limited, and applications will be processed on a first-come-first-served basis. Macao identity card holders who are working in a SME (proof of employment is required for registration) will be given priority for admission.
These courses are co-organised by UM's Centre for Continuing Education (CCE) and Faculty of Business Administration (FBA). Since April, UM has been offering courses free of charge so that Macao residents can continue to upgrade their knowledge and skills at home. These training courses include Marketing and Service Strategy, Crisis Management and Leadership, Human Resources and Organisational Management, and Fundamental Finance and Accounting Practice. According to UM, the CCE is dedicated to providing quality training courses and teaching support services for the general public to promote continuing education and lifelong learning in Macao. The FBA is the first business school in Macao to be accredited by the Association to Advance Collegiate Schools of Business and the Association of MBAs. It is also a full member of the European Foundation of Management Development and the Global Business School Network.
The third batch of SME training courses will be taught by UM instructors. Tourism and gaming industries are the main industries in Macao and have been severely affected by the epidemic. Finding ways to overcome the challenges and resume development after the epidemic concerns all industry practitioners. The Tourism Hospitality Management and Gaming Industry Development course mainly teaches the core management skills in tourism and hospitality management and strategies for achieving coordinated development with Macao's gaming industry. The catering industry provides important support for the development of the tourism industry. It is also a basic component of the exhibition, hotel, and gaming industries. As a UNESCO Creative City of Gastronomy, Macao aspires to be a world centre of tourism and leisure. The Food and Beverage Management in Tourism Industry course will teach students how to apply the key principles and skills in the management of food and beverage services as well as the characteristics of modern catering industry. It will also cover menu development, food management, service and marketing, as well as key knowledge in catering management and the industry 's ethical obligations. The third batch of training courses will start on 19 May and are expected to be completed in early June.
For more information or registration, please visit CCE's website at https://cce.um.edu.mo/course/. For enquiries, please email to cce.enquiry@um.edu.mo or call 8822 4545.
View gallery