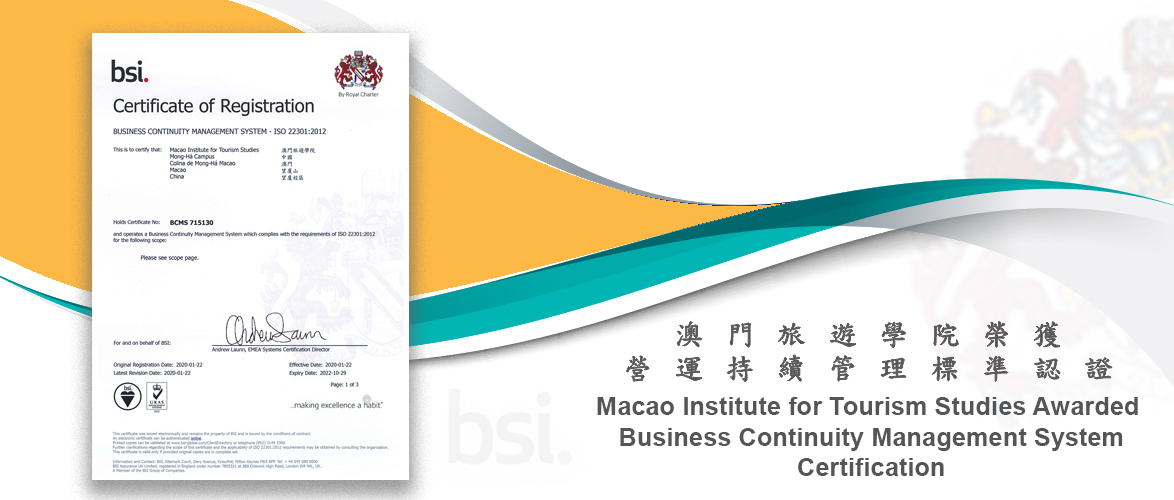 IFTM awarded ISO business continuity management system certificate
The operations of IFTM have been certified under the International Organization for Standardization (ISO) 22301 Business Continuity Management System standard. ISO 22301 certification is another demonstration of the Institute's commitment to developing sustainably by following appropriate policies and procedures.
The certificate is valid until October 2022. IFTM is Macao's first institution of higher education and first public body to obtain the certification. The process required a rigorous on-site audit by international inspectors belonging to BSI Group.
The ISO 22301 Business Continuity Management System Certificate indicates that IFTM's operations are supported by best practices in ensuring business continuity and disaster preparedness. It shows a commitment to taking a proactive approach to minimising any harm caused by untoward incidents such as the Covid-19 pandemic or strong tropical cyclones. It means IFTM focuses on building up the resilience of its systems to disruption.
IFTM has also received recently an ISO 27001 Information Security Management System Certificate. Certification requires IFTM to follow policies and procedures that cover all legal, physical and technical controls of its information risk-management processes.
IFTM has earned various forms of international accreditation over the years. In 2013, IFTM's operations were given an ISO 20000 certificate, showing they meet international standards for information technology service management. In 2016, IFTM was given an ISO 14001 Environmental Management System Certificate and two years ago, an ISO 9001 Quality Management System Certificate was achieved.
View gallery