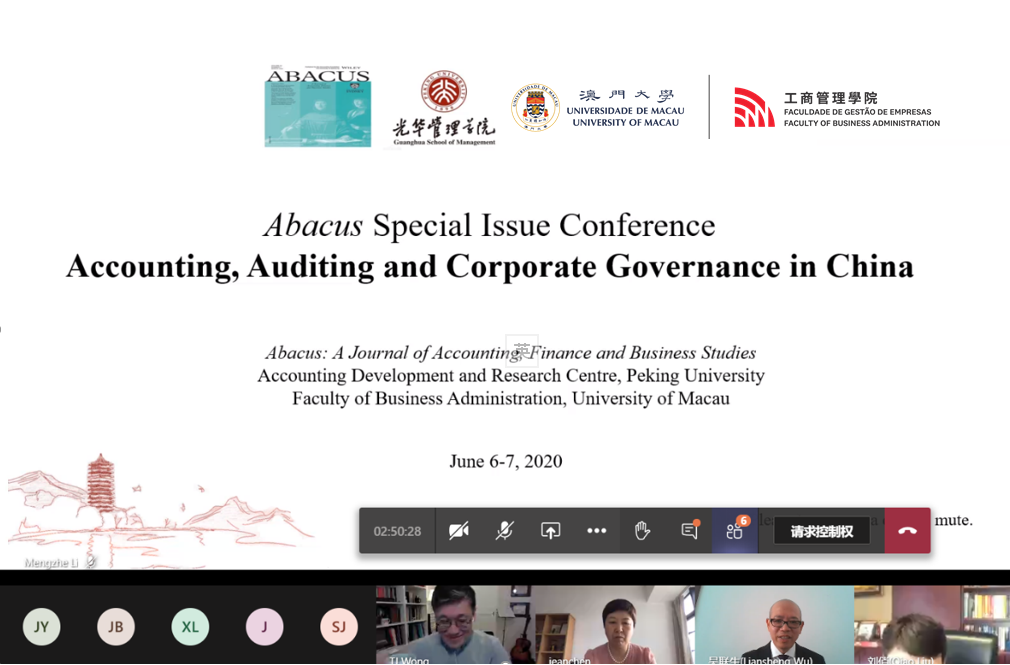 UM and Peking University jointly hold an online international accounting conference
The Business Research and Training Centre (BRTC), Faculty of Business Administration (FBA), University of Macau (UM), and the Accounting Development and Research Centre, Guanghua School of Management, Peking University, jointly held an online conference for a special issue of the leading international accounting journal Abacus. Titled 'Accounting, Auditing and Corporate Governance in China', the conference attracted over 250 experts and scholars from mainland China, the United Kingdom, France, Italy, the United States, Canada, Australia, New Zealand, Ghana, Macao and Hong Kong.
Prof Jean Chen, dean of the FBA, who is also the director of the BRTC and a chair professor of accounting and finance at UM, affirmed the organisation of the conference and expressed appreciation for FBA colleagues' commitment and hard work during this special COVID-19 period. She says that the COVID-19 pandemic did not stop the university from holding this international conference; it showed the high demand for the conference and the influence of the conference in the accounting world. Prof Liu Qiao, dean of the Guanghua School of Management at Peking University, and Stewart Jones, a professor of accounting at the University of Sydney and editor-in-chief of Abacus, also delivered welcome speeches at the opening session.
Prof Jason Xiao in the FBA, who is also the associate editor of Abacus, and Prof Wu Liansheng in the Guanghua School of Management, Peking University, chaired the conference. This conference and the special issue both place an emphasis on accounting and auditing, as well as their interface and interactions with corporate governance, especially for companies in transition and emerging economies such as China. 30 high-quality papers from around the globe were presented at the conference and those that pass the subsequent peer review will be included in the special issue of Abacus.
In addition, two prominent accounting professors delivered keynote speeches in the conference. The first keynote speaker was Prof Wong Tak-Jun (TJ), the Joseph A. DeBell Professor of Business Administration and a professor of accounting at Marshall School of Business, University of Southern California. He is an associate editor of Management Science and a former editor of The Accounting Review; both publications are top journals in their fields. The second keynote speaker was Prof Zhang Weiguo, a former member of the International Accounting Standards Board, which is the most important international accounting standard-setting body in the world. Prof Zhang is currently a professor of management practice at Tsinghua University. He is also PwC Professor in Accounting at Shanghai University of Finance and Economics.
View gallery