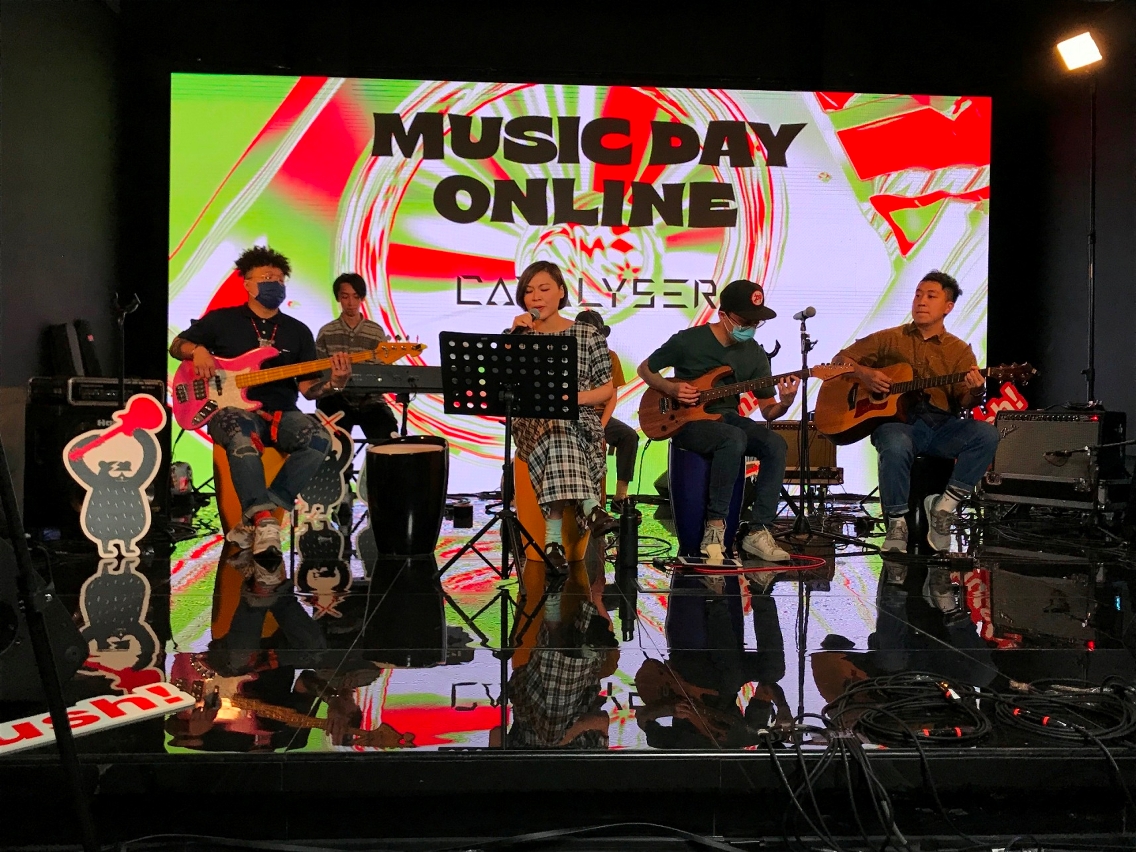 The first concert of "HUSH!! Full Music 2020" will be presented online
Organized by the Cultural Affairs Bureau (IC, from the Portuguese acronym) and co-organized by the Municipal Affairs Bureau, diverse music activities of "HUSH!! Full Music 2020" will be held between July and August. A total of 50 local musicians, bands and performers will perform online and at various places such as the Macao Contemporary Art Centre - Navy Yard No. 2, the Macao Science Centre Square, the Ponte 9 Rooftop and Senado Square respectively, becoming one of the most important annual pop music festivals in Macao.
Several music sharing sessions with different themes will be held in the evening of 4, 5, 11 and 12 July, at the Macao Contemporary Art Centre - Navy Yard No. 2, including the "MV & ME Concert" featuring singers who have released their own music videos; the "New Music Wave" revolving around the works produced under the Subsidy Programme for the Production of Original Song Albums; and "Singing Elves in Theatre – Musical Songs Concert", a concert themed around original songs from musicals. Interested parties may reserve their seats through the "Event Registration System" on IC's website at www.icm.gov.mo/eform/event from 10am on 30 June and limited seats are available for each concert, on a first-come, first-served basis.
"HUSH!! X Creative Industries Flea Market" will be held on 18 and 19 July, from 3pm to 9pm, at the Macao Science Centre Square, featuring a variety of genres such as jazz, folk, electronic and pop music, allowing the audience to enjoy music while also enjoying the sunset. Nearly 100 stalls will also be set up during the event, selling a variety of local creative and handicraft products, snacks and "hush!" brand products.
From 6pm to 10pm on 25 July, the "Rooftop Sunset' will be staged at the Ponte 9 Rooftop, located at Rua das Lorchas, during which a number of local bands will present their swinging music performances against the beautiful scenery of the old quarters of the Inner Harbour and the coast of Wanzai, Zhuhai. On 2 August, famous local bands will present the pop music performance "Hot Wave in the City" at Senado Square, drawing the whole event to a close in a bustling atmosphere.
The line-up of singers and bands for the said performances includes: Single Path, Rebel Rabbit, Amulets, FIDA, Kenny Chit, Gracy Lam, Germano Ku, Sean Pang, B_Gei3, Forget the G, Blademark, Flashlight, GAG TOO MORE, Soulomix, Covenant, Peach Punk, João Jazzin' Samba, SKETCH, Dr. Jen, Hoi Hou Hong, Loiz.P, Hon Chong Chan Jazz Trio, HERBS, Iron Son, 80 e tal, #FFFF99 Champagne Yellow, Achun, Dat Trio, A Little Salt, Why Oceans, akitsugu fukushima, Burnie, Avidya, Chapter 2, Free Yoga Mats, Scamper, Ariclan, and LAVY. The musicals featured in the thematic concert include: 22° North Latitude by Associação de Representação Teatral Hiu Koc, Farewell and Modern Life of Fish by Long Fung Drama Club, Bus Driver by Theatre Farmers, "Dreamers Go! Go!" Musical Side Story by Dream Project Association, Travel Among Musicals by Jordan Cheng and I Am A Singer by The Dancer Studio Macao.
In addition, the short video competition "HUSH!! 300 Seconds" welcomes the participation of all interested parties who can compete for the awards and win fabulous prizes, and is accepting submissions until 27 July. The regulations and application form can be obtained and downloaded from IC's thematic website at www.icm.gov.mo/hush.
All activities of "Hush!! Full Music 2020" will be arranged according to the anti-epidemic guidelines of the health authorities with preventive measures taken. For details of the event, please visit IC's thematic website at www.icm.gov.mo/hush and the "HUSH Full Music" page on Facebook, and subscribe to IC's official WeChat account 'IC_Art_Macao'.
View gallery