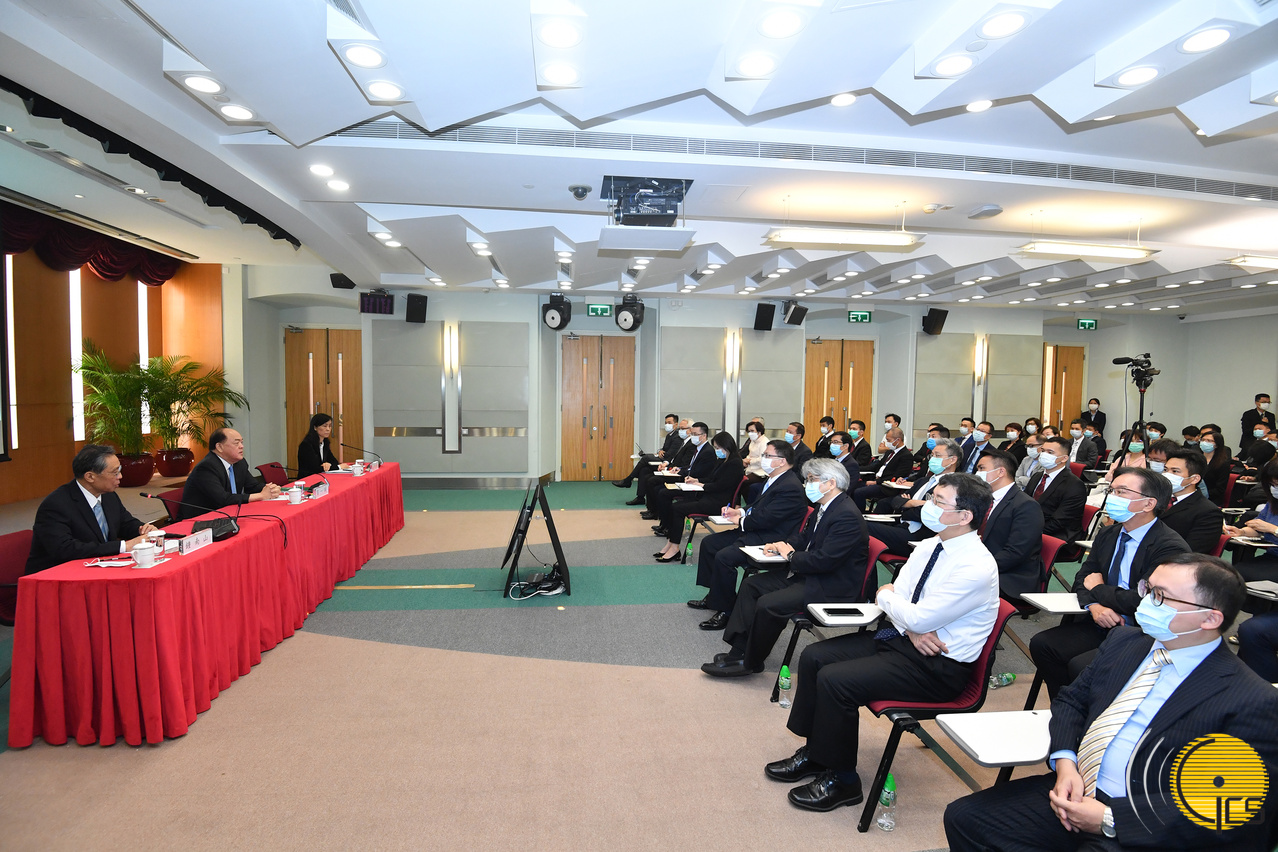 Member of the Chinese Academy of Engineering, Mr Zhong Nanshan, shares the experience in fighting against COVID-19 with representatives from different departments and the medical teams at the Government Headquarters in Macao.
Macao's work to control COVID-19 and prevent it spreading in the community should not be relaxed as no vaccine against the disease had been developed so far, said a member of the Chinese Academy of Engineering, Mr Zhong Nanshan.
Mr Zhong, who is also the Director of the National Clinical Research Centre for Respiratory Disease and head of the National Health Commission's high-level expert team regarding COVID-19, was in Macao at the invitation of the Chief Executive, Mr Ho Iat Seng, to share information on the latest developments in the COVID-19 pandemic and to provide guidance on the next phase of disease-control work in Macao.
The information-sharing session on Monday (29 June) had 70 people in attendance. They represented respectively: Macao medical experts; representatives of public departments engaged in Macao's epidemic-control effort; representatives from Kiang Wu Hospital; and representatives from Macau Red Cross.
During the session, Mr Zhong praised Macao's work in containing the virus, saying the city's record of 46 confirmed COVID-19 cases without any death was not a simple thing to achieve in such a densely-populated place that normally had frequent movement in and out of the city.
Macao's experience in fighting against COVID-19 and boosting the post-epidemic economy offered a lesson that should be learnt, said Mr Zhong.
The Chief Executive called on the session attendees to stay alert regarding the disease and stay united in the fight against it, as such concentration had led Macao to recognised achievements in combatting the COVID-19 pandemic.
Mr Ho stated local medical teams should plan for the worst and prepare in their best way, in order to combat the disease. Public departments were advised to take note of practice in other cities, particularly in relation to inspection of meats and other frozen products, he added.
The Chief Executive also spoke of the challenges – in terms of economic recovery and resumption of normal boundary-crossing movement – that Macao was facing as a service-orientated city.
During the session, Mr Zhong gave a brief presentation. It covered: the evolution of the disease worldwide; the control and combat strategies adopted in mainland China; routes of transmission; and treatments and medication.
The medical expert also shared more information about the recent confirmed cases associated with Xinfadi Market in Beijing, and about the treatment of contaminated food.
The country's ability to deal with the virus had been dependent on an effective mechanism for combat and control of the disease, and on disclosing transparently all disease-related information, Mr Zhong added.
View gallery