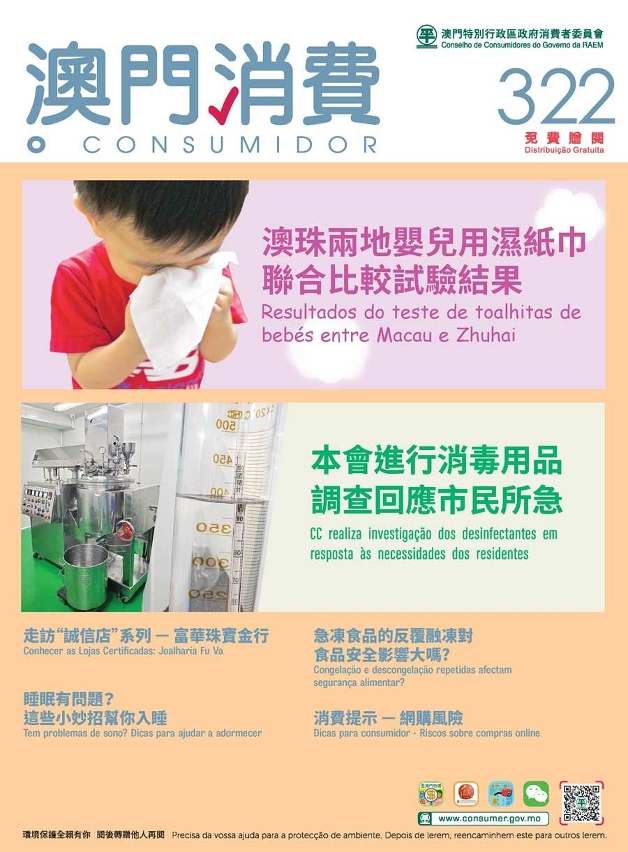 Consumer Report issue no. 322
The Consumer Council published the latest Consumer Report, featuring a comparison report on baby wet wipes, a coverage on the price survey work on disinfection products, and a Consumer Alert regarding online shopping. Consumers may access the magazine online on the Council's official website and WeChat official account.
31 baby wipes samples passed the test
Collaboration between the Macao Consumer Council and the Zhuhai Consumer Council has been strengthened in recent years, test reports have been jointly published for consumers to get more information from the market to make better consumption choice. The two Councils fully utilizes the advantages of resource sharing and mutual benefits in cross-border collaboration.
The Macao Consumer Council and Zhuhai Consumer Council tested the hygienic condition and quality of 31 samples of baby wet wipes earlier; samples included 10 wet wipes from Macao, all imported from different Asian regions according to the product labels, others were products from different provinces and cities in China. All samples were tested for the following: six kinds of microorganisms, three kinds of preservatives, pH value, liquid content, and whether the samples contain fluorescent whitening agent.
All samples tested passed the test requirements, certain samples were found to contain allergenic preservatives within the permissible range, consumers are advised to check the report to compare quality of the products and choose according to personal needs.
Strengthened survey work on disinfection products
Consumers' awareness in personal hygiene has been raised under the current pandemic, the Consumer Council strengthened their work on surveying disinfection products for consumers' comparison. A feature on the survey work is available in the latest Consumer Report, including interview with two local manufacturers of disinfection products.
Consumer Alert: online shopping risk
Online shopping offers the advantages of convenience and variety of choice, consumers should pay attention to the reliability of online shops and the risks involved tend to be higher when transaction is made on social platforms. The latest Consumer Report includes a Consumer Alert to remind consumers the risks involved in online shopping.
Consumers may access the magazine on the Council's official website and WeChat official account. Consumer Report is also available free of charge at the Council (Av. Horta e Costa, N.º 26, Edf. Clementina Ho), and the service counter of the Council at Macao SAR Government Service Centre (Rua Nova da Areia Preta, Nº52), Public Information Centre at Vicky Plaza, libraries, and bookstores.
For enquiry, please call 8988 9315.
View gallery