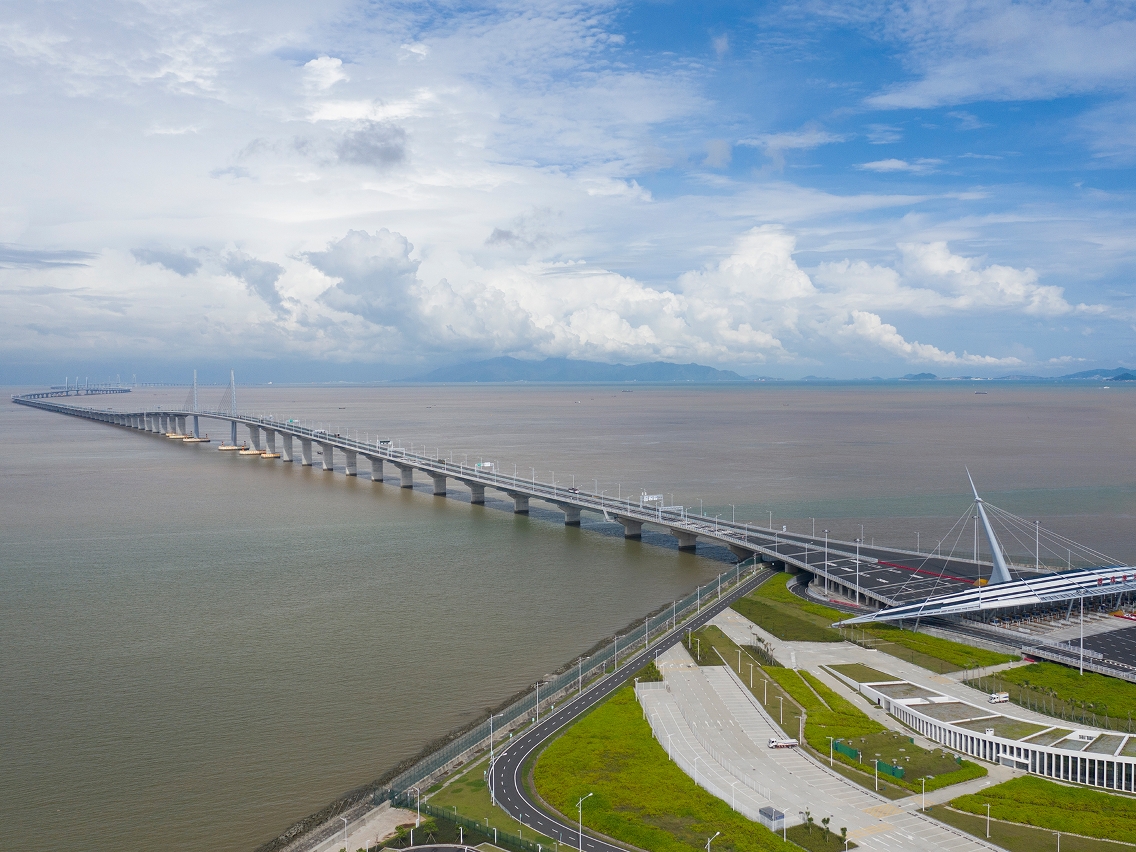 UM joins national and provincial key research projects on the maintenance of the Hong Kong-Zhuhai-Macao Bridge
The University of Macau (UM) is participating in two projects under the National Key Research and Development Programme and the Guangdong Provincial Key Research and Development Programme, in order to realise smart maintenance, repair, and operation of the Hong Kong-Zhuhai-Macao (HZM) Bridge. The national-level project concerns the application of smart technologies in the HZM Bridge's operation and maintenance, while the provincial-level project investigates smart safety monitoring and emergency control for sea-crossing projects. Officially launched in 2020, these two projects are jointly conducted by UM and its partners in mainland China and Hong Kong.
Most members of the UM team are also members of UM's State Key Laboratory of Internet of Things for Smart City (the lab). The UM team is headed by Wanhuan Zhou, Hannah, who is an associate professor and the head of the Department of Civil and Environmental Engineering. She is also the interim head of UM's Centre for Regional Oceans. According to Prof Zhou, the structure of the HZM Bridge can be affected by various factors, so it is important to constantly monitor the different areas of the cross-sea infrastructure. The UM team's current focus is on the bridge's immersed tunnel and its weak connecting parts with the artificial islands. The tunnel is composed of 33 segments, whose joints are the most susceptible to deformation. Therefore, long-term structural health monitoring is required for necessary steps to be taken.
UM researchers are developing different types of sensors, some of which are made of optical fibres. Prof Zhou explains, 'Optical fibres can transmit data and measure factors such as changes in temperature and strain. These data reflect how much a structure is deformed under force. Fibre optic sensors are particularly ideal for humid environments such as tunnels because they are much more durable than their electrical equivalents.' However, as Prof Zhou explains, it is not always feasible to install sensors, as many parts of the bridge are underwater. To tackle this problem, UM researchers will build numerical models to gather data from sensors, structural designs of the bridge, soil conditions, and other environmental conditions. This model will be useful for extrapolating missing variables that cannot be directly measured, thus enabling more sophisticated monitoring.
In addition, UM researchers are designing a wireless network of smart sensors and edge computing devices, to be installed in the tunnel's connecting points with the two artificial islands of the HZM Bridge. Shaodan Ma, an associate professor in the Department of Electrical and Computer Engineering and assistant director of the lab, explains, 'Data collected by our sensors will be sent to edge computing devices nearby, instead of going directly to a centralised computing platform. Distributing computing tasks to edge devices has many advantages, such as shorter task response time, quicker emergency alerts, and a lower burden on the network.'
Meanwhile, other team members are exploring smart technologies to assess and maintain marine concrete structures under extreme conditions, and searching for new ways to assess the safety of the artificial islands during extreme weather events. In addition, some members of the UM team plan to develop effective mechanisms to evaluate the operation of the fan system and raise alerts based on live monitoring data, while others are trying to create multi-dimensional and multi-modal knowledge graphs for immersed tunnels and to study their data ecological mechanism.
View gallery