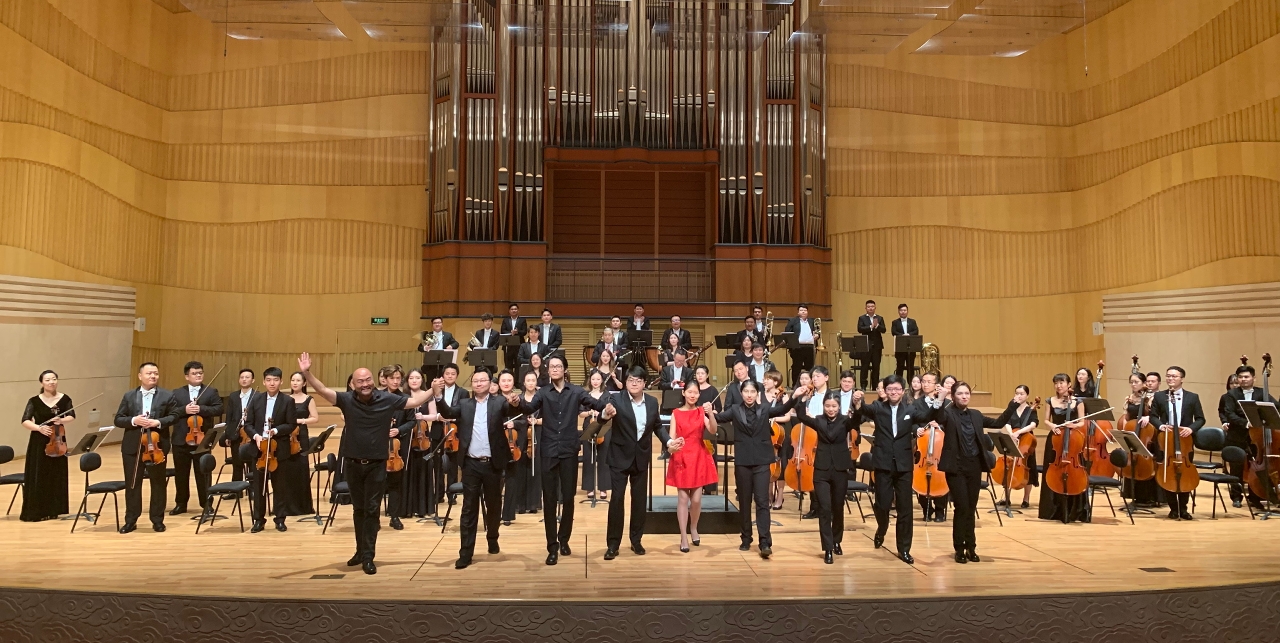 The Department of Conducting of the Shanghai Conservatory of Music
The concert "The Future Conductor", part of the special production series of the Macao Chinese Orchestra (OCHM), under the auspices of the Cultural Affairs Bureau, originally scheduled to be held at the Dom Pedro V Theatre on 23 April (Friday) at 8pm, will be relocated to the Macao University Hall (N2), according to the requirements of the programme. This concert, led by Music Director of the Macao Chinese Orchestra Liu Sha, will count with the cooperation of students from the Conducting Department of the Shanghai Conservatory of Music.
Founded in 1927, the Shanghai Conservatory of Music is regarded as the cradle of Chinese musicians. The Department of Conducting was established in 1956, becoming one of the first educational bases for cultivating professional conductors in China. Postgraduate students from the Department of Conducting of the Conservatory, Niu Jiran and Guo Pan, as well as current students Yuan Xin and Zhuo Xiao were invited to collaborate with the OCHM and conduct each one of the pieces of the concert alongside the Music Director of the Macao Chinese Orchestra, Liu Sha, allowing the audience to have a glimpse of the country's future conductors and to appreciate varied performance styles of the OCHM under the baton of different conductors.
The programme of the concert includes A Moonlit Night on Spring River for Pipa and Orchestra, arranged by Peng-zhang and Luo Zhong-rong, featuring pipa performer Li Tong, Flower Bangzi, arranged by Yan Shaoyi, featuring banhu performer Li Feng, A Hundred Birds Paying Homage to the Phoenix for Suona and Orchestra, composed by Ren Tongxiang and arranged by Wang Fujian, featuring suona performer Guo Shuangxi and Moon Reflected in the Second Spring for Erhu and Orchestra, composed by Hua Yanjun and adapted by Peng Xiuwen, featuring erhu performer Cai Feng, as well as a number of classical ensemble pieces, including Spring Festival Prelude, composed by Li Huan Zhi, The Moon on High, arranged by Peng Xiuwen, Mount Ava, composed by Guo Wenjing, Harvest Dance on Strings, composed by Wang Danhong, and Yao Minority Dance, composed by Liu Tieshan and Mao Yuan, and the General's Mandate, adapted by Gu Guanren, which will bring the concert to a successful conclusion.
Tickets for the concert "The Future Conductor" will be available from 10am on 2 April through the Macau Ticketing Network, at the price of MOP 120 and MOP 100, with various discounts available. All music aficionados are welcome.
The Cultural Affairs Bureau will strictly follow the relevant guidelines of the Health Bureau and implement appropriate measures for cultural activities. All participants must wear face masks, undergo body temperature checks, present a valid "Macao Health Code", and cooperate with the crowd control measures.
For more information on the concert, please contact the Macao Chinese Orchestra through tel. no. 8399 6679 during office hours or visit the Macao Chinese Orchestra website at www.icm.gov.mo/ochm.
View gallery