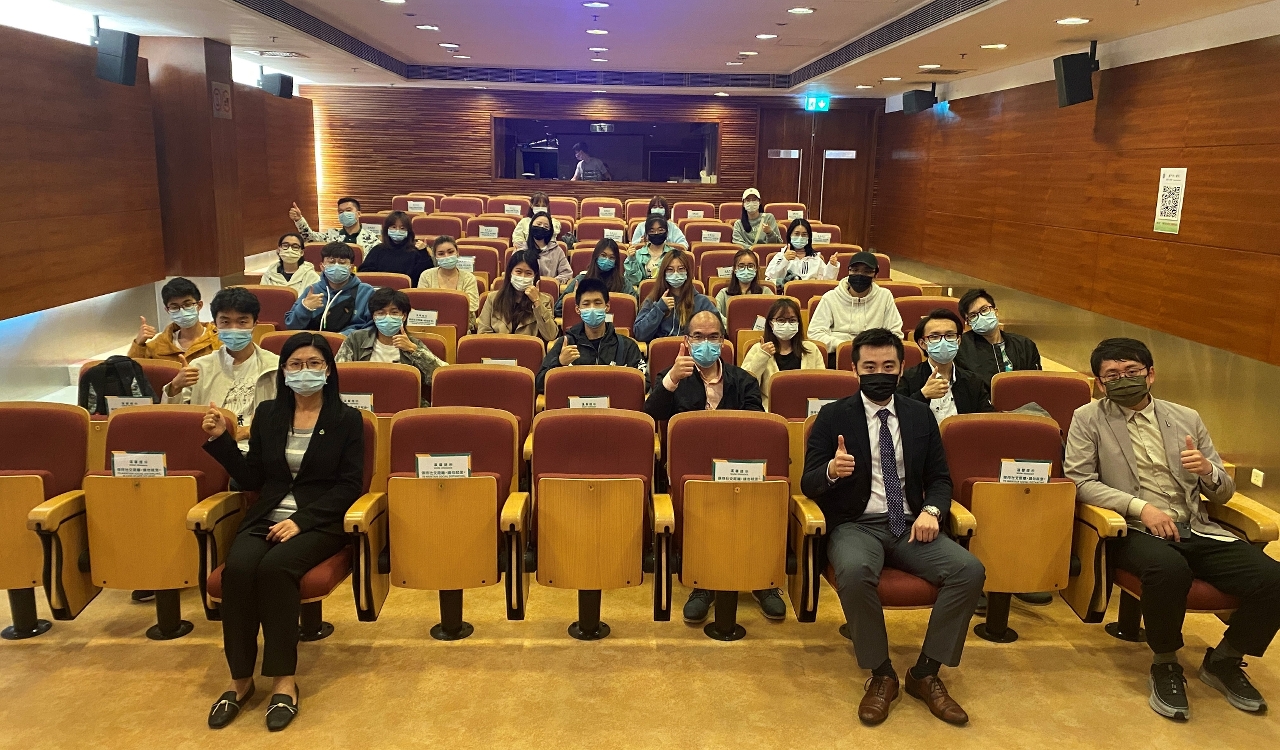 Group photo of the speakers and students of "Positioning Strategy for Startups: Made in Macao"
In order to enhance university students' spirit of entrepreneurship and innovation, Macao Polytechnic Institute has recently organised an entrepreneurial seminar named "Positioning Strategy for Startups: Made in Macao". Chaired by the Managing Director of Macau 853 Mask Factory, Mr Jacko Lai shared his own entrepreneurship experience and escorted students to visit his mask factory to strengthen their understanding of Macao's current entrepreneurship and business environment.
The seminar was hosted by Mr Jacko Lai, the youth entrepreneur of Macau 853 Mask Factory, which was established during the outbreak in early 2020, as well as by Mr Lok Hong, Founder and Art Director of Loksophy Design Ltd., an alumnus of MPI's Design Programme, who carries out the brand marketing job for Macau 853 Mask Factory. Both shared their respective entrepreneurial experiences and the add-on effects of "Made in Macao, Designed in Macao" as a result of their cooperation. Mr Lai encouraged entrepreneurs to keep abreast of market trends and adjust their strategies in a timely manner to achieve sustainable development. After the seminar, MPI students had a field trip to the 853 Mask Factory, and experienced the zero-distance mask production process in a Class 100,000 Cleanroom. Student Yu, who majors in Business Administration, said that with the increase in local manufacturing cost, it was rare to see the daily necessities to be produced in Macao. Seeing many people wearing masks with words "Made in Macau" imprinted on them during the outbreak makes him proud to be a Macao local.
The event organiser, Student Affairs Office of MPI stated that "Positioning Strategy for Startups: Made in Macao" entrepreneurial seminar and field trip is one of the activities in the MPI Careers Day 2021 series. It is hoped that through the combination of seminars and field trips, students will have a more comprehensive and in-depth understanding of the road to entrepreneurship, and students who intend to start a business will be provided with a new direction of thinking.
View gallery