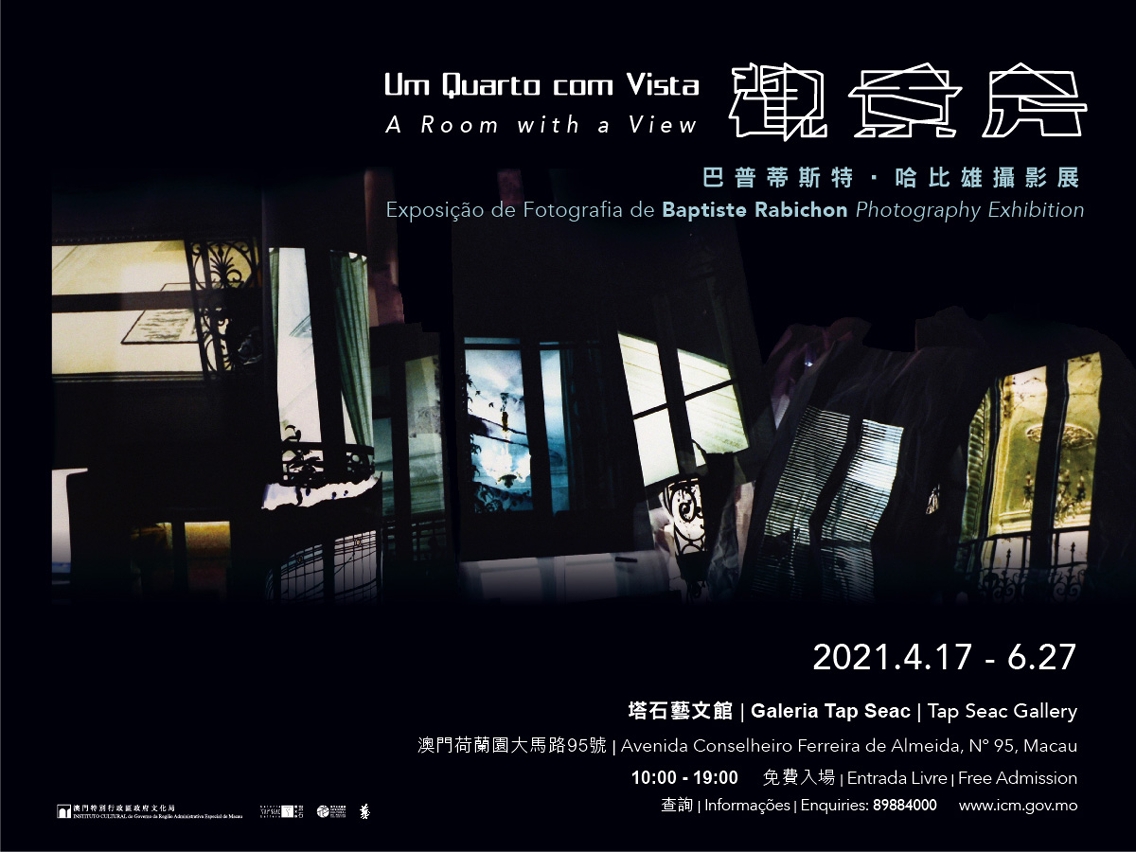 A Room with a View - Baptiste Rabichon Photography Exhibition
The exhibition 'A Room with a View - Baptiste Rabichon Photography Exhibition', organized by the Cultural Affairs Bureau (IC, from its Portuguese acronym), will be launched with an opening ceremony at Tap Seac Gallery at 6:30 p.m. on 16 April (Friday). Displaying contemporary photographic works by the emerging French contemporary photographer Baptiste Rabichon, this exhibition is one of the visual art exhibitions featured in the 31st Macao Art Festival (MAF). All are welcome to visit.
Baptiste Rabichon studied at several French art schools and graduated from Le Fresnoy - Studio National des Arts Contemporains in 2017. After graduation, Rabichon stood out in a number of Chinese and overseas exhibitions with his unique works; he won the BMW Residency and the Moly-Sabata/Salon de Montrouge prize in 2017 and 2018 respectively, and was selected as a resident artist of the Cité internationale des arts in 2019 and 2020. This exhibition features 41 pieces/sets of contemporary photographic works across five series, namely Albums, Dad's Shirts, Lodhi Gardens Trees, Balconies, and Manhattan Drawings. The works by Rabichon present a realistic yet hallucinatory and amazing context through his artistic technique that combines both conventional and innovative elements and mixes analogue photography, digital images, and projection of everyday objects. The exhibition will introduce the contemporary expressions of photography and invite visitors to explore further possibilities in artistic creation, an authentic feast of molecular gastronomy to the eyes of the photographic circle, art aficionados and general public of Macao.
'A Room with a View - Baptiste Rabichon Photography Exhibition' will be held at Tap Seac Gallery between 10 a.m. and 7 p.m. daily from 17 April to 27 June (including public holidays). Admission is free. IC will strictly follow the relevant anti-epidemic guidelines of the heath authorities and implement appropriate measures for cultural activities. All visitors must wear face masks, undergo body temperature checks, present a valid Macao Health Code of the day, and comply with the crowd control measures.
For more information about the exhibition, please visit MAF's website at www.icm.gov.mo/famor call 8988 4000 during office hours. For details about the 31st MAF, please check the 31st Macao Arts Festival booklet (PDF version can be downloaded from the official website), follow the MAF's page on Facebook (search for 'Macao Arts Festival'), or subscribe to IC's WeChat official account 'IC_Art_Macao'.
View gallery