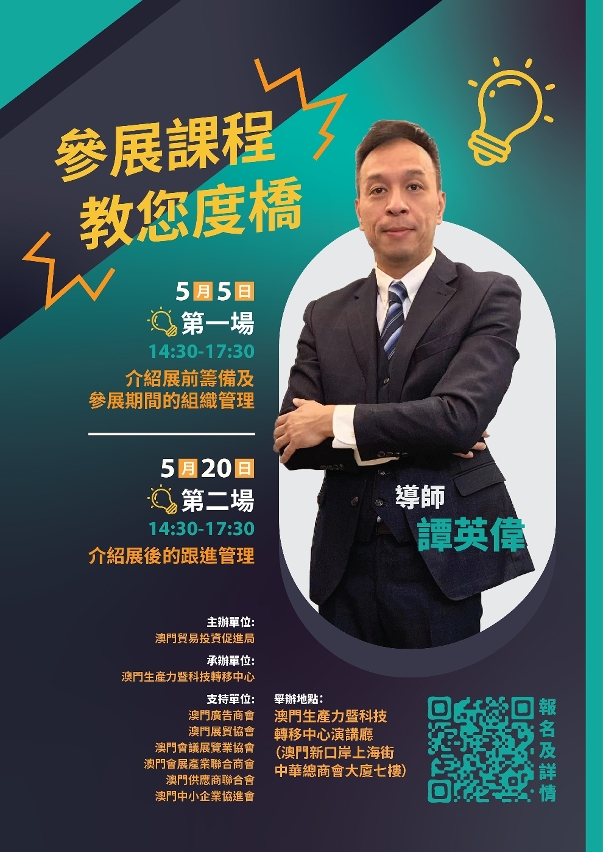 Scan the QR code to register for the Exhibitor Training Course for Macao Enterprises
To help Macao enterprises yield better results in the MICE sector, adapt to new industry trends and expand their markets, the Macao Trade and Investment Promotion Institute (IPIM) will hold four sessions of the Exhibitor Training Course for Macao Enterprises from May to June. Industry representatives will discuss two major topics "Macao Exhibition Strategies" and "Livestream Promotion for Products and Services", and look into each step of preparation for such tasks, as well as the livestreaming promotion technics that are employed at MICE events. The course is now open for registration free of charge. All local enterprises are welcome to attend.
The speaker for the first two sessions on event participation strategies will be Tam Ieng Wai, a lecturer at the Macau Productivity and Technology Transfer Centre (CPTTM) – the coordinator of this course – and a top professional in the advertising industry with over 20 years of experience in organising MICE events in Macao and Mainland China. He will elaborate on pre-event preparations, operation and management during the event, and post-event follow up. The speaker for the third and fourth sessions will be Chan Weng Si, also a lecturer at CPTTM and online marketing specialist who has been active in various livestream platforms. With an interactive way she will teach online marketing techniques and show participants how to promote products and services effectively with B2B and B2C approaches via MICE events' platforms.
The Exhibitor Training Course for Macao Enterprises will be held at 2:30 pm on 5 May, 20 May, 2 June and 17 June at the CPTTM Auditorium (Rua de Xangai 175, Edf. ACM, 7 Andar, Macau). Participants who have completed all sessions of topic 1 and/or 2 will be awarded the corresponding certificates. Interested enterprises may register for the course on the following webpage (https://www.cpttm.org.mo/2021/04/ipim-training/). Registration is free of charge and seats are offered on a first-come-first-served basis due to limited availability. For details of the events, please visit IPIM's website www.ipim.gov.mo or call IPIM staff on (853) 8798 9338 or (853) 8798 9282.
View gallery