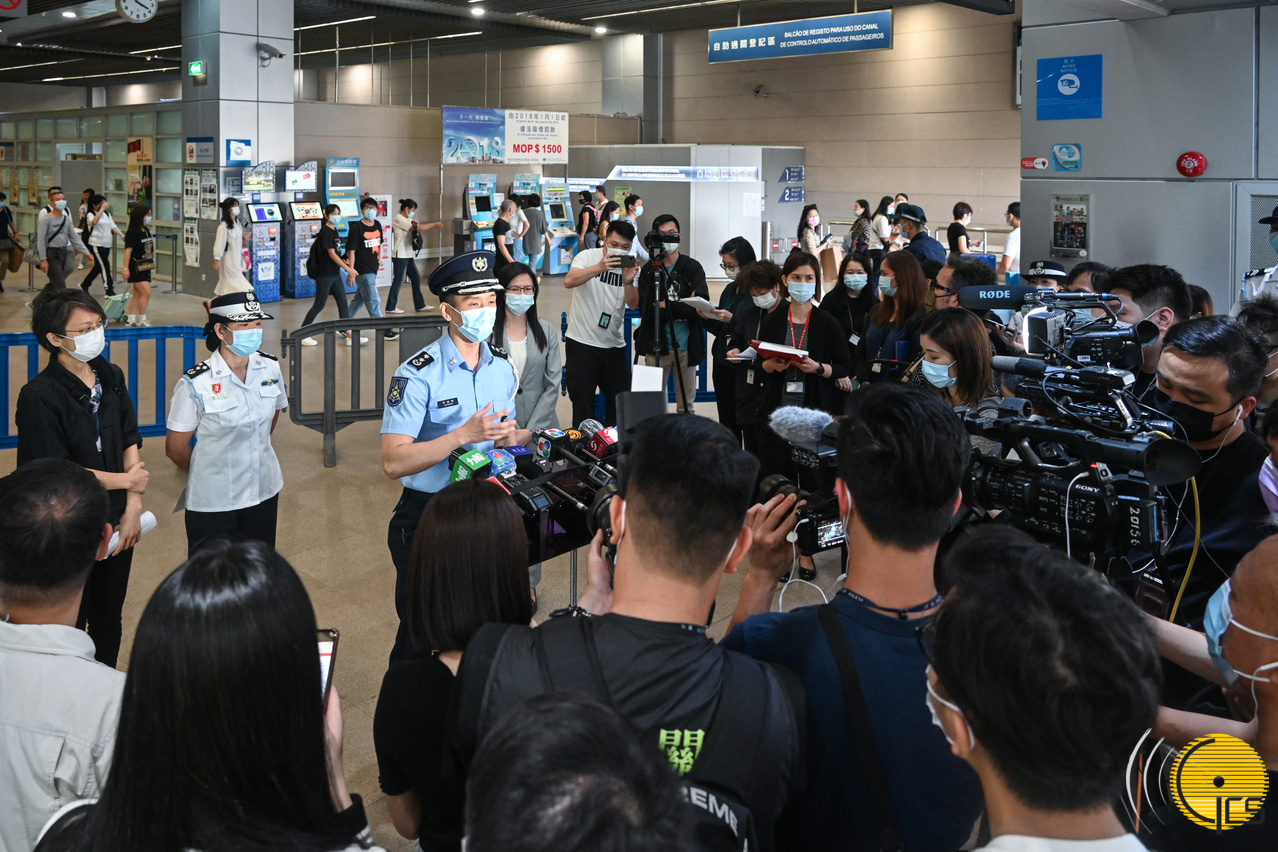 Government officials brief reporters on preparations ahead of the 1 May Golden Week holidays during a media tour to the Border Gate Checkpoint.
In view of a forecast growth in the number of visitors to Macao during the Labour Day holiday starting from 1 May, Government departments have made intensive preparations in relation to boundary-crossing controls, customs procedures, public health, and anti-epidemic control measures.
Officials respectively from the Public Security Police Force, the Health Bureau, the Macao Government Tourism Office, and the Consumer Council, gave a briefing on Thursday (29 April) to reporters regarding Government preparations and measures. During the session, reporters had the opportunities to see for themselves boundary-crossing movement at the Border Gate Checkpoint.
In preparation for the expected growth in the number of visitors from the mainland, police planning had ensured the force would have sufficient human resources. The police would also ensure there would be a sufficient number of counters at checkpoints in order to speed up immigration formalities for the expected flow of people. The Government had maintained close communication with the mainland authorities in a bid to ensure smooth movement at boundary crossings.
During the upcoming peak travel period, the Customs Service would deploy sufficient staff at boundary checkpoints, with the aim of ensuring efficiency of customs inspection, as well as sufficient staff for coastal patrol duties, and the combatting of parallel trading.
In relation to anti-epidemic measures, the Health Bureau would dispatch more staff members to boundary crossing checkpoints to assist inbound travellers and check their declaration under the Macao Health Code system, and their nucleic acid test certification. The Government had a plan detailing countermeasures in the event of an emergency situation occurring at a checkpoint.
The Macao Government Tourism Office would step up effort to promote news regarding Macao's epidemic-control measures to travellers from the mainland; while issuing reminders to the tourism industry about observation of the anti-epidemic guidelines.
The Consumer Council would work closely with counterparts in other cities within the Guangdong-Hong Kong-Macao Greater Bay Area, to share information on the Consumer Council's measures and services for the public regarding protection of their rights, and channels to be used in case of any consumer complaints. There would be a telephone hotline, available from 1 to 3 May, to handle any enquiries or complaints.
View gallery