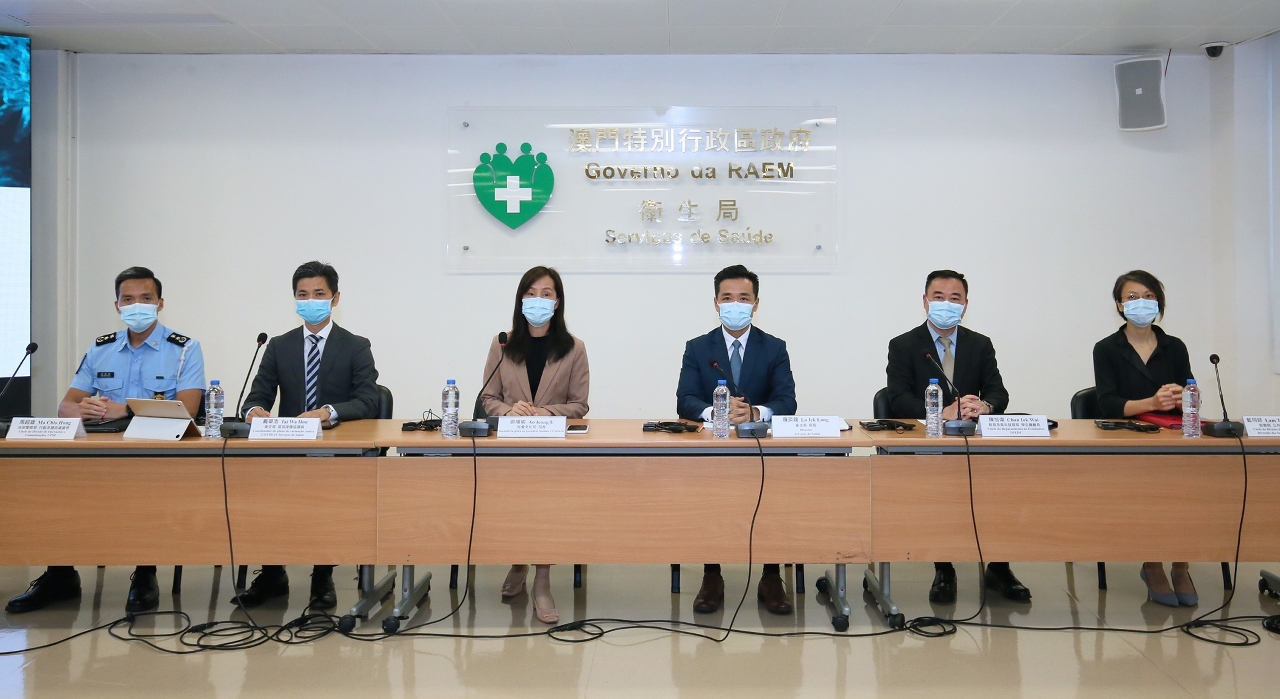 Press conference held by the Novel Coronavirus Response and Coordination Centre.
Those people in Macao that have a fever without a known cause are now required to undergo a nucleic acid test, if they seek medical assistance at either Conde S. JanuárioHospital, Kiang Wu Hospital, or University Hospital.
The new measure applies to every person with fever of unknown origin, and not only to those that have a history of travel outside Macao during the pandemic, or those that are at high risk of occupational exposure.
The latest step was announced on Monday (31 May) during a regular press conference of the Novel Coronavirus Response and Coordination Centre. The Secretary for Social Affairs and Culture, Ms Ao Ieong U, attended the briefing.
The new measure aimed to identify any potential COVID-19 case in the community, following recent outbreaks in Guangdong Province, namely in Guangzhou, Foshan, and Shenzhen.
All patients with fever of unknown cause, and that were subject to a nucleic acid test, would be issued with a 'yellow' Macao Health Code. This meant they would be advised to stay home and avoid taking any public transport or going to places with crowds. Such measures would remain in place until their test confirmed a 'negative' result for COVID-19 infection.
During the press conference, Ms Ao Ieong advised those members of the public that had not yet done so, to get vaccinated as soon as possible, and work in line with the Government's anti-epidemic measures. Members of the public should avoid visiting those Guangdong cities with recent outbreaks.
Given the outbreaks in neighbouring cities, it would be difficult to ensure zero local cases in Macao, said Ms Ao Ieong. Recently, a Macao resident travelled to Guangzhou and visited an attraction in Liwan district where he was near to a later-confirmed COVID-19 patient. The Macao resident had been required to undergo medical observation, while the other 31 Macao residents who took part in the same tour, were also required to take a number of measures to prevent risk of COVID-19 arising in the community. These included each person taking multiple nucleic acid tests and undergoing serological testing. There had been reports in the media of people having a 'relapse' months after treatment for COVID-19. This illustrated a possible COVID-19 danger factor in terms of risk of community outbreak, said Ms Ao Ieong.
The Secretary mentioned the existence of a mechanism to suspend any restrictions that have been eased, which would affect travel between Macao and mainland China. Such mechanism had two levels: 1. In any districts that were categorised as being of medium risk of COVID-19 outbreak, due to recording a case there, people there would not be able to travel between Macao and mainland China; 2. If the city recorded up to 10 local cases, such suspension mechanism would be applied to the entire city.
Macao has seen lately a growing number of online reservations for vaccination. A total of 48,116 people in the past week had reserved a booking for vaccination, while the range for daily volume of reservations was 7,300 to 8,600. These numbers were the highest since the vaccination programme started on 9 February this year, said Ms Ao Ieong.
In view of the increasing demand for vaccination, the Government has increased by 500 the daily quota for vaccinations performed at the Macao Forum building. This means the aggregate number available daily at that facility would be 2,000.
Starting from Wednesday (2 June), the 15 vaccination points set up across the city will provide walk-in vaccination service, allowing members of the public to get vaccinated for whatever period of time that centre's daily quota of jabs is available. People with prior online reservation would have priority for the vaccination service.
As of Monday (31 May), Macao had not recorded any COVID-19 community case (including asymptomatic cases) for 428 consecutive days, and no imported case for six consecutive days.
Macao had dealt with a total of 51 confirmed COVID-19 patients since the start of the pandemic. Of the aggregate, 49 cases were imported and two were categorised as infection related to imported cases. Macao has had zero COVID-19-related deaths and zero infections among medical staff.
As of 4pm on Monday (31 May), a total of 173,404 COVID-19 vaccine jabs had been administered in Macao, according to statistics provided by the Novel Coronavirus Response and Coordination Centre.
A total of 108,989 individuals in Macao was categorised as having received a vaccination against COVID-19. Of those, 43,870 people had received solely a first dose, and 65,119 had each received two doses of vaccine.
During the 24 hours from 4pm on Sunday (30 May) to 4pm on Monday (31 May), the Health Bureau received two notifications about reactions related to vaccination. There was zero incidence of a serious adverse event; and two instances involving a minor event.
In Macao, a citywide COVID-19 vaccination programme has been launched on 9 February. Since the beginning of the vaccination programme, there have been 751 notifications about reaction to vaccination, including three instances of serious adverse event; and 748 cases of a minor event.
A vaccination appointment can be made via https://eservice.ssm.gov.mo/covidvacbook. For details of the vaccination programme, please refer to a dedicated webpage: https://www.ssm.gov.mo/apps1/covid19vaccine/en.aspx.
The Novel Coronavirus Response and Coordination Centre urges members of the public to make a booking for vaccination. Vaccination against COVID-19 helps protect oneself and one's family. Such effort is conducive to safeguarding Macao by building a population-wide immunity.
View gallery