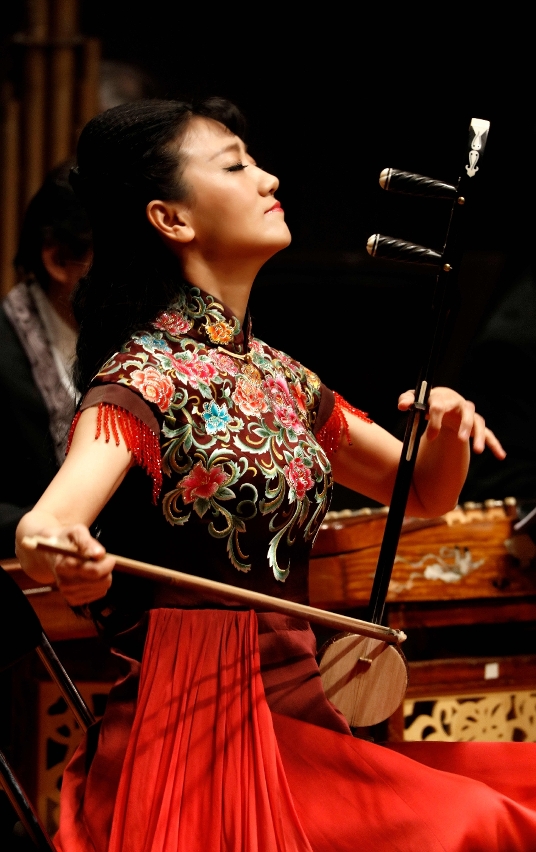 Jiang Kemei
The Macao Chinese Orchestra (OCHM), under the auspices of the Cultural Affairs Bureau, presents the 2020-2021 Season Closing Concert, "Inheritance, Development" – 100 Years of Chinese Music, on 30 July (Friday), at 8pm, at the Macao Cultural Centre Grand Auditorium. Led by its Music Director and Principal Conductor, Liu Sha, the Orchestra will count with the cooperation of famous Huqin performer Jiang Kemei and young yangqin performer Wang Yujue. With these emerging and renowned musicians gathered in the concert, music aficionados will enjoy the legacy and development of Chinese music and spend an unforgettable evening.
In the concert, OCHM, under the baton of its Music Director and Principal Conductor, Liu Sha, will present the commissioned work "Macao Sketch" by Li Bochan, an emerging composer born in the 1990s. This national orchestral work set against the backdrop of Macao's inclusive cultures, portrays the humanistic spirit of Macao through a flowing melody. Renowned Huqin performer, Jiang Kemei, hailed as "A beauty who can play five types of Huqin", will return to Macao to perform in this concert, presenting Banhu concerto Impromptu by Wang Danhong and Banhu and ensemble Peach Blossom Red by Jiang Kemei and Shen Dan, which expresses the artistic characteristics of the Shanxi Bangzi opera and the artistic charm of the Huayin Laoqiang opera. The concert also features young yangqin performer, Wang Yujue, presenting the Yangqin Concerto No. 2 "Harmony" by Zhang Chao, which shows the virtuosity of the artist. An appealing closing concert that music aficionados will certainly not want to miss.
Renowned Chinese Huqin performer Jiang Kemei, currently a national first-class artist and the honorary chief of the China Broadcasting Chinese Orchestra, has been widely recognized throughout China, Asia, Europe, and North America, and is considered the most popular contemporary huqin performer. Young yangqin musician Wang Yujue, currently a lecturer at the Central Conservatory of Music, won several major awards, including the 5th Mandarin Art Academy Award and the laureate of the young professional group of 2009 CCTV Folk Music Competition. These two musicians will offer excellent performances to music aficionados.
Tickets for the concert "Inheritance, Development" – 100 Years of Chinese Music will be available from 10am on 6 July (Tuesday) through the Macau Ticketing Network at www.macauticket.com, at the prices of MOP200, MOP160, MOP140 and MOP120, with various discounts available. Music aficionados are advised to purchase tickets as soon as possible. The duration of the concert is approximately 1 hour and 30 minutes, including an intermission.
The Cultural Affairs Bureau will strictly follow the relevant guidelines of the Health Bureau and implement appropriate measures for cultural activities. All participants must wear face masks, undergo temperature checks, present a valid "Macao Health Code" of the day, and follow crowd control measures on-site.
For more information about the concert, please contact the Macao Chinese Orchestra through tel. no. 8399 6679 during office hours or visit www.icm.gov.mo/ochm.
View gallery