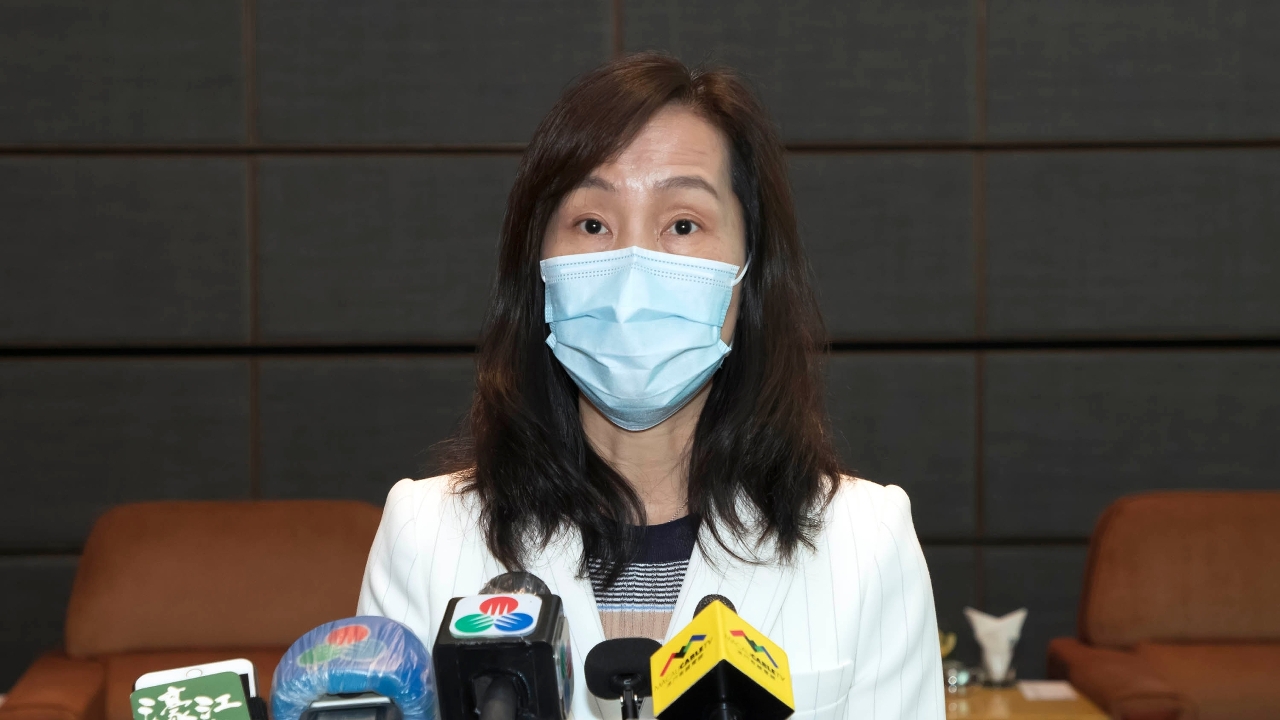 The Secretary for Social Affairs and Culture, Ms Ao Ieong U, speaks to reporters.
The Secretary for Social Affairs and Culture, Ms Ao Ieong U, said a batch of 200,000 doses of COVID-19 vaccine produced by Sinopharm has recently been delivered to Macao. She called on members of the Macao public not yet vaccinated against COVID-19, to get vaccinated as soon as possible.
Speaking to reporters on Tuesday (20 July), Ms Ao Ieong said the recent delivery of vaccine represented half of the Government's latest procurement effort, i.e., 400,000 doses of Sinopharm vaccine. The Government would coordinate the delivery of the remaining 200,000 doses.
The Secretary said the vaccination ratio for the Macao population was around 40 percent. The ideal ratio for building herd immunity should be around 80 percent; so the number in Macao was far below that. She noted the recent daily tally of vaccination appointments was around 2,000, representing a sharp decrease from the peak registered previously, of up to 10,000 a day.
The Government devoted the utmost effort to securing supply of vaccines for the Macao public. Members of the public should get vaccinated if they had not already done so, in order to protect themselves and others.
Building herd immunity was essential to relax some epidemic-control measures, such as resuming normal boundary-crossing arrangements, said Ms Ao Ieong.
In addition, the Government would invite to Macao experts from the National Health Commission of the People's Republic of China, to assess the city's capacity to counter any outbreak of COVID-19. It was in a bid to advance effort for resuming normal boundary-crossing movement between Macao and Hong Kong, and for facilitating further convenience at boundary crossings between Macao and the mainland.
As of 4pm on Tuesday (20 July), a total of 461,931 COVID-19 vaccine jabs had been administered in Macao, according to statistics provided by the Novel Coronavirus Response and Coordination Centre.
A total of 271,308 individuals in Macao was categorised as having received a vaccination against COVID-19. Of those, 79,024 people had received solely a first dose, and 192,284 had each received two doses of vaccine.
During the 24 hours from 4pm on Monday (19 July) to 4pm on Tuesday (20 July), the Health Bureau received 46 notifications about reactions related to vaccination. There was zero incidence of a serious adverse event; and 18 instances involving a minor event (of which 12 instances related to the Sinopharm vaccine, and six relating to BioNTech's mRNA vaccine).
In Macao, a citywide COVID-19 vaccination programme was launched on 9 February. Since the beginning of the vaccination programme, there have been 1,984 notifications about reaction to vaccination, including six instances of serious adverse event; and 1,978 cases of a minor event.
A vaccination appointment can be made via https://eservice.ssm.gov.mo/covidvacbook. For details of the vaccination programme, please refer to a dedicated webpage: https://www.ssm.gov.mo/apps1/covid19vaccine/en.aspx.
View gallery