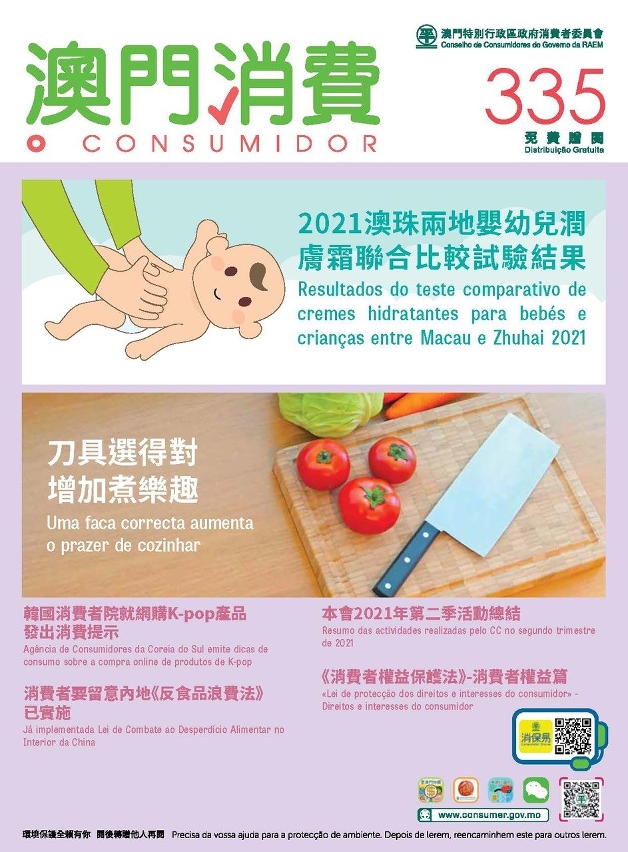 Consumer Report issue no. 335
The recently published Consumer Report includes a report of the 2021 collaborative testing of Macao and Zhuhai on infant moisturizer, and a feature on exploring the rights of consumers in "Consumer Rights and Interests Protection Law".
Testing result of 20 infant moisturizer samples satisfactory
Due to the rapid exchange in consumption of residents in the Greater Bay Area, consumer organizations in the Area strengthened their cooperation in testing products to help build a more confident and secure consumption environment in the Greater Bay Area.
The Macao Consumer Council and Zhuhai Association for Consumers' Rights and Interests Protection co-published a report on testing infant moisturizers available in the two regions. All 20 samples of infant moisturizers meet the national safety standard for cosmetics, including the testing on 6 kinds of heavy metals, 6 kinds of preservatives such as phenoxyethanol that may irritate baby's skin, 41 kinds of glucocorticoid, and pathogenic microorganisms such as Staphylococcus aureus, etc..
The said report and the related "Consumer Alert" is now published in issue no. 335 Consumer Report.
Special feature on consumer rights in "Consumer Rights and Interests Protection Law"
Law no. 9/2021 "Consumer Rights and Interests Protection Law" will come into effect on 1 January 2022, promotion and education of the Law will be gradually carried out for consumers and business operators.
The latest Consumer Report includes a feature on the various rights of consumers entitled in "Consumer Rights and Interests Protection Law", including the right to be informed and the right to request for receipts, etc., and the right to freely cancel one's distance contract, contract concluded outside the business premise, and contract for prepayment consumption. Consumers will be able to understand more about their own rights in the feature.
"Consumer Alert" on preventing cross-border consumption dispute
A working agreement has been signed by the Macao Consumer Council and Korean Consumer Agency for case referral and sharing of information. In order to prevent consumer disputes regarding the purchase of K-pop merchandise by Macao consumers, a "Consumer Alert" published by the KCA is available in the current issue of Consumer Report. The featured article includes tips and information provided by the KCA to local consumers.
Other contents covered in this issue include various works and activities carried out in Q2 by the Consumer Council, and the "Anti-food Waste Law" that came into effect this April in mainland China.
Consumers may access the magazine on the Council's official website and WeChat official account. Consumer Report is also available free of charge at the Council (Av. Horta e Costa, N.º 26, Edf. Clementina Ho), and the service counter of the Council at Macao SAR Government Service Centre (Rua Nova da Areia Preta, Nº52), Public Information Centre at Vicky Plaza, libraries, and bookstores.
For enquiry, please call 8988 9315.
View gallery