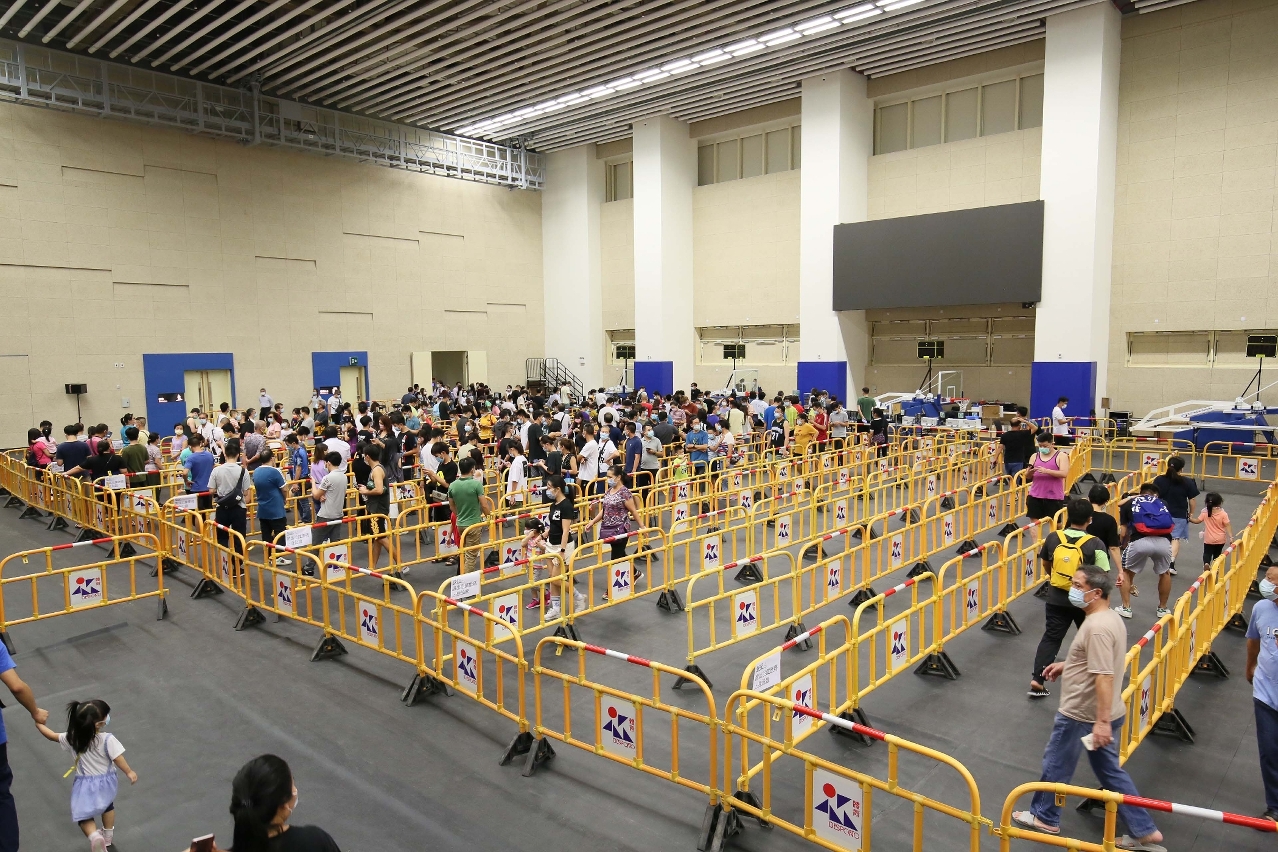 Crowd management improved in sampling station (Mong-Ha Sports Centre)
Novel Coronavirus Response and Coordination Centre expressed that, with an aim to enhance the citywide nucleic acid testing drive, the Centre has persisted in optimising the appointment system, fortifying capacity management at all sampling stations, diverting queuing residents, providing support to the elders and disabled, as well as acquainting members of the public with information about real-time booking and queuing situation; the Centre is making every effort to improve the crowd management of the community testing drive, and further shorten the waiting times.
Moreover, to accelerate the mass testing, the Macao SAR Government has requested assistance from the government of Guangdong Province; after receiving swift and favourable reply from the Guangdong government, a technical team is organised timely and immigration process is completed. On 5 August, 300 technical personnel from Guangdong Province have arrived and been deployed across the city's sampling stations.
Meanwhile, in response to the queuing situation at various regions, the large-sized community vaccination centre at Mong-Ha Sports Centre has been converted to a sampling station for the citywide testing drive today on 5 August. Presently, there are 42 sampling stations across the territory in total, of which 28 are in Macao peninsula, and the other 14 are located either inTaipaor Coloane. The Novel Coronavirus Response and Coordination Centre has also adjusted arrangement for the sampling, oropharyngeal sampling has been made available at specific sampling booth(s) of sampling stations across the city besides the one at Pac On Ferry Terminal. Furthermore, police force has also been stepped up to maintain the order at different regions, other government entities have also dispatched personnel and mobilised major civil organisations to initiate volunteers to offer support outside sampling sites, and participate in diverting residents, offering support to residents in the queue, as well as registration process, so as to relieve the queuing situation at all sampling sites.
The total daily quota for citywide testing has been increased to 372,360,sufficient quota is available in all sampling stations at the moment. As of 23:00 of 5 August, 617,168 persons have booked for the citywide testing, accounting for 90.35% of thepopulation; 483,829 persons have been sampled, accounting for 70.83% of the population; from the 154,874 tests processed, results have all come back negative. The Centre urges that prior online appointment is required for the sampling, the public should arrive at the sampling site as scheduled in order to avoid crowd gathering. At the same time, the Centre wishes to extend thanks to the entire community for their support in the anti-epidemic work, and also for their cooperation and understanding towards the citywide nucleic acid testing programme, and to express gratitude and appreciation to all participating entities and personnel for their dedicated efforts for the testing programme.
View gallery