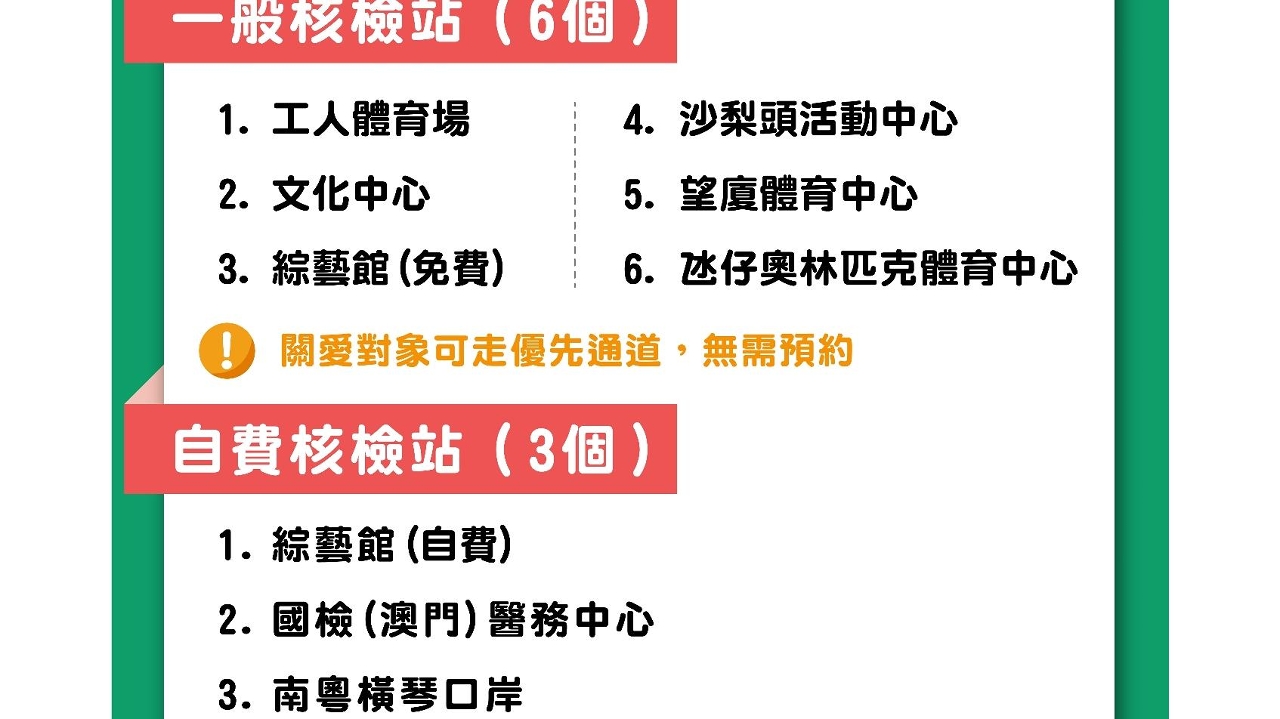 The Novel Coronavirus Response and Coordination Center (hereinafter referred to as the Response Coordination Center) stated that since the third mass nucleic acid testing programme will be basically completed by 9 pm, and for this reason, the number of testing stations will be adjusted from 41 to 6 general and 3 self-paid stations at 9 pm today (October 6) to handle the remaining mass testing work. In order to obtain the results of the mass NAT as soon as possible, the Response Coordination Center urged residents who have not taken the test to complete it as soon as possible.
The stations that will continue to operate from 9 pm tonight include 6 general stations, namely Macao Federation of Trade Unions Workers Stadium, Macau Cultural Center, Macau Forum (free), Patane Activity Center, Mong-Ha Sports Centre, 1st floor, and Olympic Sports Centre - Stadium - Indoor Pavilion -Indoor gymnasium, and 3 self-paid stations, namely Macau Forum (self-pay), Kuok Kim Medical Center (Macau), Nucleic Acid Detection Station at Namyue Hengqin Port. All 9 stations are open 24 hours. Priority lanes are set up at general stations, and caring targets do not need to make an appointment and can directly enter the stations to take the test. General stations with a waiting time of less than 15 minutes allow people to enter for testing without making an appointment. Before going out to take the test, residents please check the real-time waiting data of each station, and bring along their identification documents and a screenshot of their Health Code.
All people in Macao are required to participate in the third mass NAT programme, and there is no exemption period. If one fails to take the nucleic acid test within the time limit (that is, from 9pm on October 4 to 9pm on October 7), their health code will turn yellow after 9pm tomorrow (October 7). According to relevant regulations, yellow heath code may result in denial to enter public venues, take public transportation, and leaving Macao.
View gallery