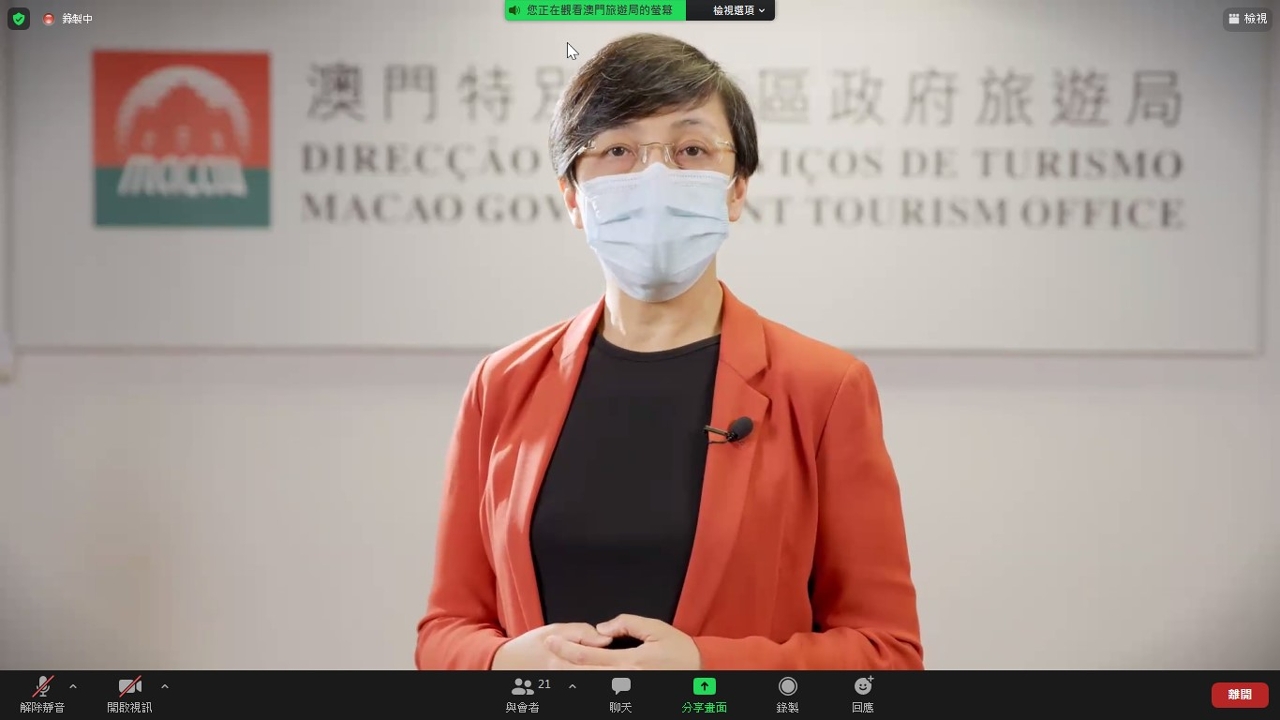 MGTO Director Senna Fernandes delivers remarks by video conferencing
The Law No. 8/2021 on the Operation of Hotel Establishments will come into effect on 1 January 2022. Macao Government Tourism Office (MGTO) held four online introduction seminars this week to elaborate the key points and familiarize the trade with the new Law.
By video conferencing, MGTO Director Maria Helena de Senna Fernandes stated that in strict compliance with the control and prevention measures against COVID-19, MGTO hopes to maintain close collaboration with hotel industry operators and the tourism-related trade in extending warm hospitality to visitors under the framework of the Law on the Operation of Hotel Establishments, providing excellent-quality tourism services for patrons of hotels and related establishments as well as visitors to Macao, as part of the vigorous endeavors to raise Macao's profile as a safe, quality and charming destination.
Introduction of mechanism to grant permission for temporary operation
Grounded upon the existing laws, the Law on the Operation of Hotel Establishments which will be enforced next year will clarify the scope of application of the Law and scope of duties of the entities concerned. Moreover, the Law will optimize the licensing procedures through introduction of streamlined licensing procedures in one stop and the mechanism of granting permission for temporary operation, among other measures. In addition, hotel establishments will not comprise categories of guest houses and tourism complexes. Instead, there will be a new category of economical accommodation establishments, which comes with simpler requirements for necessary facilities. Economical accommodation establishments can also be equipped with shared rooms and allowed to offer bed rentals. These new measures will support development of more diverse lodgings for travelers.
In terms of catering establishments, restaurants, bars and nightclubs will not be divided into different classes, whereas two new categories will be available, namely "simple catering establishments" and "catering stalls at food courts", in parallel with catering industry development. Furthermore, the Law on the Operation of Hotel Establishments will prohibit minors under the age of 18 from entering bars and nightclubs. Regarding public emergency referred to by the Civil Protection Law, the new Law also stipulates that establishments must provide pertinent information to support implementation of civil protection acts, among other new requirements.
Over 100 industry delegates signed up for participation in the four online introduction seminars. Participants raised questions about the new regulations stipulated in the Law on the Operation of Hotel Establishments and gained a deeper understanding of the content of the Law, thereby joining hands with MGTO to get prepared for enforcement of the new Law.
Starting from 20 October, playback of the elaboration delivered in the online introduction seminar will be available on Macao Tourism Industry Net (https://industry.macaotourism.gov.mo).
View gallery