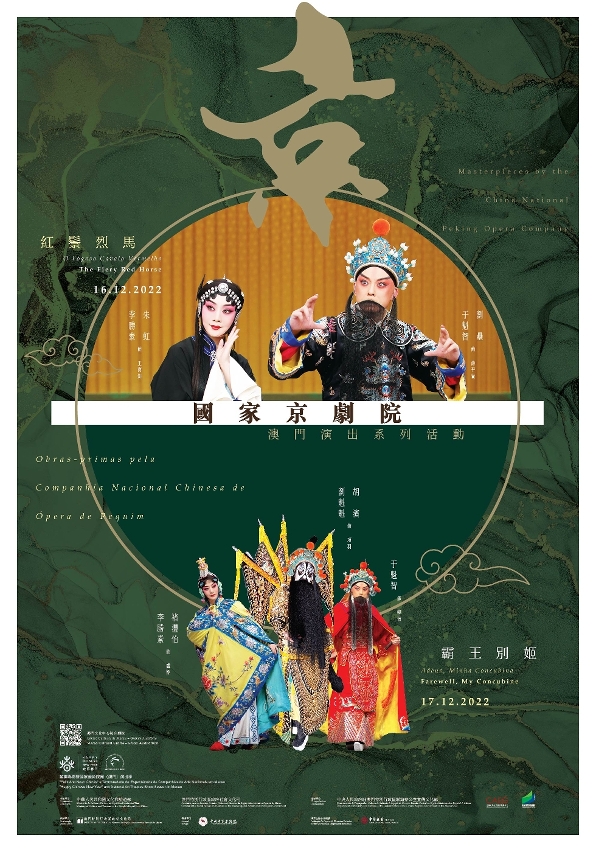 Operatic splendour at CCM Live cultural heritage on stage
The Ministry of Culture and Tourism of the People's Republic of China and the Secretariat for Social Affairs and Culture of Macao SAR, present the China National Peking Opera Company in two shows to be staged at Macao Cultural Centre's Grand Auditorium on December 16 and 17 (Friday and Saturday), at 19:30.
A year after its last tour in town, the Chinese flagship troupe returns to stage two historical and widely performed tales from its repertoire. The programme is taking-off with The Fiery Red Horse, an opera that takes the audience back to the Tang dynasty. The legend-based tale has been extensively performed in theatres across China, also drawing acclaim in cities like London or New York. The tour's second show stages the tragic story Farwell, My Concubine, a life and death classic turned popular worldwide back in the 1990's when it was used as the backdrop for an awarded film.
Actively nurturing a long line of accomplished artists since it was founded, in 1955, including playwrights, directors and composers, the National Peking Opera has been consistently recognized both at home and abroad. Over the last few years, Macao has regularly enjoyed the diversity and development of traditional Chinese opera displayed on a string of staged tales, offering performing arts lovers renewed opportunities to delve into a wide range of theatrical forms. This much treasured cultural heritage will, once again, bring the audience its characteristic combination of recitation, dance-acting and martial arts, adorning vocal virtuosity with impressive costumes, make-up and props.
Co-organised by the Education and Youth Development Bureau, under the scope of this year's "Happy Chinese New Year" series and the National Art Troupes Show Season in Macao, the plays The Fiery Red Horse and Farewell, My Concubine will be staged respectively on 16 (Friday) and 17 (Saturday) of December at CCM's Grand Auditorium. Tickets will be on sale from November 13 (Sunday) at Macao Cultural Centre's box office and Macao Ticketing Network outlets, priced at $200, 150 and 100, available at various discounts.
In line with the latest anti-epidemic guidelines, the venue will operate at 75% capacity requiring patrons to either present proof of a Covid-19 primary vaccination course (two doses) completed at least 14 days prior to the show, or a negative nucleic acid test issued within the previous 48 hours. Those failing to comply with these requirements will not be allowed in the auditorium and tickets will not be refunded. Patrons must wear face mask, undergo body temperature checks, present a valid Venue QR code and co-operate with the relevant crowd control measures. Those with fever or respiratory infection symptoms will not be allowed in. For further information and ticketing, please visit www.ccm.gov.mo or call the credit card ticketing hotline on (853) 2840 0555.
View gallery