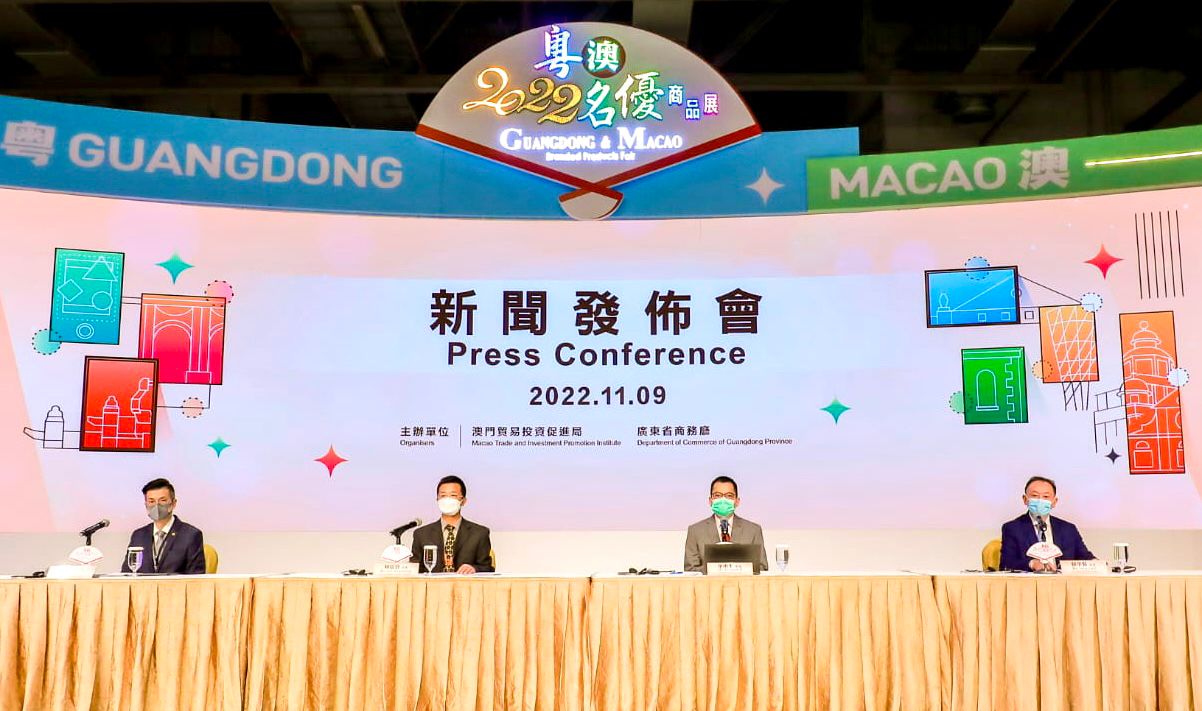 The "2022 Guangdong & Macao Branded Products Fair" will open on 11 November
The "2022 Guangdong & Macao Branded Products Fair" (2022GMBPF), jointly organised by the Macao Trade and Investment Promotion Institute (IPIM) and the Department of Commerce of Guangdong Province, will be held at Cotai Expo Hall D, The Venetian Macao, from 11 to 13 November. Focusing on the current trend in the catering industry – semi-finished food – this year's GMBPF will exhibit and sell featured quality products from different regions and offer a variety of offerings and lucky draws. Admission is free for the three-day Fair.
Focusing on semi-finished food and setting up a new "Four Key Industries Areas"
Covering an exhibition area of 9,000 square metres, this year's Fair will introduce the "Four Key Industries Area", in addition to its signature exhibition areas such as the "Guangdong Branded Products Area", the "Macao Featured Products Area" and "The Belt and Road Area". There will be 400 booths at the Fair, attracting over 170 Macao enterprises, about 150 Guangdong enterprises, and 20 enterprises from regions along the Belt and Road to participate in the exhibition. Selected branded products in the categories of semi-finished food, "big health", culture and creativity, technology and innovation, home appliances, food products, daily necessities and jewellery will be exhibited and sold on site.
Offering an endless string of gifts and special offers to speed up the recovery of numerous industries
Coinciding with the "Double 11" shopping festival, this year's GMBPF will launch a series of special offers. Before and during the Fair, eight "livestreaming e-commerce" sessions will be carried out on local e-commerce platforms, during which a selection of exhibits will be on sale and flash sale will also be available to stimulate consumption online and offline and expand the sales channels.
Lucky draws will also be available. Visitors can participate in the lucky draws by following "MICE_IPIM" on WeChat and completing the designated tasks, spending MOP300 or above, or simply using the admission ticket to win fine gifts such as electric motorcycles, newest smartphones and game consoles.
Organising a fabulous array of activities for both commercial and leisure purposes
During the event, a fabulous array of livestreaming activities will be arranged to promote the exhibits online and offline. In addition, in co-operation with the media of Guangdong province, streaming of tours Guangdong exhibitors' booths were arranged before the Fair, in a bid to further promote their brands and products.
The three-day Fair will organise a string of activities, including creative workshops, culinary demonstrations, roadshows for venture capital projects, industry sharing forums, and business matching sessions featuring semi-finished food, the four key industries and the catering industry.
Implementing anti-pandemic measures
In order to ensure the health and safety of the participants, the GMBPF will strictly implement the pandemic control guidelines issued by relevant health authorities. Meanwhile, in order to shorten the waiting time and control the flow of people, visitors can register online in advance (https://s.smartexpo-online.com/NmKkjvC8).
Free shuttle buses available
To encourage the use of public transport and green commuting, six free shuttle bus routes travelling to and from the event venue will be available in the Macao Peninsula and Taipa. Free self-service parking is also available at the parking lots of The Venetian Macao, The Parisian Macao, and The Londoner Macao on a first-come, first-served basis due to limited availability. For more information, please visit the official website of the GMBPF at www.guangdongmacaofair.com, call (853) 8798 9636, follow "MICE_IPIM" on WeChat or "gdmofair" on Facebook.
View gallery