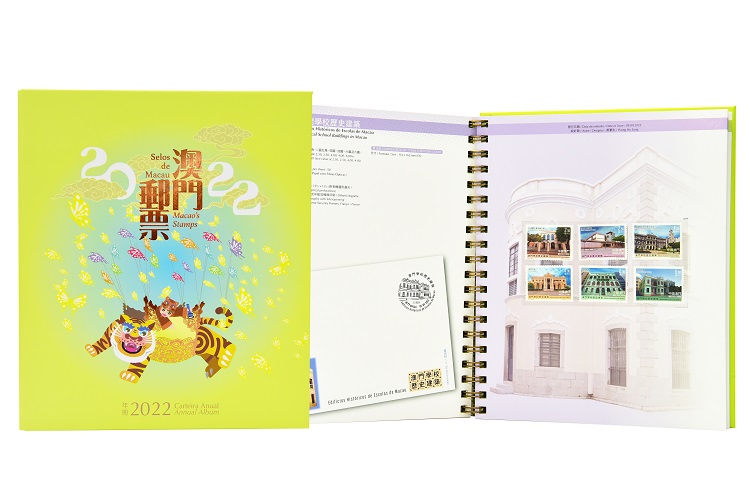 Annual Album 2022
Macao Post and Telecommunications Bureau will issue an exquisite "Annual Album 2022" on 5th January 2023. The Album is made with a protective cover and the design adopts the green colour symbolizing hope and peace. The colourful butterflies that have successfully emerged from their cocoons are flying all over the sky, leading the brave and lovely little tiger and child on their stamp exploration journey.
There are two editions of the album, local edition and overseas edition. The local edition comprises all 17 sets of stamps and 14 souvenir sheets issued in 2022, only available for sale in Macao and through the philatelic agent in mainland China. The overseas edition comprises 16 sets of stamps and 13 souvenir sheets, not including the issue of "Olympic Winter Games Beijing 2022". The inside pages present Macao's beautiful philatelic products in the form of loose-leaf pages, on which the coloured stamp images and the technical data are printed.
The local edition of "Annual Album 2022" will be available for sale at the Philatelic Shop of General Post Office, the Communications Museum, and the "Rua do Campo" Post Office, the selling price is MOP650.00. The overseas edition only available through the Macao Post's website for sale, the selling price is MOP620.00.
Customers can also purchase the empty Annual Album (local edition) to organize and protect their 2022 Macao's stamps and souvenir sheets. The empty Annual Album is priced at MOP150.00.
View gallery