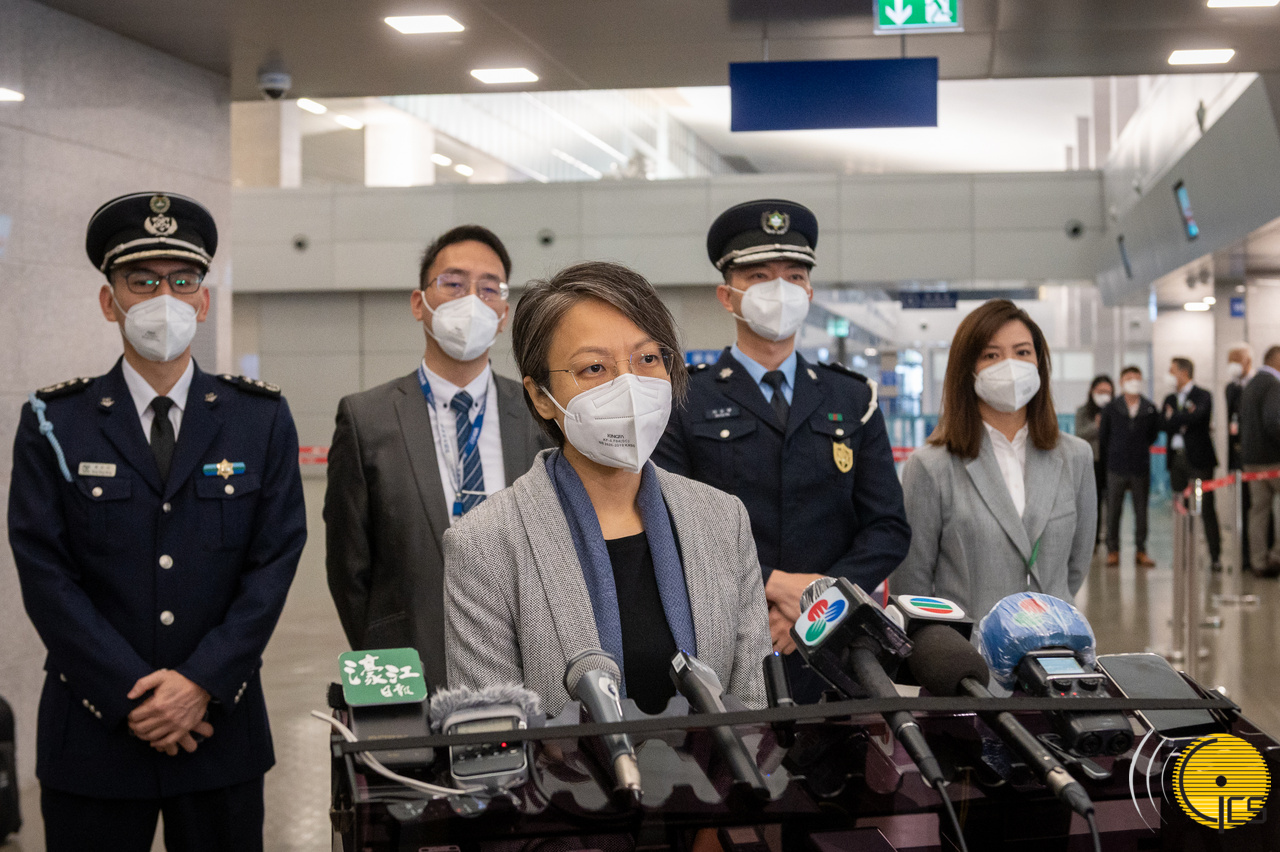 Government officials brief reporters on the work following the relaxation of entry and transit measures related to COVID-19 starting from 8 January.
The Macao Special Administrative Region (MSAR) Government has made a series of arrangements with the aim to provide improved convenience to tourists, following the relaxation from Sunday (8 January) of anti-epidemic measures for inbound travellers.
The MSAR Government completed a number of tasks in order to optimise immigration management, customs services, maritime transport services, tourist services and tourism promotion, and health quarantine measures.
Officials respectively from the Public Security Police Force, the Macao Customs, the Marine and Water Bureau, the Macao Government Tourism Office, and the Health Bureau, met with members of the press on Sunday at the Taipa Ferry Terminal, to brief them on relevant arrangements and measures.
Starting from 8 January, individuals entering Macao from either mainland China, Hong Kong or Taiwan region do not need to present any COVID-19 test certificate.
Those intending to enter Macao from countries and regions outside China must present a proof of 'negative' result for COVID-19 infection, either via an antigen test or nucleic acid test, done within 48 hours. The result of the test is valid on the day of sampling and the following two days, counting from the boarding time of the final leg of the Macao-bound flight or vessel. Both self-testing and laboratory-based testing are accepted. The test result should be declared through the Rapid Antigen Test Reporting Platform of the Health Bureau, and presented via the Macao Health Code system.
Entry restrictions on inbound travellers holding foreign passports have been cancelled, meaning individuals of all nationalities may enter Macao from any region without prior authorisation from the local health authorities, provided that they comply with relevant immigration requirements.
People that wish to travel to mainland China via any Macao-Zhuhai boundary checkpoint, are required to fill in the China Customs Health Declaration and show their respective QR code. People that have entered Macao from Hong Kong, Taiwan region or overseas, and that intend to travel to mainland China within seven days, should present a 'negative' nucleic acid COVID-19 test done within 48 hours prior to travel to the mainland (for Macao-Zhuhai checkpoints, 48 hours after the date of sampling; other checkpoints are subject to requirements by the destination). If their stay in Macao is longer than seven days, they will only have to present the China Customs Health Declaration in order to enter the mainland.
Ferry services between Macao and Hong Kong have also resumed. The MSAR Government expects travelling between the two regions to peak – as usual – during the Lunar New Year period. The Government is closely monitoring demand for additional services, and the need to resume night time sailings and reopen routes to Hong Kong from other ferry terminals, including the Outer Harbour Ferry Terminal.
In addition, the MSAR Government will step up promotional efforts, in order to attract tourists from Hong Kong to visit Macao. The Government will launch promotional packages targeting Hong Kong tourists, to encourage them to extend their stay in Macao and increase their spending while visiting, with a view to spur local economic recovery.
View gallery