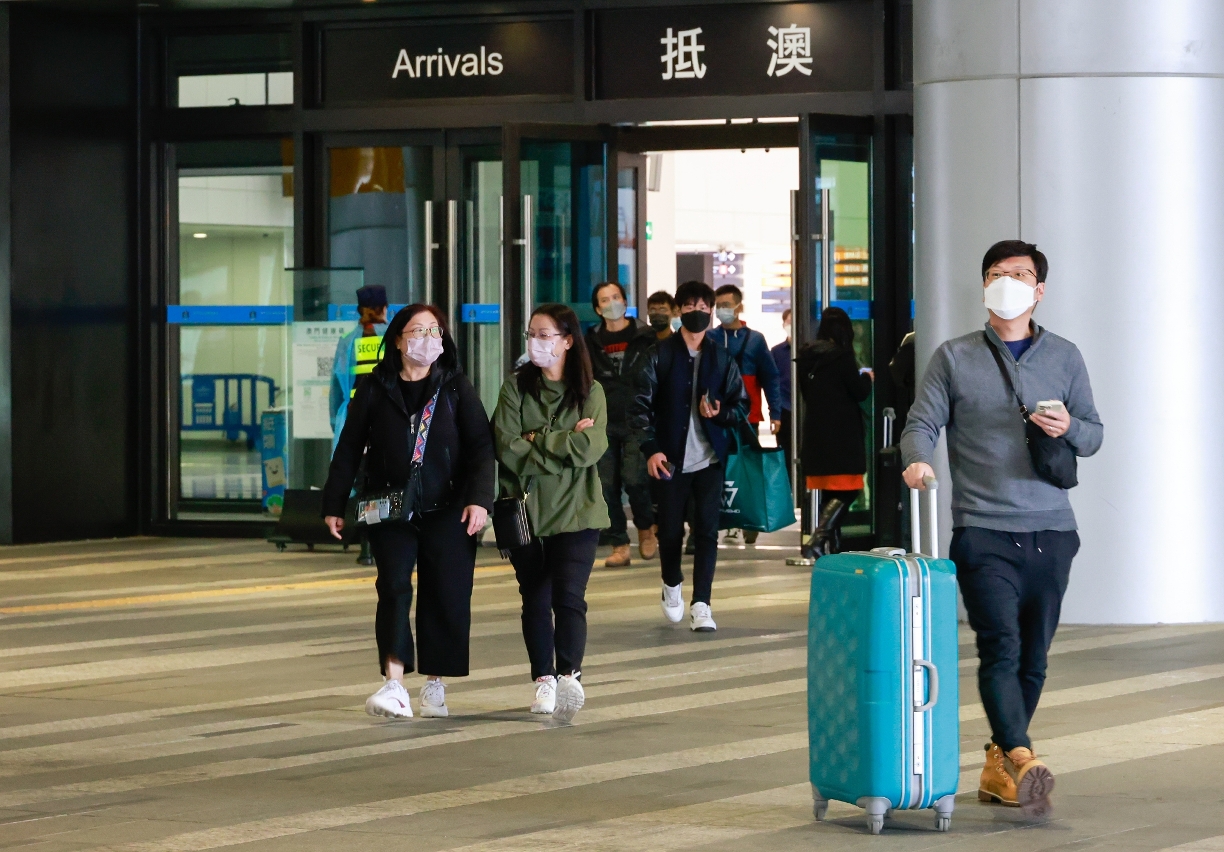 Visitor flow at the port of the Hong Kong-Zhuhai-Macao Bridge
Capitalizing on easing of pandemic border measures for Hong Kong residents, Macao Government Tourism Office (MGTO) promptly activated its advance marketing plan to unfold a broad array of promotional initiatives and special offers, including the one on transportation services between Hong Kong and Macao to unfold this Friday (13 January). Committed to energizing Hong Kongers' intention to travel, spend and stay longer in Macao, the Office aims to stimulate Macao's tourism and economic growth, reviving the tourism industry and other related sectors.
Special offers on bus and ferry tickets widen visitor source and encourage overnight stays
The border and pandemic measures have successively loosened. Individuals entering Macao from Hong Kong are exempt from presenting proof of their COVID-19 test result. Visitations from Hong Kong, as Macao's second-largest visitor source market before the pandemic, are expected to invigorate the local tourism industry. As land and sea transportation services are resuming operation between Hong Kong and Macao, 24-hour border-crossing is restored at the port of the Hong Kong-Zhuhai-Macao Bridge as well. The East Car Park of the Border Checkpoint Building of the Hong Kong-Zhuhai-Macao Bridge has resumed operation with the offer of free parking for the convenience of Hong Kong visitors driving to Macao, to widen the source of visitors.
To boost Hong Kong residents' intention to opt for Macao as their top choice of destination, MGTO partners with several operators of Hong Kong – Macao transportation services to launch buy-one-get-one-free offers for Hong Kong residents in the form of free return ticket for use on another day, upon purchase of shuttle bus or ferry ticket to Macao from 13 January to 31 March. The special offer is set to encourage visitors to stay overnight and longer in Macao. The service operators currently presenting the above special offer include Hong Kong – Macao Express, TurboJET and Cotai Water Jet. More are expected to join successively.
Enquire service operators for details of special offers
Visitors can inquire the service operators for ticketing and more details, terms and conditions of the special offers. For enquiry, please refer to Hong Kong – Macao Express' website: www.tilchinalink.com/ticket.php or dial Tel: (853) 2832 2198 (Macao) or (852) 2979 8778 (Hong Kong); TurboJET's website: www.turbojet.com.hk, Tel: (853) 2855 5025 (Macao) or (852) 2859 3333 (Hong Kong); Cotai Water Jet's website: www.cotaiwaterjet.com, Tel: (853) 2885 0595 (Macao) or (852) 2859 1640 (Hong Kong).
MGTO believes that the preferential measures, in addition to the online and offline promotional campaign and upcoming launch of special offers, as well as the advent of mega events for Chinese New Year in Macao, will ignite Hong Kong residents' intention to travel and spend in Macao for a memorable vacation during Chinese New Year and experience of the city's latest tourism elements and facilities.
MGTO will roll out brand-new promotional videos on online and offline platforms to extend a warm welcome to Hong Kong visitors, besides showcasing festivals, events and monthly highlights. The Office dedicates great efforts to tap into a wider range of market segments and attract visitors to Macao for festive vacations.
Visitors can visit MGTO's website:www.macaotourism.gov.mo/en/ or follow MGTO on WeChat to learn about Macao's festivals, events and latest tourism information.
View gallery