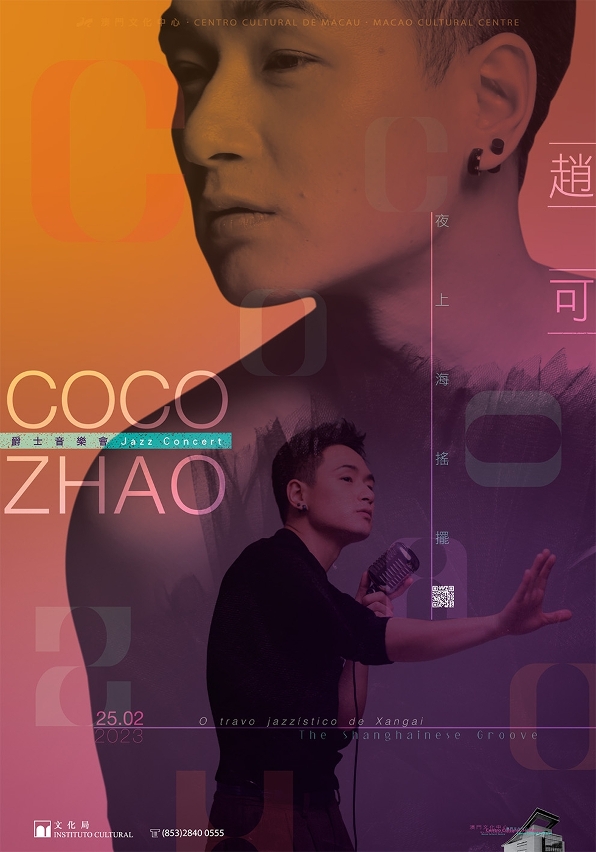 The Macao Cultural Centre stages Coco Zhao Jazz Concert
The Macao Cultural Centre, under the auspices of the Cultural Affairs Bureau, stages two new distinctive productions. By late February CCM invites jazz lovers to the Grand Auditorium to watch and listen to Coco Zhao in concert. In early March, the contemporary dance audience will have the chance to enjoy Track, an intense piece conceived by renowned Chinese choreographer Hou Ying.
Coco Zhao Jazz Concert------------------------------------------------------------25.02.2023
Praised as China's most creative voice, Coco Zhao and his six-piece band will transport the audience back to the swinging atmospheres of the 1920's Shanghainese cabarets and the American speakeasies of the prohibition days. Moving smoothly between Asian and Western jazz influences, this extravagant artist cemented a reputation as a vocalist, composer and showman throughout the 1990's. Besides invitations to play at numerous world-renowned music festivals, his skills earned him a Rockefeller Foundation grant for an artistic residency between New York and New Orleans. In Macao, the singer will take the audience on a journey through a fluid mix of popular standards intertwined with Chinese jazz classics, promising an evening of finger-snapping tunes.
In addition to the concert, on the 23rd of February CCM is hosting a singing workshop hosted by Coco Zhao, who will personally offer local singers a great opportunity to explore rhythmic jazz articulation and vocal improvisation.
Track by Hou Ying Dance Theatre-------------------------------------------10-11.03.2023
Hou Ying's Track unveils a personal artistic vision, bursting with intense movement, emotional rawness and alluring visuals. This choreographic display features video projections and stage installations on a contemporary setting. Her company presents a technically and physically skilled group of dancers whose body language explores desire, sensuality and self-reflection, moving within a fictious space to the sound of experimental musical specially created for this production. Hailed by Beijing cultural critics as the Kafka of dance, Hou Ying is an awarded interpreter and choreographer recognized both in China and the U.S, where for some years she danced at New York's avant-garde Shen Wei Dance Arts. On her CCM debut, the creative artist will let dance lovers immerse themselves in a stage production that synthetizes a solid artistic path.
Complementing this show, on 7 and 8 March, Hou Ying will personally host a workshop sharing the concepts of language movement and choreographic techniques.
Tickets for Coco Zhao Jazz Concert and dance piece Track will be available from 15 January (Sunday) at CCM's box office and Macao Ticketing Network outlets, subject to various discounts. Given that some anti-epidemic measures are still in place, all patrons will be asked to wear masks when attending indoor performances. For details please visit CCM's website at www.ccm.gov.mo or call (853) 2840 0555.
View gallery