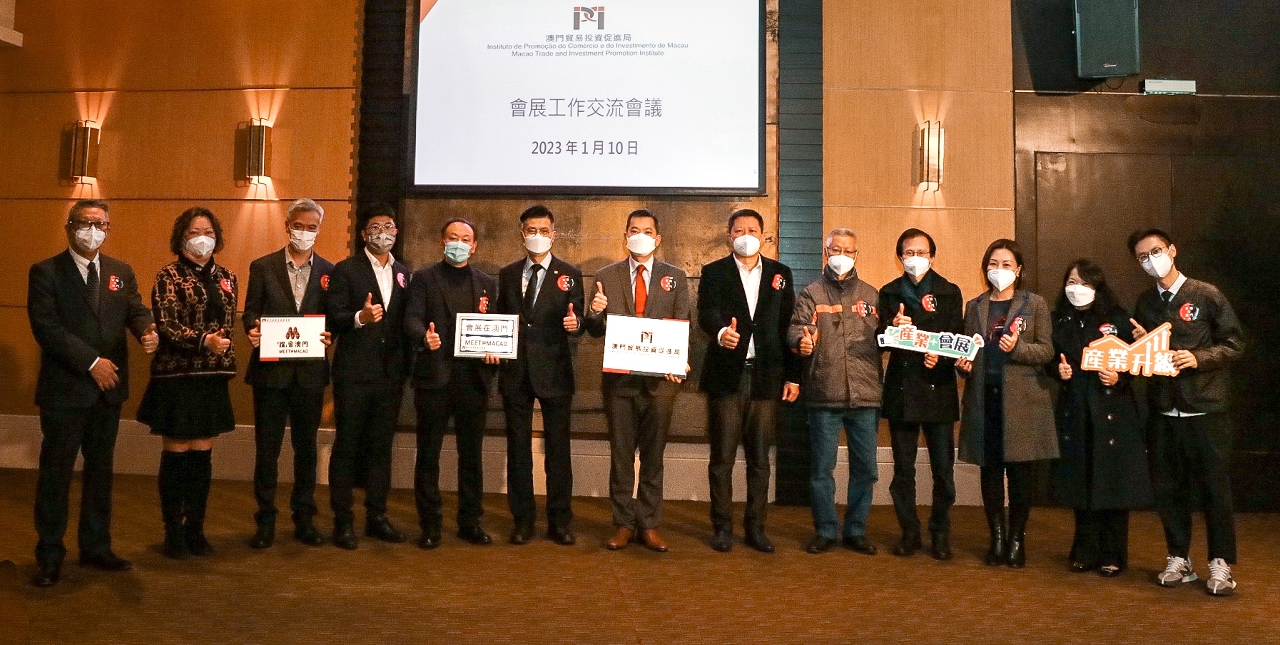 IPIM joins hands with Macao's MICE industry, jointly bringing the sector to a new chapter of development.
The Macao Trade and Investment Promotion Institute (IPIM) had a work meeting yesterday (10 January) with five associations of the local MICE sector, integrating the sector's resources to jointly map out a plan for the industry's development in 2023, with focuses on accelerated recovery of the MICE sector and synergy with the peripheral industries.
A number of conventions with more than a thousand attendees confirmed to be held in Macao
IPIM's Acting President Vincent U said at the meeting that various resources will be well allocated to carry out multiple measures, with a goal to hold 700 to 1,000 MICE activities in 2023 and allow the sector to recover to at least 50% of its performance before the pandemic struck the city. A number of conventions with more than a thousand attendees will be held in Macao, he added, one of them is even expecting over 10,000 attendees. According to the organiser of this convention, Macao gave a gratifying experience when this convention was held in the city before the pandemic, so the organiser chose Macao to be the event's stage once again.
In the future, IPIM will collaborate with Macao's MICE sector and different integrated resorts to bring all kinds of resources together, as well as different customer bases, in order to invite and bid for international and regional professional events to be held in Macao. In the meantime, IPIM will strive to attract more international enterprises to hold annual conferences, summits, professional exhibitions and industrial expositions in Macao. In addition, IPIM will pro-actively cultivate a new operation model "industry + MICE", pushing forward the development of key industries with the city's signature MICE events.
In the meantime, through different packages including "CONFEX" (convention and exhibition being held in conjunction) and "business + relaxation tourism", the city will optimise the integration of conventions, exhibitions, festivals, competitions, and entertainment activities to craft an optimal business and tourism experience, so as to attract event attendees to stay in the city for a longer period of time, maximising the MICE sector's stimulation to other industries, motivating more commercial co-operation and boosting local sales.
Promoting Macao in Portuguese-speaking countries and ASEAN countries in the first quarter
In terms of expanding the international customer base, IPIM will participate in a large event of The Global Association of the Exhibition Industry (UFI) in Lisbon, Portugal at the end of January this year, where IPIM will introduce the event attendees and MICE industry representatives from different parts of the world to the competitive edges of Macao's MICE sector.
IPIM plans to partake in another important convention of UFI in Kuala Lumpur, Singapore together with Macao's MICE sector in March this year. In the meantime, Macao MICE sector's regular participation in overseas MICE exhibitions, which was suspended when the pandemic struck the city, will resume to this year's agenda to bring in more international guests.
The private sector expresses confidence in the future prospect of Macao's MICE industry
According to the representatives of the five participating MICE associations, preferential policies including the NAT-free customs entry policy and commercial visa facilitation had boosted the confidence in Macao's economic, MICE and commercial activities. In 2023, the industries are expected to grow "on an expressway" and Macao's MICE sector is facing a new and bright chapter. It will give full play to its role and synergise with different areas including local community economy, SMEs' development and youth employment, with an aim to push forward the city's development in various aspects.
The attendees included: IPIM's Executive Director Sam Lei; General Director and Deputy General Director of Macao Convention & Exhibition Association Poon Yiu Wing Irwin and Vong I Tat; President and Supervisory Committee Chairperson of Macau Fair & Trade Association Lam Chong In and Sam Wei Nei; Chairman and President of Executive Board of The Association of Advertising Agents of Macau Edmund Wong and Chung Ching Yee; General Director and Vice President of the Macau Federal Commercial Association of Convention & Exhibition Industry Che Fok Sang and Vong Tin Tak; President and General Director of the Macau Macao Association of Convention, Exhibition & Tourism Sectors Alan Ho and Ho Chak Meng.
View gallery