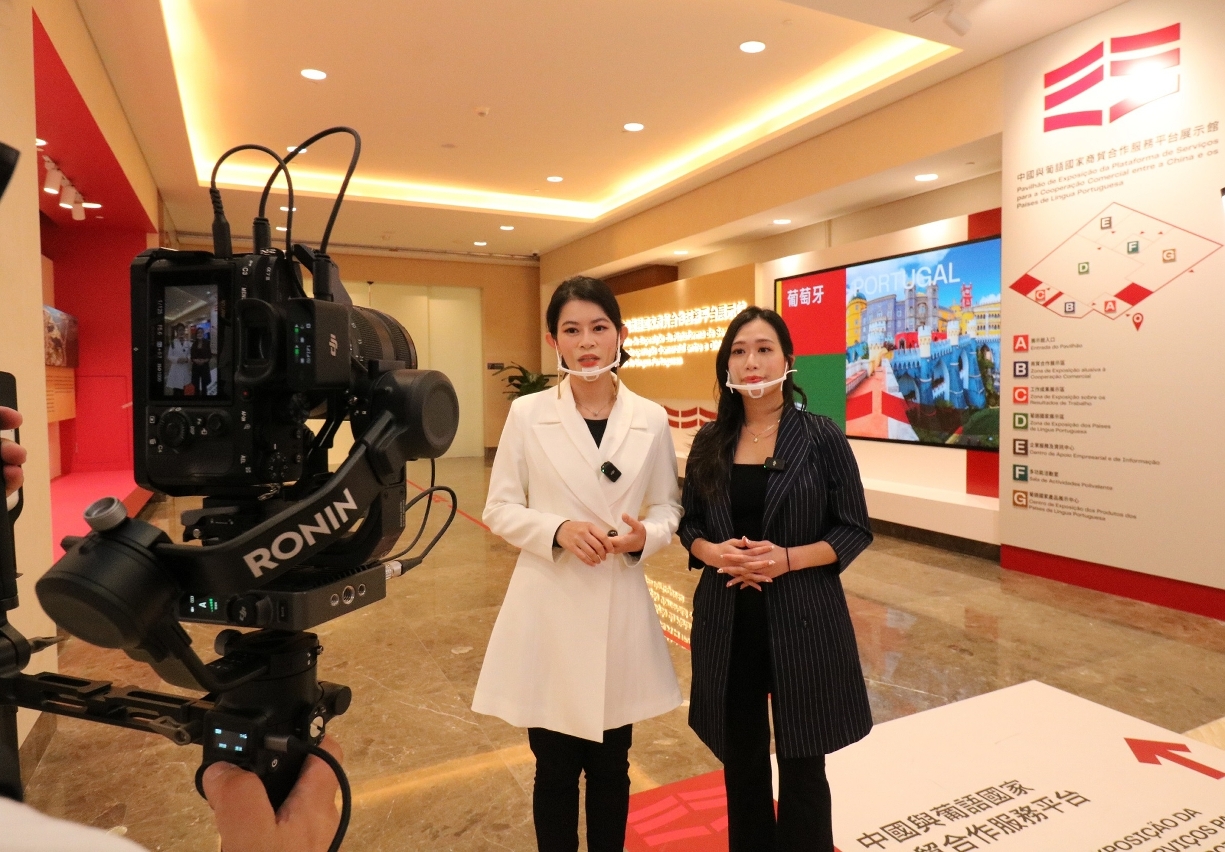 Live streaming events are held in the Pavilion of China-PSC Platform
Pavilion of China-PSC Platform Promotes PSC Products through Live Streaming and Smart Vending Machines
To help enterprises grasp the opportunities arising from the China-PSC Platform through online and offline means and expand market, the Pavilion of China-Portuguese-speaking Countries Commercial and Trade Service Platform continues to diversify e-commerce and sales. Right before the Chinese New Year, the Pavilion held a "PSC Products Live Streaming Sale of The Economic & Trade Co-operation and Human Resources Portal between China and Portuguese-Speaking Countries" on 18 January, which was the second live streaming event within two months after the Pavilion opened to the general public. The stream recorded over 56 thousands views. In the meantime, smart vending machines selling Portuguese-speaking countries products have been installed in the Pavilion to give more sales options.
Located on basement level 1 of the Complex of Commerce and Trade Co-operation Platform for China and Portuguese-speaking Countries, the Pavilion started opening to the general public on 21 November 2022. The Pavilion is sectioned into seven areas to showcase the influence of China-PSC Platform in different aspects. It also serves as a venue for exchange and hosting events for traders from China and PSCs. As of now, more than a hundred guided tours and 20 promotional events were held.
PSC Products "Go Global" through Live Streaming
This live event included "Live Pavilion Tour" and "Live Streaming Selling". At the "Live Pavilion Tour", Macanese hosts introduced audience to the Pavilion of China-PSC Platform, Portuguese-speaking countries' environment and cultures. Representative of the Macao Trade and Investment Promotion Institute was also invited to share about work related to the China-PSC Platform.
The "Live Streaming Selling" showcased over 50 PSCs-products distributed by local agents via a local e-commerce platform. With live interaction, products' exposure and customers' impression about the products were greatly enhanced, helping PSC products agents reach more potential traders and develop the mainland market.
Smart Vending Machines to Provide More Sales Channels
Two smart vending machines dedicated to PSC products have been installed in the Pavilion of China-PSC Platform. At present, 70 food and non-food products from PSCs distributed by 15 Macao enterprises are available for sale at the Pavilion, including coffee beans, olive oil and canned sardine, care products. In the future, the Pavilion will invite more enterprises to provide more products in rotation, jointly develop more diverse sales channel for different PSC products.
Holding Events to Help Enterprises Reach Further
Looking forward, IPIM will make good use of the "MICE+tourism" advantages and hold different activities at the Pavilion of China-PSC Platform on basement level 1 of the China-PSC Complex, including live pavilion tours, live streaming sales campaigns, business matching sessions, economic promotion activities, and thematic seminars to help enterprises seize business opportunities, enhancing the appropriate diversification of Macao's economic development.
For more details of the Pavilion of China-PSC Platform, please call 2836 6814 or visit https://www.ipim.gov.mo/, or follow "IPIM_MACAU" on WeChat.
View gallery