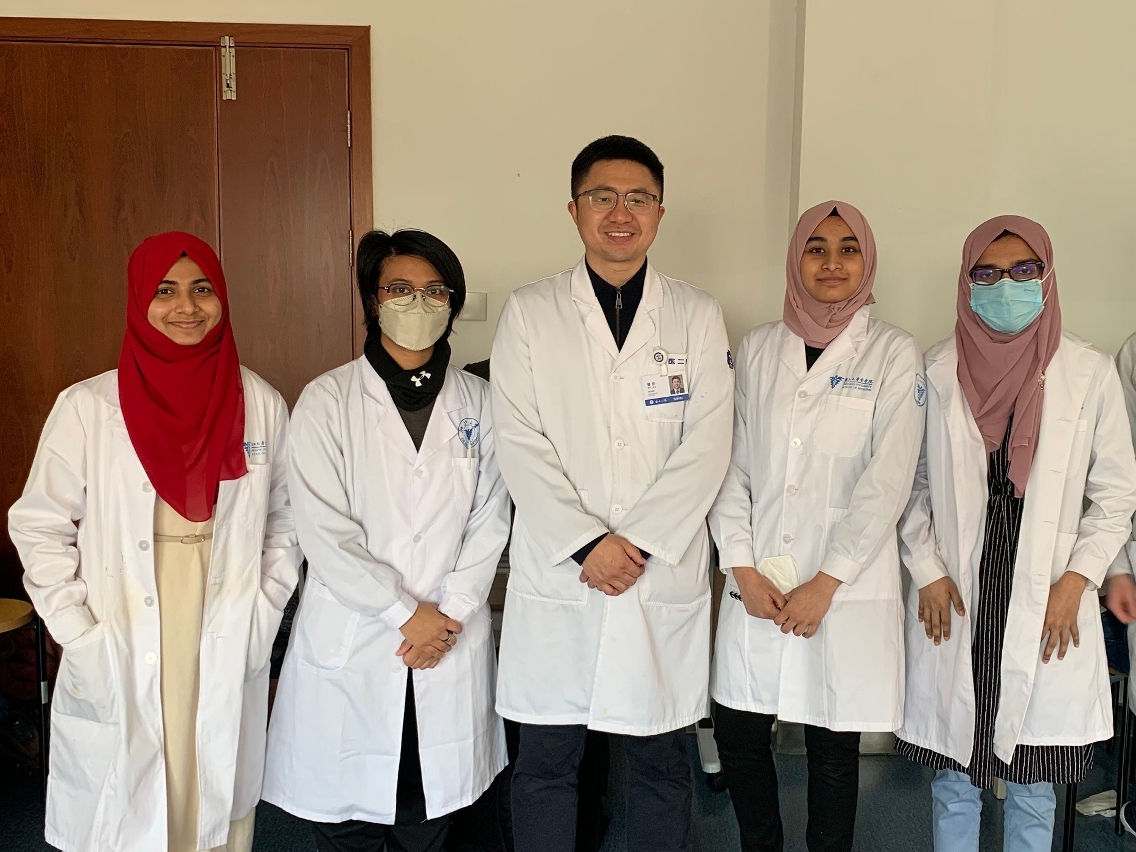 Nazaré Alva Galang Cabarrabang (2nd from left) works as an intern in ZJU's School of Medicine
Over the years, the University of Macau (UM) has launched various dual degree programmes with well-known universities in China and overseas to cultivate outstanding students. Among them, the '2+4' bachelor's degree programme in biomedical sciences and clinical medicine jointly offered by UM and Zhejiang University (ZJU) allows students with a passion in medicine to enroll in the clinical medicine programme at ZJU's School of Medicine. Graduates of this joint programme will receive a bachelor's degree in biomedical sciences from UM and a bachelor's degree in clinical medicine from ZJU.
ZJU is a world-renowned university in mainland China with a top-tier clinical medicine programme offered by its School of Medicine. The programme attracts top students from China and abroad every year. Under this '2+4' programme jointly offered by UM and ZJU, students will first study the basics of biomedical sciences at UM for two years. Those who have met the selection criteria will be recommended for the admission to ZJU's School of Medicine, where they will continue their education in basic and clinical medicine and receive clinical training for another four years.
Nazaré Alva Galang Cabarrabang is the first student enrolling into this '2+4' programme. After completing the required courses and training at UM, she headed to ZJU to pursue studies and training in clinical medicine. According to her, the courses at UM offered her many opportunities to engage in research and reinforce her theoretical knowledge, which laid a solid academic foundation for her studies at ZJU. Cabarrabang adds that her current life at ZJU is very fulfilling. In addition to taking courses in the classroom, she also joins practical sessions as an intern in hospitals where she accompanies doctors on ward rounds, examines patients, and compiles medical records. The doctors are always patient in guiding her and sharing their insights and experiences with her, helping her to apply her clinical knowledge.
According to the relevant regulations of the Ministry of Education of China, the '2+4' programme is only open to Hong Kong, Macao, Taiwan, and international students currently studying at UM. It provides an opportunity for them to study clinical medicine at a top university in China, which also helps Macao increase the pool of medical talent and accumulate experience, so as to enhance the overall strength of Macao's health care system.
View gallery