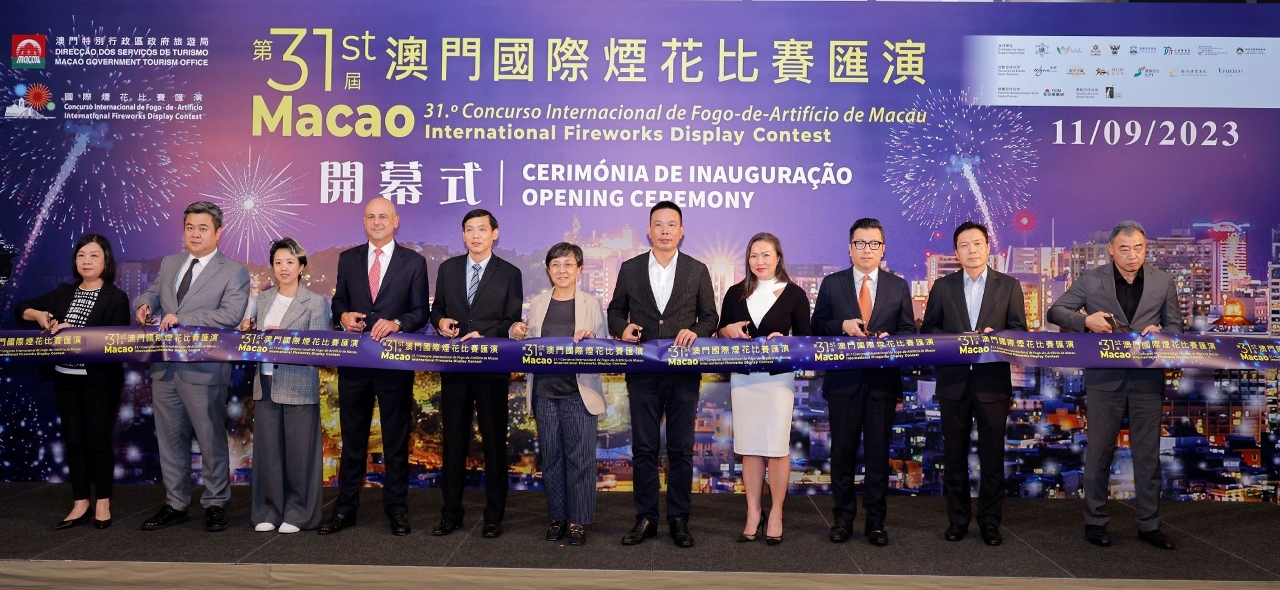 Guests officiate the opening ceremony for the 31st Macao International Fireworks Display Contest
Curtains were lifted upon the 31stMacao International Fireworks Display Contest ("the Contest") tonight (11 September). Director of Macao Government Tourism Office (MGTO), Maria Helena de Senna Fernandes, joined other guests to officiate the opening ceremony. The first two fireworks shows were presented by the fireworks companies from Australia and Switzerland, offering a splendid feast for the eyes of spectators. The iconic Fireworks Carnival and the new Fireworks Extravaganza markets also welcome the public on every fireworks evening, lighting up more bustling joy for the fireworks event at different locations while leading a greater flow of people into communities and generating new momentum for the community economy.
MGTO Director Maria Helena de Senna Fernandes expressed in her remarks at the opening that over the last three years, MGTO has been hoping to present this spectacular event to all once again. Ten wonderful fireworks shows will be staged by firework companies from Asia, Europe and Oceania on five nights. Five vantage points are specially recommended this year for residents and visitors to enjoy fireworks from different angles. The Office also supports enterprises in organizing night markets for spectators to experience Macao's diverse charm of "tourism + events".
Other officiating guests at the opening ceremony of the Contest include MGTO Deputy Director Ricky Hoi, representatives of General Union of Neighbourhood Associations of Macao and partner entities including the six integrated resort enterprises, TDM and Macau Tower Convention & Entertainment Centre.
Ten shows take spectators on an enchanting journey under different themes
Along the years, MGTO has been striving to invite outstanding pyrotechnic companies from worldwide to join the event. This year, ten spectacular shows will dazzle the night sky across the period from early September until the National Day Holiday, pitting the ten companies against each other on 11 September (Australia and Switzerland), 16 September (Austria and Russia), 23 September (Philippines and Japan), 1 October (China and Portugal) and 7 October (United Kingdom and Germany). Each evening, two shows are held at 9 p.m. and 9:40 p.m., each spanning about 18 minutes. With their meticulous fireworks choreography, the ten fireworks companies will lead audiences onto an enchanting fireworks journey in different styles, themed as "Wonder of Down Under", "Icons of Rock", "Made in Heaven", "Music Box", "Tales of Magic", "Cool Japan", "Ode of Fireworks", "Supernova", "The Harmonic Symphony: Igniting the Power of Music" and "A Journey Through Classical Music" in the order of performance.
Different vantage points are recommended
Five best vantage points are recommended this year as follows: the area from Kun Iam Ecumenical Centre to Leisure Area of Kun Iam Statue Waterfront on Avenida Dr. Sun Yat-Sen, the waterfront at Macao Science Center, Anim'Arte NAM VAN, Avenida de Sagres (next to Mandarin Oriental, Macau) and Avenida do Oceano in Taipa. Background music thoughtfully prepared by the fireworks companies will be played in sync with the fireworks shows at the vantage points. In addition, synchronized music will stream as a melodic backdrop for the fireworks shows from TDM - Radio Macao's Chinese Channel (FM100.7) every fireworks evening. The fireworks displays will also be live broadcast on TDM Ou Mun TV Channel, TDM Entertainment TV Channel, Ou Mun-Macau Channel and TDM's website. Spectators can enjoy the fireworks at different locations in different ways.
Fireworks Carnival and "Fireworks Extravaganza" markets
The Fireworks Carnival is held at Rua da Torre de Macau (open area next to the Macau Tower) from 5 p.m. to 11 p.m. on the fireworks evenings, while the "Fireworks Extravaganza" markets are held at Anim'Arte NAM VAN and Leisure Area on Taipa Waterfront from 6 p.m. to 11 p.m. on the fireworks evenings. Residents and visitors can watch the fireworks at any of the three locations while enjoying wonderful food, games and performances.
Online voting for chance to win final prizes
In tandem with the Contest,MGTO presents an online voting activity to enhance residents' and visitors' engagement in the fireworks shows. People can vote via MGTO's WeChat account, CyberCTM website, Facebook post and the advertisement banner on CTM Buddy App. They can enter a lucky draw after each round of voting, for a chance to win merchants' special offers and prizes. Voters who vote for the champion fireworks team will automatically enter the final lucky draw. In addition, they can also search for MGTO's interactive zone on WeChat to enjoy interactive fun for a chance to win attractive prizes!
Diverse online event promotions to draw visitors
MGTO kicked off a series of event promotions online for different visitor markets on MGTO's official platforms on social media such as WeChat, Xiaohongshu, Douyin, Facebook, Instagram and Weibo. Tips for fireworks enjoyment are released. Vantage points are introduced. Fireworks shows are live broadcast. An interactive game is organized while a prize-giving activity is held to call for submission of photos and videos. Mainland KOLs are commissioned to introduce and spotlight the event in advance on their accounts. They are invited to come to Macao for coverage of the Contest and subsequent posts on their social media platforms. MGTO also partners with Taobao to present a mega online Chinese fireworks extravaganza and live stream. Through extensive online coverage, the Office seeks to attract more visitors to Macao for the event.
Join outreach programs and capture wonderful moments from today
There are the Photo Contest and Student Drawing Contest in tandem with the fireworks extravaganza. Coordinated by the Photographic Society of Macao and the Macau Artist Society respectively, the two contests provide opportunities for photography enthusiasts and students to create wonderful artworks for submission until 31 October 2023.
For more information about the program activities and related arrangements, please visit the website:https://fireworks.macaotourism.gov.mo.
View gallery