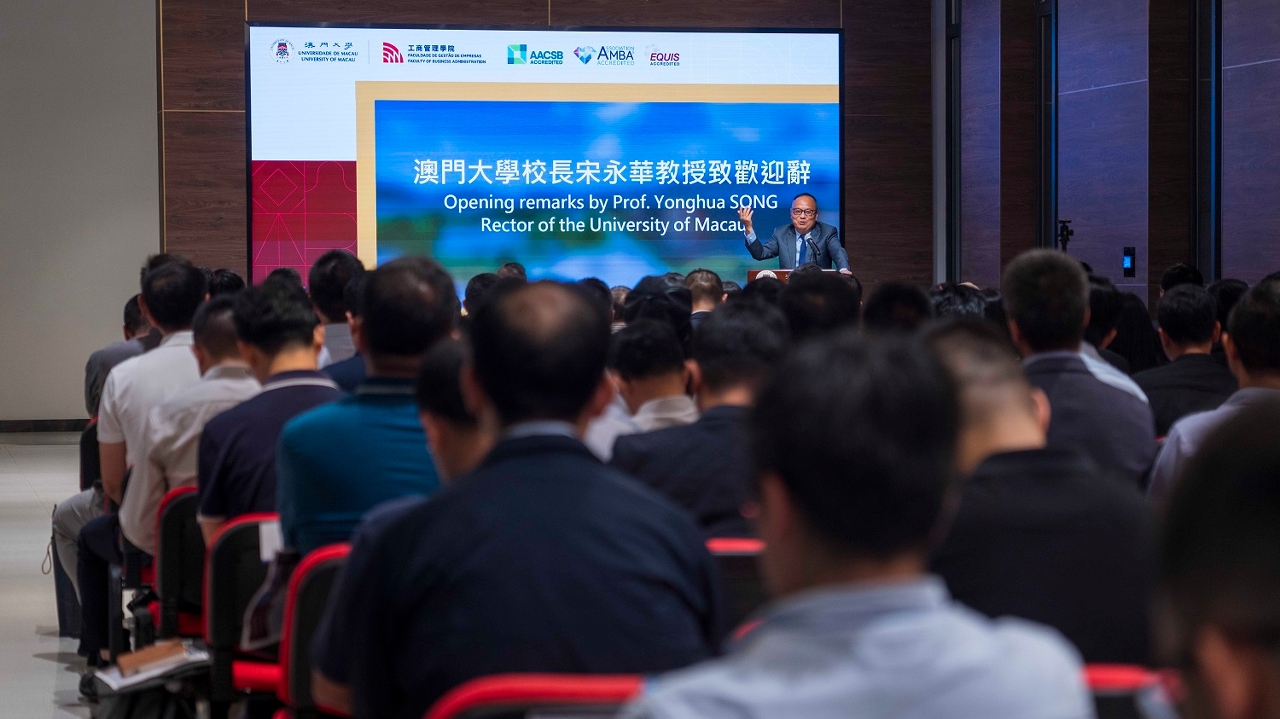 Yonghua Song
The Faculty of Business Administration (FBA) of the University of Macau (UM) held an opening ceremony for the 2023/2024 intake of the Doctor of Business Administration (DBA) programme and the Executive Master of Business Administration (EMBA) programme. The two programmes have admitted more than 60 business elites from Macao and mainland China for the new academic year.
At the ceremony, UM Rector Yonghua Song introduced UM's educational mission and vision for the future. He encouraged students to integrate into the international academic atmosphere, strive for academic excellence, actively explore and be innovative under the guidance of experts and scholars, and become ambitious and pragmatic business leaders.
Ba Shusong, managing director of Hong Kong Exchanges and Clearing Limited, shared his views on the theme of 'Accumulate Wisdom, Gain Insight, and Navigate the Future amidst Turbulence and Changes' as a guest speaker. He discussed the impact of technological progress on the world and the roles of the economists and managers of financial institutions in such shifts. He also encouraged students to cherish the learning opportunities, accumulate knowledge and wisdom, expand their horizons and abilities, grasp the trend of economic and social progress in long-term technological advancement, and navigate the future by understanding the general trend of historical development, so as to contribute to the prosperity and development of human society.
Another guest speaker, Qiao Liang, deputy general manager of Nam Yue Group, also shared his insights on the theme of 'Opportunities and Challenges in the Post-Epidemic Era'. He encouraged students to take the initiative in breaking down cognitive barriers, to take the first step in changing themselves, and to create unlimited opportunities for society and the community through their limited lives. He expressed hope that students would treasure the opportunity to study at UM and friendship with their classmates, pursue lifelong learning and development, and continue to work hard for the country and their lives.
In addition, Maggie Fu, director of the DBA programme, and Steven Zhang, director of the EMBA programme, shared the features and development plans of their respective programmes. Yue Zongbin and Lin Binbin, representatives of the graduates of the two programmes, shared their insights and experiences of studying at UM. Zhou Yu and Wang Hai, representatives of the new students of the two programmes, expressed their expectations and aspirations for their future studies at the university.
Guests attending the ceremony included Ge Wei, vice rector of UM and interim dean of the FBA; Xu Jian, vice rector of UM; Zhou Yisu, director of the Doctor of Education programme; and Cindy Lam, director of the Alumni and Development Office.
View gallery