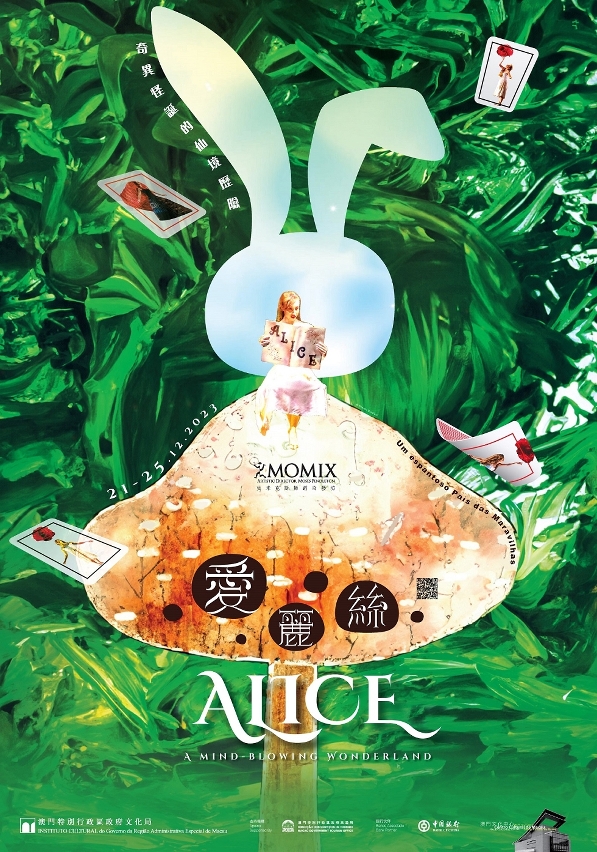 Alice by MOMIX Wonderland adventures brighten up Christmas
The Cultural Affairs Bureau presents Alice, an acrobatic dance extravaganza brought by avant-garde North American company MOMIX, set to be staged at the Macao Cultural Centre's Grand Auditorium in seven shows, running from 21 to 25 December.
Using Lewis Carroll's popular adventures Alice in Wonderland as a trigger for invention, MOMIX's artistic director and choreographer Moses Pendleton takes families into a journey filled with eccentricity, fantasy and movement. This circus like adaptation of the iconic story brings in an intense parade of familiar characters and visionary ideas, where the skilful dancers' bodies, dressed in colourful costumes, interact with a contemporary setting of holograms, special effects and sophisticated design.
Founded in 1980, MOMIX has since been touring, enchanting audiences around the world, namely in Macao where the company brought Opus-Cactus, a desert inspired production.
Alice is supported by the Macao Government Tourism Office and Bank of China. Tickets will be on sale at MOP500, 400, 300 and 200, subject to several discounts, from 5 November (Sunday), at 10am at the Macao Cultural Centre, Macao Ticketing Network, as well as the Damai and Maoyan platforms. For further information and promotional offers, please visit the programme website at www.icm.gov.mo and www.ccm.gov.mo. For enquiries, please contact +853 2840 0555.
View gallery