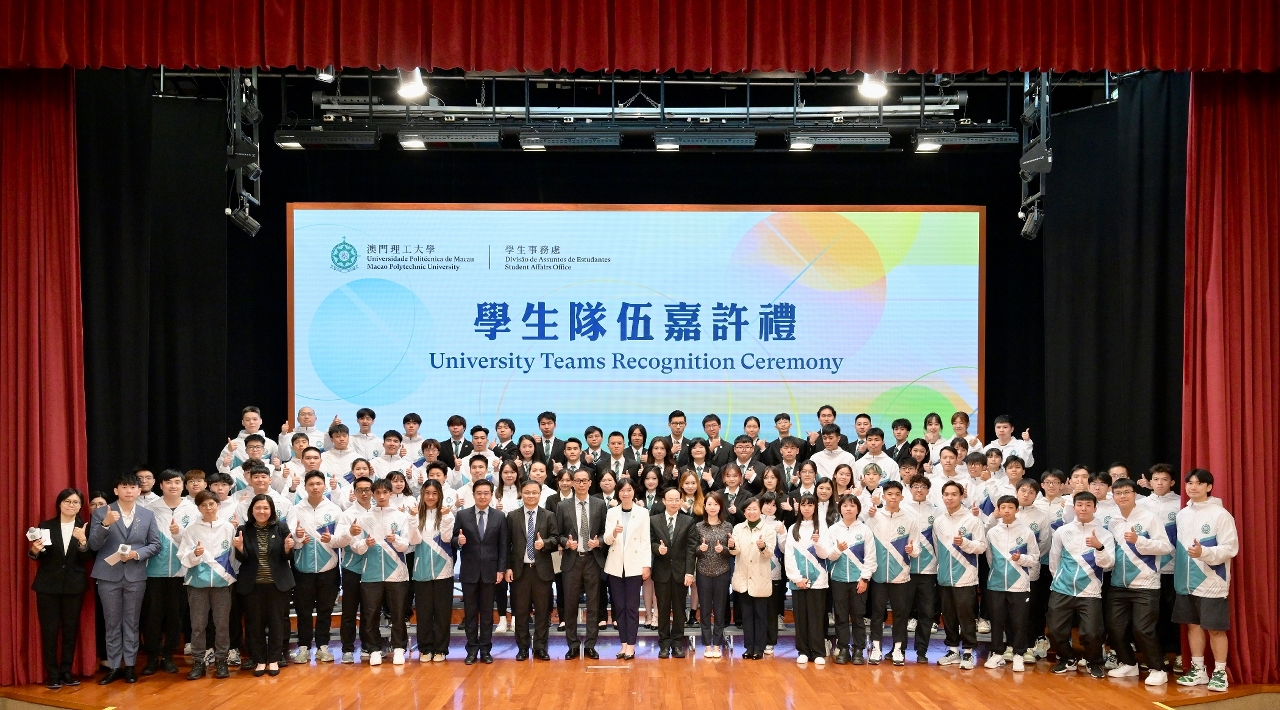 Macao Polytechnic University hosts recognition ceremony to honour University Teams.
In recognition of outstanding team members from the University Teams at Macao Polytechnic University (MPU) and to encourage students' active participation in various competitions and activities, MPU held the "2023 University Teams Recognition Ceremony" on November 15th in the university Auditorium. Vice-Rector of MPU, Dr. Lei Ngan Lin, and Deans from various faculties attended the event and presented recognition certificates to the University Teams. As MPU continues to cultivate well-rounded professional talents, it also strives to enhance students' patriotism and comprehensive qualities, cultivating more outstanding talents for the country and Macao. Over 200 people attended the recognition ceremony, creating a joyful and heartwarming atmosphere.
During her speech, Dr. Lei Ngan Lin expressed her gratitude to all the outstanding University Team members for their remarkable performance and dedicated efforts, and for being role models for university students and young people, and she encouraged them to inherit the spirit of patriotism and love for the country and Macao, and confirmed that MPU will continue to support students' diversification development. At the 1st Student Games of the People's Republic of China, Wong Weng Ian, a Bachelor of Physical Education student at MPU, claimed the first gold medal for Macao. Together with student Sou Cho Man, they achieved a total of one gold, one silver and one bronze medal. At the 19th Asian Games, MPU students and graduates collectively achieved one gold, one silver and one bronze medal, bringing honour to both Macao and Macao Polytechnic University.
Recognition certificates were presented to outstanding members of the national flag team, sports teams, and cultural and artistic teams, including Dragon Boat Team, Track and Field Team, Basketball Team, Volleyball Team, Handball Team, Badminton Team, Table Tennis Team, Football Team and Debate Team. The MPU University Teams receive professional training, participate in both local and international competitions every year, and continue to make remarkable achievements. Distinguished guests attending the recognition ceremony included Acting Dean of the Faculty of Applied Sciences, Dr. Lam Chan Tong; Dean of the Faculty of Health Sciences and Sports, Dr. Ng San Fan, and Associate Dean Dr. Lam Nogueira Oi Ching; Acting Dean of the Faculty of Languages and Translation, Dr. Zhang Yunfeng; Associate Dean of the Faculty of Humanities and Social Sciences, Dr. Wong Un In; Dean of the Faculty of Business, Dr. Huang Guihai; and Head of the Student Affairs Office, Ms. Lao Weng Ian.
View gallery