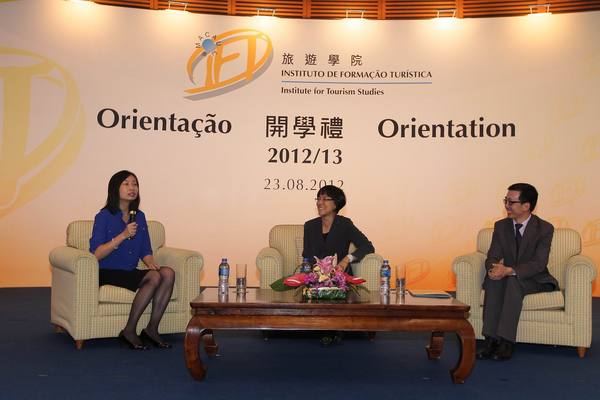 The new academic year of 2012/13 began with a warm welcome of 425 students joining the IFT family. To mark the commencement of this semester and to gain a better understanding of the tourism industry, the Institute has the honour to invite Ms. Helena Fernandes, Acting Director of Macau Government Tourist Office (MGTO) to introduce the development of Macao's tourism industry and discuss professional attributes leading to a successful career.
Ms. Helena Fernandes enlightened the freshmen with information including current development of the industry, visitation projections, tourists' profiles, MGTO's promotion strategy, and upcoming MICE activities, etc. Students were set on a good start and expected to make good use of these information in their studies.
Dr. Fanny Vong, President of IFT purposely reiterated the importance of fostering high standard of personal qualities throughout students' studies in IFT. Tourism and services industry is a people-oriented business, full of 'human touch points', required individuals with self-cultivation, positive attitude, proper grooming and attire, professional ethics and 'just right' services to create memorable experience to customers. IFT has always focused on nurturing students within these parameters to prepare them for future challenges in this dynamic industry.
The event ended with an interactive Q&A session with guest speakers, where students enthusiastically asked macro questions regarding the future of Macao's tourism industry, Macao SAR Government's strategy in further developing the tourism and gaming industry, as well as personal questions like career planning and choices.
IFT regularly invites well-known scholars, industry leaders and managers to host seminars or to share their experiences with students, bringing best practices and updated trends of the industry to the study environment.
View gallery