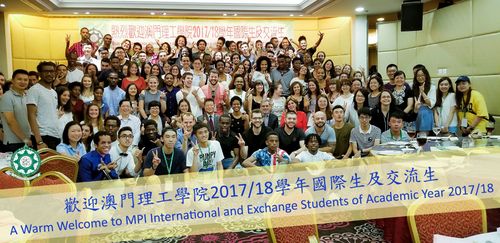 MPI welcomes 150 international and exchange students in the new academic year
Macao Polytechnic Institute (MPI) welcomed over a hundred international and exchange students in the 2017/2018 academic year. MPI's commitment to have more international students on campus aligns with China's 'Belt and Road' initiative, contributes to the realisation of Macao's 'One Centre, One Platform' development goal and helps to foster an international experience. MPI's international and exchange students this year come from countries including Portugal, Brazil, Cape Verde, Mozambique, France, the United States, Pakistan, Cambodia and also from several provinces in the Chinese Mainland. They will be studying in the Institute's various bachelor's programmes such as Chinese-Portuguese Translation, International Chinese Language Education, Computing, Public Administration, Gaming and Recreation Management, Nursing, Management, and Marketing. MPI hopes to foster the learning motivation of local students by encouraging intercultural engagement on campus.
MPI's Student Affairs Office organised a welcome reception for exchange students and international students of the 2017/2018 academic year on 17th August. MPI's President Professor Lei Heong Iok gave a warm welcome to international students coming to Macao and encouraged them to study well so as to give full play to their role as a bridge between China and the Portuguese-speaking countries. Professor Lei also motivated his students to expand their horizons and be well-prepared to contribute to the 'Belt and Road' initiative.
Mao Chenyi, an exchange student from Beijing, expressed that she has already made many new friends from around the world at MPI. Mao and her newly-made acquaintances were learning each other's languages in an effort to understand foreign cultures whilst they were all gathered in Macao. She further commented that MPI is an excellent institution staffed with experienced teachers, and that Macao is a beautiful city worth exploring. Mao looked forward to fruitful gains both in her studies and her life in Macao. Waldemara Pires from Cape Verde expressed his love towards the beautiful country of China. He thanked MPI for giving him the opportunity to study at the Institute and expressed that he would work very hard to excel in his studies.
At the reception, MPI's exchange and international students engaged in lively conversations to share their feelings and expectations as they embark on a new journey of studying in Macao. They also sang Portuguese songs during this joyous occasion.
To help international and exchange students to settle into the MPI family as quickly as possible, the Student Affairs Office arranged a series of orientation activities such as Macao heritage tour, campus orientation, campus talks, language exchange partner programme and parties for international and exchange students. Through these activities, MPI hopes that its students will adapt to the learning and living environment of Macao and thereby have a merry and fruitful college life.
View gallery