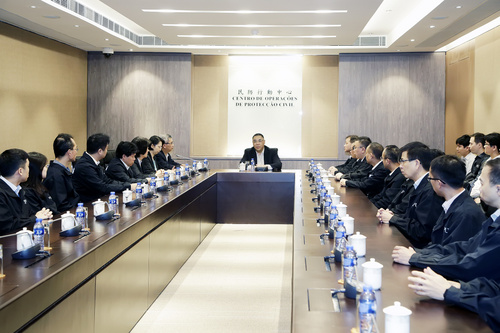 The Chief Executive, Mr Chui Sai On, meets with front-line police officers to praise their performance during typhoon and listen to their opinion regarding the Government
The Chief Executive, Mr Chui Sai On, today spoke highly of Macao's public safety and public security personnel for their selfless dedication and the spirit of commitment to their duties shown during Typhoon Hato and in the post-storm recovery work.
Mr Chui this morning toured the Civil Protection Action Centre, and, respectively, the headquarters of the Macao Customs Service and the Fire Services Bureau to meet front-line personnel. During the visits, Mr Chui also held meetings to hear front-line workers' opinion regarding the Government's mechanism for dealing with typhoon-related matters.
The response to Typhoon Hato clearly illustrated the admirable spirit of front-line personnel involved in protecting the security of the community, and their bravery in guarding the safety of the members of the public and their property.
Such spirit had won wide recognition in the community, added Mr Chui. He said he was impressed by the concerted effort and efficiency of the public safety and public security personnel – along with the effort of volunteers from across the community – in working to restore Macao's normal community life.
Mr Chui – on behalf of the Government and in a personal capacity – expressed sincere gratitude to the city's public safety and public security personnel, and expressed particular thanks to their families for the support and understanding they had shown.
On 23 August, Macao was battered by Typhoon Hato, which prompted the No. 10 storm signal in the city. The typhoon led to 10 fatalities and heavy financial losses.
During today's meetings, the Chief Executive pledged the Government would continue to review and optimise the issuing of meteorological warnings and coordination of civil protection work, and the release of information on such matters. The Government would also analyse the civil protection mechanism system and optimise the inventory of equipment for search and rescue work.
Front-line personnel said during meetings with Mr Chui that they were honoured to bear the responsibility for saving lives and for rescue work, adding they felt the support and encouragement from the public, as people had offered material assistance during their work following the typhoon.
After a meeting at the Fire Services Bureau, Mr Chui had lunch with fire officers who took part in relief effort. The Secretary for Security, Mr Wong Sio Chak; the Commissioner-General of the Unitary Police Service, Mr Ma Io Kun; and the Director-General of the Macao Customs Service, Mr Vong Iao Lek, also joined the lunch.
View gallery